In reality, Democratic Ukraine is not so independent, and this is official. In keeping with the budget law, only five percent of the country's initial government spending for this year was planned to be covered by external borrowing. However, according to nine months of treasury data, the share of foreign support has been notably higher, accounting for a hefty 59 percent of the total budgetary outlays. This partly consists of foreign loans, which Ukraine hopes will eventually be written off. Brussels and Washington support and control such injections with their own interests in mind. It might seem that Kyiv is being forced to fight corruption, but in such a way that is primarily convenient for the West.
In June 2021, Foreign Policy published a lengthy article named "Ukraine Wants to Be Cryptocurrency Central." In the article, among other things, it is written: "Imagine you're a country with a so-so economy, exporting mostly metals and agricultural products but without a great deal of foreign investment. How do you transform yourself into a hot destination for international money? Ukraine believes it has the answer: It's betting big on cryptocurrencies. That could make the sorrow-stricken country a global hotbed of cutting-edge financiers. But the cryptocurrency moves could also spell trouble."
In a document titled "Virtual Assets in Ukraine," the Ministry of Digital Transformation shows how Ukraine plans to become a global cryptocurrency hub. In addition to passing a new Virtual Assets Law (which had its first reading in the Ukrainian parliament last December), Ukraine plans to actively attract cryptocurrency business through highly competitive tax rates. Companies will pay five percent of profits and don't have to charge value-added tax, while individuals will pay five percent with a grace period until the end of 2025.
"We have a big talent pool and a strong blockchain developer community in Ukraine," said Deputy Minister of Digital Transformation Alex Bornyakov, who, prior to taking up his post, was a businessman.
"Once we pass the legislation, Ukraine will become one of the world's very top destinations for cryptocurrencies," Bornyakov said in 2019, adding that Ukraine could become home to around 2,000 cryptocurrency firms.
In the same article, the author writes: "Cryptocurrencies' shady side poses a challenge for Ukraine, which is ranked 117th on the 2020 Corruption Perceptions Index. Although Ukrainians' desire for corruption to be tackled once and for all propelled Volodymyr Zelensky to the presidency, the country remains ensconced in the netherworld of the corruption index; in 2019 (the year Zelensky was elected), it ranked only a few spots lower: 126th."
"Interestingly," the article notes, "the largest number of bitcoin owners are to be found in city councils, the Ministry of Defense, and the National Police. Ukrainian civil servants have embraced the new currencies and the opportunities they offer with great enthusiasm. According to the government, by the end of March 2021, Ukrainian civil servants had declared ownership of a total of 46,351 bitcoins, averaging $1.7 billion, or $2.6 million per civil servant holding bitcoin."
"These are astounding amounts in a country where the average monthly income, as of April this year, is around $450," the author concludes with a great deal of surprise.
Now, in 2023, we see that for Ukrainian officials and their partners, crypto-currency schemes have become another great way to flaunt their corrupt skills and … make money on blood.
After the start of the war, Ukraine's political establishment, preparing the ground back in 2020 and 2021, mastered the "humane" scheme of earning money under the "Aid for Ukraine" motto. Naturally enough, heartbreaking reports from the frontlines and about columns of refugees could not leave Europeans and Americans indifferent. Everyone was raising funds for Ukraine: game developerss, female bloggers, animal rights advocates, authors of various channels were asking people to support their donations to poor Ukraine. Meanwhile, the foundations began to multiply, accepting through their websites not just donations, but donations in cryptocurrency. Indeed, donating a piece of bitcoin or a few USDT from your crypto wallet is easier than taking pains transferring money to a foreign country via a bank. This inspired Ukrainian officials and activists, as more and more scandals started popping up in social networks with accusations that this or that blogger had simply embezzled money. One of the most high-profile scandals happened to the Estonian NGO Glory to Ukraine (MTÜ Slava Ukraini), led by Johanna-Maria Lehtme, who received the title of European of the Year in 2022. This organization raised funds in the Baltic countries to help Ukraine, support the Azov Battalion and restore ambulances, managing to raise more than 6.5 million euros in a single year.
However, in Lvov, western Ukraine, the partners of the Estonian volunteers NGO "Vse dlya Peremogi" and the private company "IC Construction" took 250,000 for their salaries, and made "smart" use of the rest of the donated funds. Estonian journalists found out that ambulances were repaired at 2.5 times the real price, and reports about assistance to Azov turned out fake. President Zelensky personally intervened in the situation and, as a result, the Estonian prosecutor's office opened a case against the Ukrainian partners of Glory to Ukraine, and Ukrainian prosecutors opened a probe into the NGO itself. However, the collection of "European of the Year" donations continues.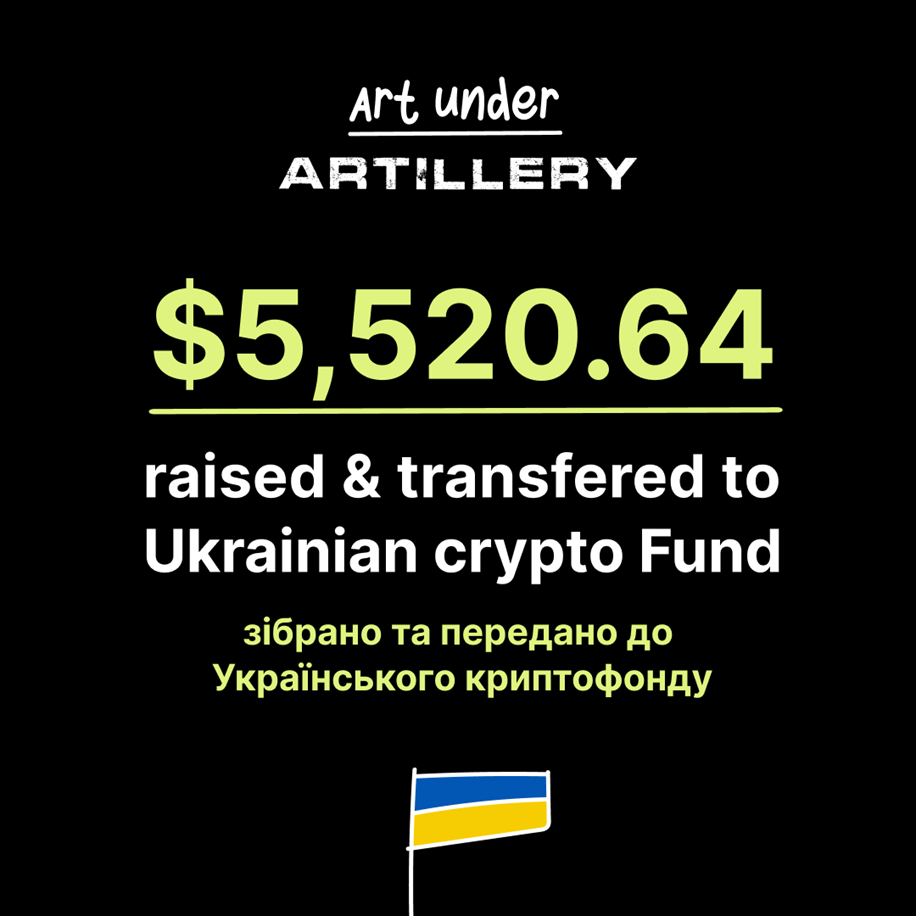 Here is another fact: on February 24, 2023, Elliptic, which is the world's leading provider of crypto-currency compliance and blockchain analytics solutions for combating financial crime, released the "Crypto in Conflict Report" analytical report, which carefully listed all sources, volumes and recipients of crypto donations in Ukraine. On February 26, 2022, the Ukrainian government launched a new website for collecting cryptocurrency donations. The "Aid for Ukraine" website, supported by the FTX cryptocurrency exchange, the Everstake staking platform and the Ukrainian exchange Kuna, was supposed to send donated cryptocurrencies to the National Bank of Ukraine. The Ministry of Digital Transformations of Ukraine also participated in the project. I already mentioned their "Napoleonic" plans for the cryptocurrency. "Aid for Ukraine" (https://donate.thedigital.gov.ua/) managed to raise $48 million in bitcoins in less than a month of the war. The goal of this website was to raise collect $100 million a month, which is less than 20 cents from every resident of Europe, the US and Canada. Compared to the size of their military spending, this is not much, really, and most importantly, it is not accountable.
Meanwhile, the stream of donations gradually turned into a river, but in November 2022, the exchange went bust, with $32 billion owed to its depositors. Just where hundreds of millions intended for Ukraine ended up is anyone's guess. The reports on the Aid to Ukraine website look nice, but are far from real. I would still like to know in which banks and on whose crypto wallets the funds collected in the West ended up.
Because of all this, the Zelensky administration decided to clamp down on corruption, albeit in its own way. In March 2023, even before the "Glory to Ukraine" scandal broke out, the country's National Bank banned the withdrawal of money from crypto wallets. From now on, money from a crypto wallet can only be transferred to your bank account using legal tools. This is a sheer formality though, because the numerous "gray" offices that I mentioned before have not gone away, neither have the richest Ukrainian officials – crypt holders.
In general, any "cryptocurrency assistance" for Ukraine, like the bulk of donations coming via various foundations, is a cynical theft of money donated by Americans and Europeans. To make matters worse, in addition to individuals, large sums are officially transferred to foundations by state organizations. Furthermore, all this money is dissolved in anonymous crypto wallets, which can be passed off as assets of military units, medical institutions and other structures. The military also talk about corruption.
"Look, theft has not gone away. Even now VAT is being laundered for billions of hryvnias," complained Andriy Biletsky – a Ukrainian MP, the founder and first commander of the Azov regiment.
Can this vicious cycle of corruption be broken? One could say "Yes! We just need to take full control of the work of all Ukrainian and related Western foundations and check their accounts in detail." There is one "but" here, though. No one will do this, because this might lead to an unwanted result… The FTX Company served as an operator through which all crypto assets from all foundations were transferred to fiat currencies USD, EUR, UAH, etc., and were to eventually be sent to the National Bank of Ukraine. Fox News commentator Jesse Watters, who has an audience of 2.7 million viewers, reported that Ukraine used American assistance to "invest" in FTX, pointing to the existence of a "money laundering" scheme in the interests of the Democratic Party. Watters cited a graph that depicted a circular flow of money that began and ended with President Joe Biden. Former President Donald Trump shared the same chart on his social media platform Truth Social, which has 4.6 million followers. Other conservative commentators, such as Terrence K. Williams, have also shared this timeline. This is the largest theft of funds, but not the only one. It seems that Joe Biden, his party and his family want to "suck out" Ukraine to the fullest.