On October 30, 2021, Prime Minister Narendra Modi visited Vatican City and met Pope Francis. The meeting scheduled for 20 minutes lasted an hour, during which Modi invited the Pope to visit India. But on December 24, Christmas Eve, festivities were disrupted at seven places across India; in Assam, Haryana and Uttar Pradesh. Next day on December 25, the FCRA application of Mother Teresa's Missionaries of Charity was rejected by the Ministry of Home Affairs (MHA) headed by Union Minister Amit Shah, who also heads the Ministry of Cooperation. However, this was later reversed when the issue came up for discussion in the British Parliament.
Earlier, the so-called Dharma Sansad met at Haridwar on December 17-19; a group of hate mongers resembling the Taliban though calling for killing all Muslims. Would these guys suffer heart attacks hearing the sound of a shot is not known but the Supreme Court intervened and issued a notice to the Uttrakhand Government. Wonder if these fellows know how Egyptian President Abdel Fattah Al-Sisi tamed the radicals – simply told them one billion Muslims cannot kill seven billion non-Muslims and vice versa, so behave or else! And, he did take stern action.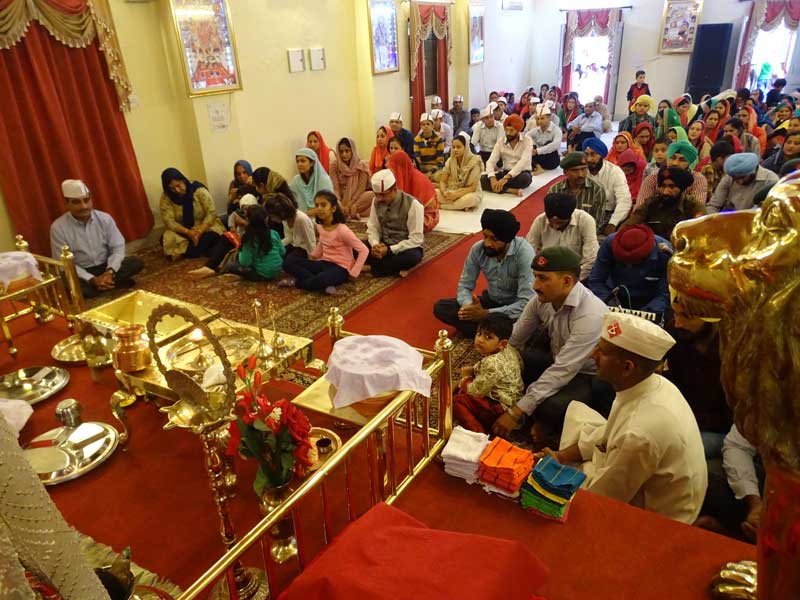 In a recent tweet, Lieutenant Colonel Devender Anand, PRO Jammu, tweeted the picture of an event organized by the Army in Kashmir Valley that showed troops sharing an Iftar meal with locals. This drew adverse comments on Twitter. One critter wrote: Ab fauj mein bhi yeh bimari lag gai hai (now this disease has also afflicted the Army). Wonder in which noxious gutter this fellow has been living all these years and whether he is on foreign payroll (ISI?) because he reportedly runs a TV channel which may be spreading hate judging by these comments.
Apparently, the critter is unaware that Army units are authorized more than one religious teacher based on the composition of troops in the unit and that troops participate in all religious functions of religious faiths of the soldiers. He could even wet his pants if someone told him that Army units have a 'Sarv Dharam Sthal' (common worship facility) where all ranks and families pray together.
For some reason the PRO deleted the above tweet, whether ordered by someone or by himself. But subsequently the Army did post some photographs of Namaz being offered by officers and troops. A military unit cannot afford to have divisions of any sorts, be it social or religious, in guarding the nation in exceptional service conditions where every soldier is ready to sacrifice his life.
Interestingly, former DGP Punjab Shashi Kant said at a recent police roundtable: With every promotion a police officer loses two vertebrae; by the time they reach the top, they are spineless
India's deep state wants the Army also to become the same as the police, but those who attempt to attack the secular face of the Army, are actually attacking India.
As mentioned above, the Army celebrates all religious functions. Moreover, the Army's loyalty is to the Constitution of India, not to any political party – much to the consternation of some two-pence politicians. Ironically, communal violence in the country is on the increase. There is much more behind what is propagated in the media, irrespective in which states it happens or is engineered – one only needs to decipher the motive. So, there are reprisals elsewhere and reprisals for reprisals at another place. This
Violence is bound to rise in the run up to the 2024 general elections, with religion projected centre stage. So the game of 'Kill Muslims', 'Kill Hindus' and planned attacks in religious festivities of each other will continue. Interestingly, some preachers say "Hindu ka sabse bada dushman Hindu hi hai". But the political class enjoys the fracas and the kills because they are not the ones personally affected and crocodile tears can always be shed if party workers are killed.
The mix of unchecked population growth, rising unemployment, easy availability of drugs and illegal weapons is fertile ground for self-styled goon armies patronized by politicians, not that contract killers are out of job. If there is so much of hot-blood around, how about settling them in border areas, like China has done, for contributing something to the nation rather than destabilizing it on behest of the deep state thriving on foreign funds, or to fulfill personal aspiration of some goon politician (s) for whom it is always Votes First, not the Nation. Isn't it time for some 'drastic action' against radical leaders and politicians who are spreading hate and instigating communal violence? Surely the Intelligence Bureau knows who is behind the violence even if the Director is rendered spineless – as mentioned by Shashi Kant.
Prime Minister AB Vajpayee once said we cannot choose our neighbours, which is true. But can we choose what religion our population should follow and get rid of the rest? Witness the drama over the use of loudspeakers. If Uttar Pradesh can remove loudspeakers for places of worship making no distinction between temples and mosques, why can't this be pan-India? Why not pass an ordinance to the effect and take the chief ministers and chief secretaries of states to task, if this is violated in their jurisdiction?
Why not survey all encroachments and illegal constructions, publish the list and notify a date for their removal instead of letting bulldozers run amok and arrange a JCB joyride for party boy Boris Johnson, Prime Minister of a country which not only created Pakistan but also Pakistan occupied Kashmir (POK) and gave Pakistan a border with China it never had, changing the geostrategic dynamics of South Asia forever.
Isn't it vote-politics that we are not bringing in a population control bill, denying all subsidies and perks for those who are in violation. Why crib about someone having 10-20 children when the Centre filed an affidavit in December 2020 rejecting the need for a two-child norm or a specific law limiting the size of families in India.
There is no denying that schools backed by religious organizations have skewed syllabi which makes the youth more emotional and radical instead of becoming balanced and rational. So why are we not ensuring universal application of syllabi in schools – counting votes? What about the Universal Civil Code, when we continue with caste, creed and reservations and special privileges to the reserved category and minorities; when reservations should only be based on financial status, nothing else?
Speaking at an event in Kerala on January 3, 2022, Vice President M Venkaiah Naidu said, "Practice your religion but don't abuse and indulge in hate speech and writings." He said secularism is in the blood of every Indian and India is respected world over for its culture and heritage. He called for strengthening the Indian value system and called for community service to be made compulsory for students studying in government and private schools to help them develop the attitude of sharing and caring in their interaction with others. Can we heed his advice and give employment to youth rather than instigating them into communal violence?