The lockdown on account of Covid19 has put an immense strain on people from all walks of life. Some of us have the privilege of working and living in the same city, have been safely confined to our homes. Likewise, some of us have been able to stock essential items for the functioning of our families.
However, the strain on the migrant workers is unimaginable. This has been prominent in the many visuals we have seen in the recent past of migrant workers gathering at various cities in the urgency to go back home. Bengaluru too has many migrant workers stuck here with no way in sight to get  back to their native places. While there maybe quite a few NGOs working round the clock to provide basic food items to these workers, I would like to highlight the work of Sunbird Trust.
What does Sunbird Trust do ?
Sunbird Trust is a non-denominational NGO working with the motto of Peace through Education in insurgency affected parts of North East India. It strives to provide access to education for underprivileged children in the conflict zone through child sponsorship and through building schools and hostels in remote areas. Through the children, Sunbird Trust engages with their communities and strives to build friendship and foster Peace in the conflict zone.
Sunbird Trust is registered at Bengaluru where it was founded in 2014. Here, the Trust sponsors the education of 35 undergraduate students mostly from Manipur state.  Given their deep engagement with local communities around the Sunbird institutions in the North East, many affected migrant people from North East states at Bengaluru approached the NGO for assistance during the ongoing crisis. What started as a trickle helping individuals soon got morphed to the entire gamut of several North East nodal organisations now partnering with Sunbird Trust to get timely aid to their communities.
What lay in store for Sunbird Trust was a humongous task; of providing assistance to hundreds of these migrant folks, most of whom were working in small retail shops, factories, saloons and who lived in a 60 kms radius around Bengaluru. Many had not received their salaries and had run out of funds to buy food. Some students who had to leave hostels that were closed had to rent rooms to stay at unaffordable rents, many without cooking facilities.
Also Read: Best Payroll Services & Programs To Implement In A Business
Doing a quick survey of the problem, Sunbird Trust team members categorized the affected people into those requiring cooked food as well as dry rations. The dry rations were quickly procured and repackaged into convenient family packs of rice, dal, oil, condiments, tea, sugar and even sanitary requirements. Both dry rations and freshly cooked meals were delivered through the partner organisations.
Sunbird Trust Volunteers (students of the trust) helping make family packs.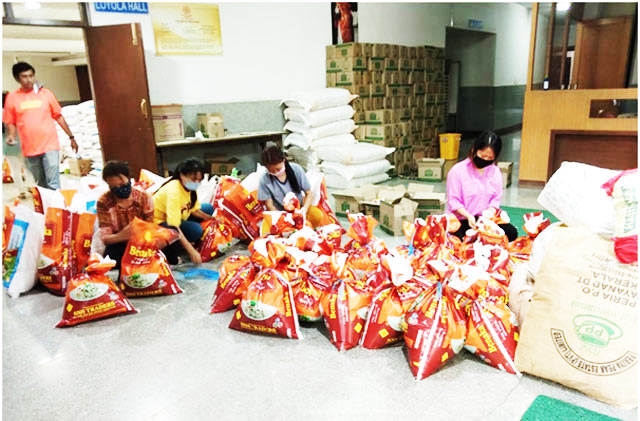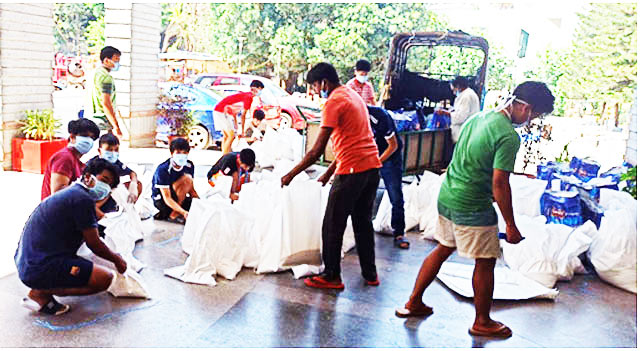 The Task and the Challenges
On one hand, the volumes of people needing help is high – it is estimated that there are at more than 3.5 lakh people from the North East states living and working at Bengaluru. Out of these, at least 30,000 would be among the worst affected. Although there are various partner organisations like Manipuri Diaspora Bengaluru, North East Solidarity and North East Welfare Association of Karnataka who are working with Sunbird Trust for this initiative, Sunbird Trust still caters for delivery to many of the beneficiaries on its own. A team of volunteer Sunbird sponsored students at Bengaluru play an important role in packaging the food and even loading and unloading the food trucks. On the other hand, is the challenge of meagre manpower of 3 Sunbird team members (the rest being based at Manipur) who administer and run the entire operation.
As they say, it is in the time of crisis, one knows the true character of the people. Here too, many citizens and organizations at Bengaluru like Azim Premji Foundation, Hasirudala and With Bengaluru and a few more have come forward and assisted Sunbird Trust with contribution of food in kind. The Karnataka government and Bengaluru Police have rendered all co-operation needed to commute across the city and the suburbs and get the commodities delivered.
Also Read: Artificial Intelligence At The Fore In Fight Against Covid19
However, with the lockdown continuing till May 3rd 2020, Sunbird Trust still has the challenge to be able to maintain the distribution of these essential items. Owing to the confidence that Sunbird Trust has been able to build among the North Eastern citizens, there are more and more people approaching them for help. Even if the number of beneficiaries seeking assistance may not increase, it is unlikely to decrease.
Into the 3rdweek of the lockdown, Sunbird Trust and its partner organisations had been able to deliver over 15 tons of food aid for over 1,400 affected NE persons in a radius of 60 kms across Bengaluru
Helping hands welcome
While Bengaluru based organizations like 'Azim Premji Foundation', 'Hasirudala' and 'With Bengaluru' have been supporting the trust with most of the aid, it needs organizations and individuals to come forward and help them in delivering these essentials to these migrant workers. Providing ration kits consisting of rice, pulses, cooking oil, sugar, tea, salt, bathing soap etc. to hundreds of citizens and also fresh cooked food to a good number of them is no menial task. Any support that comes their way would ease their burden and be helpful in reaching out to more citizens.
As Mother Teresa said 'If you can't feed a hundred people, just feed one' And here Sunbird Trust along with its partner organizations is helping feed hundreds of them.
At a time when stories of racism and discrimination against the people of North East India are getting prominence, here is a different story of how a city, its inhabitants and a team of NGOs have reached out to the migrant folks far away from their homes. It is a story of humanism and brotherhood in times of crisis
To know more about Sunbird Trust, visit https://sunbirdtrust.com/.
In the meantime, stay home, stay safe and extend a helping hand whenever and however you can. There are thousands who may be struggling to meet their basic needs. One doesn't need a fortune to be able to help, one just needs to be willing to do so.
---
PN: The article is part of a series highlighting the yeoman's service being provided by NGO's, Organizations (both registered and unregistered) and individuals who have come forward to help mankind and fight the worst crisis in living memory, the Covid19 pandemic.