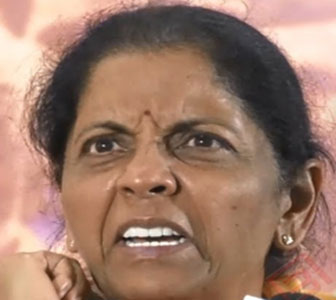 The snapshot of then Defence Minister (now Finance Minister) Nirmala Sitharaman has generated much discussion. Some think this is photo-shopped. Others say artificial intelligence was used to show her in this avatar to scare our enemies – that is why a scared China postponed invading Eastern Ladakh to 2020 after she was no more defence minister. But this was actually clicked by an enterprising photographer during an election rally chaired by her in early 2019 when she was responding to a question raised by a veteran Colonel on OROP. Looking at her mesmerizing expression, you can guess what she said.
Move to the Aaj Tak Conclave in the same year where a veteran Brigadier asked her two questions: one, delay tactics by defence ministry on administrative / judicial / welfare measures, and; two, adverse comparison in allowances of defence forces versus central armed police forces (CAPF) in favour of the latter. View the clip to grasp the finesse with which she dodged the questions, beat around the bush taking her sweet time, and her body language – squirming uncomfortably

But this is India and little wonder then that with her histrionics and melodious screeching on multiple occasions including the above two, Sitharaman is being referred to as 'Bulbul-e-Hindostan' aka 'Bulbul' on social media, or 'Nightingale' to the colonial types who think bulbul is an ugly bird. So far, Lata Mangeshkar was the only one called the 'Nightingale of India'.
It is no secret that the 'deep state' has been eyeing defence land over the past several decades. Sharad Pawar as defence minister was readying to gobble up defence land in Delhi when fate intervened and he was moved out. But Sitharaman was far more calculating and far sighted. She met Parakala Prabhakar while studying at JNU and married him in 1986. Prabhakar belonged to a staunch Congress family and Sitharaman perhaps saw in him a stepping stone to enter politics. But she joined BJP in 2006 sensing better chances for her political career.
Why Indian governments have followed the 'colonial legacy' of charging the Defence Secretary (not the Defence Minister) with the defence of India is because the Defence Minister is to contribute to the party coffers through defence deals and encouraging the golden goose (governmental defence-industrial complex) to lay more and more eggs. Let us cut out the crap of corruption having gone or even reduced. Sitharaman knew this but was elated to calculate how much more money could be extracted from some 17.99 lakh acres of defence land under the Ministry of Defence (MoD). To top this, she was part of the designs of the deep state to 'demonitise' the military and eventually downgrade them below the police forces.
So Sitharaman decided to launch Operation 'DLG' or 'Defence Land Grab'. One fine day in 2019, MoD announced opening of closed roads in all 62 military cantonments with Cantonment Boards (under MoD) putting up 'Road Open to Public' boards overnight – all out surgical strike. Prabhakar at that time was "reportedly" running an educational institution in Secunderabad on defence land. Interestingly, Prabhakar slammed Sitharaman for calling COVID-19 an "act of GoD" (when lakhs died in first half of Phase-2 of the pandemic for lack of vaccine and oxygen) plus not giving the GST share to States and asking them to instead take loans from banks. Now Prabhakar has gone public branding Prime Minister Narendra Modi of communalism although not been arrested. Incidentally, what can be the worst example of revdi or freebies than writing off bank loans of industrialists?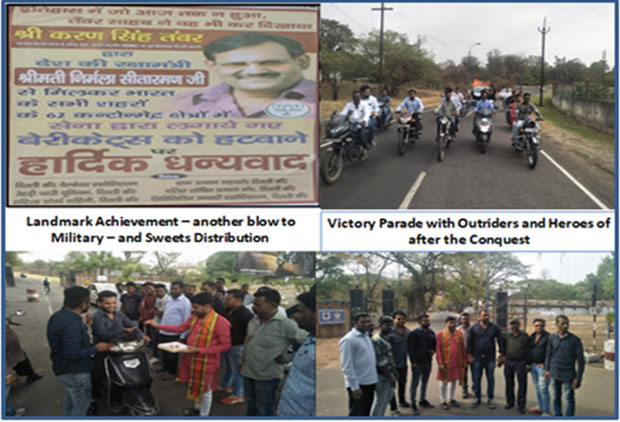 Opening up of all 62 cantonments was music to the ears of the deep state. Politicians led victory parades with goons accompanying on motorcycles; as if marching through the streets of Muzaffrabad after capturing POK. Bulbul was acclaimed as the actual DLG – 'Dangal Loving Girl' or 'Darling Lovely Gal.
Earlier, the Comptroller and Auditor General (CAG) had called the Defence Estates as the "most corrupt part of the defence ministry'; recommending their disbandment and transferring their powers to the military. Estate Officers of Defence Estates were giving no objection certificates to politicians, builder mafia and businessmen to allow construction on defence land; lakhs/crores of rupees were changing hands and the booty shared up the ladder. In early 2014, the government appointed a committee for implementing the recommendations of CAG but then the government changed.
Sitharaman expanded the Defence Estates and gave them accelerated promotions. After all, the deep state could even catapult her to become the prime minister after Modi in this era of gender equality, given that she was the second woman defence minister after Indira Gandhi. A devious insertion in the media was that proceeds from the sale/transfer of defence land would go to the defence budget enabling military modernization to the tune of lakhs of crores of rupees. However, Bulbul eventually declared that not one single penny would go towards the defence budget.
The next phase (certainly not the final) of Op 'DLG' is the announcement that 62 cantonment cantonments in the country will cease to exist; military areas will be designated as a military station and defence lands encroached by civilians will come under local municipalities, the initiation having been done in Yol in Himachal Pradesh. Surprisingly, Defence Minister Rajnath Singh has not announced that the 'military has not lost even ones inch of land'.
Cantonments were always the envy of the politicians and bureaucrats. Decades before the political hoopla was raised about 'Swacch Bharat', cantonments were spick and span. But calling cantonments a "Colonial Legacy" is a nonsensical excuse. Cantonment Boards generally consist of eight elected members, three nominated military members, three ex-officio members (station commander, garrison engineer and senior executive medical officer), and one representative of the district magistrate. So how is it undemocratic and colonial? If we really want to root out colonialism and exercise true democracy then we must start at the top, including the following:
• End post of President of India who is a titular head.
• End posts of Governors who dance to the tune of the political party at the Centre.
• Why two houses in Parliament like in Britain and why members 'nominated' in Rajya Sabha – is this democratic?
• Why don't presidents and prime ministers return to their own private homes like President APJ Abdul Kalam did, rather than lavish official establishments; bungalows, retinues and the like?
• Why are the red carpets all over and flowers being showered during pre-election rallies and road shows – is this Raja Ram returning after the conquest of Sri Lanka?
Segregation of military stations from the illegally occupied defence land is not as simple like cutting the cake in two-halves albeit it satisfies the greed of the politicians and their associates, the builder lobby and businessmen to commercialize prime tracts of defence land. Aside from consolidating personal empires, a colossal amount of money would be available for winning elections. Problem arising naturally are of no concern, security being the least. After all even J&K is almost "zero terror" and the Rashtriya Rifles are being thinned out from from J&K.
However, according to recent reports withdrawal of counter insurgency forces (CIF Delta and CIF Uniform) from Jammu region has been shelved indefinitely. This is perhaps due to intelligence input that Lashkar-e-Tsiba (LeT) terrorists using YSMS technology are planning a 26/11 type terror attack in J&K coinciding with the G20 meeting in Srinagar.
But why do we need the Army at all? Isn't this the reason why NSA Ajit Doval did not define a national security strategy despite being officially tasked to do so in 2019? After all, security is not such a great issue. The plan to put the CAPF in the first tier against China has already been made and if China recruits Nepalese and deploys them on the Indo-Nepal border, don't we have the CAPF to give them a bloody nose? Between Doval and Home Minister Amit Shah national security can easily be managed with police forces.
Former Vice Chief of the Army Staff Lieutenant General Vijay Oberoi has pointed out that there are more cons than pros in derecognition of cantonments. He writes that Cantonment Boards that manage civilians in cantonments are legally 'deemed municipalities' and the real reasons for this bifurcation is to enable disposing of prime defence land encroached as well as other large tracts being preyed upon by the land mafia. He has also made some very valuable suggestions in the article "Politicians Insatiable Appetite For Defence Land". But who is bothered because when Saiyan Bhaye Kotwal Toh Dar Kahe Ka?
The question now being asked is why has Sitharaman not been awarded the Bharat Ratna yet. Apparently this cannot happen till Bharat Ratna is conferred on Modi. But then a special category of Bharat Ratna Class 'B' (rhyming with Bulbul) could be created, with the provision to upgrade it at a future date.
The author is an Indian Army veteran. Views expressed are personal.