US President Joe Biden said on March 13 that World War III will not be fought in Ukraine. His comment was in response to Russia bombing Ukraine's Yavoriv military base, which is some 19 km from the Polish border. Russia has stated that some 180 foreign mercenaries under training were killed in the airstrike.
Ukrainian Defence Minister Oleksii Reznikov claimed that Russia has attacked the International Center for Peacekeeping & Security where foreign instructors work, adding: "This is new terrorist attack on peace and security near the EU-NATO border. Action must be taken to stop this."
John Kirby, press secretary in the US Department of Defense also has been calling on Russia to stop the attacks but Scott Ritter, former Marine Corps admiral and intelligence officer who served with General Norman Schwarzkopf in the Persian Gulf, let the cat out of the bag by going public that the CIA and MI-6 have been training neo-Nazis in Azov—possibly the reason why Russian President Vladimir Putin earlier said that he had sent Russian forces to "de-Nazify" Ukraine.
On March 12, Russian deputy foreign minister Sergei Ryabkov told the media that the US had been warned that pumping of weapons from a number of countries is not just a dangerous move but a move that may turn these convoys into legitimate targets.
Concurrently, Ukrainian President Zelensky has admitted "(we) receive weapons directly from Western countries but you have to understand that everything has its price. Whenever the money that we get is mentioned—well, it all comes at a cost, it's not for free."
Scott Ritter, former Marine Corps admiral and intelligence officer, let the cat out of the bag by going public that the CIA and MI-6 have been training neo-Nazis in Azov
After the US threatened China with "devastating sanctions" if Chinese companies help Russia forces in Ukraine, Tian Feilong, a Beijing-based Chinese legal expert has opined that the US may soon subject China to similar sanctions.
Tian also said that due to the fallout of unilateral sanctions imposed by the US and allies, development of international legislations are becoming a promising direction which could promote certain developments at the global level that would skirt the hegemony of the West.
Referring to the SWIFT system, which "has become a tool that is abused by the US", he drew attention of the Chinese authorities on how to deal with this "hegemony in the financial sector".
China had already responded to US' "devastating sanctions" threat by saying its responses will be harsh. But now US President Biden is sending the director of the National Security Agency, Paul M Nakasone, to meet Yang Jiechi, member of Politburo of the Chinese Communist Party who also served as China's ambassador to the US from 2001 to 2005. The obvious intention is to wean China away from Russia. But the question is what is the US offering in return to China?
Will the US signal to Jiechi that it will not, or rather 'cannot', interfere 'directly' if China invades Taiwan—just like in Ukraine? Or, will Jiechi be told that if Beijing does not toe the US line, China will be subjected to similar sanctions as Russia without bothering about the repercussions?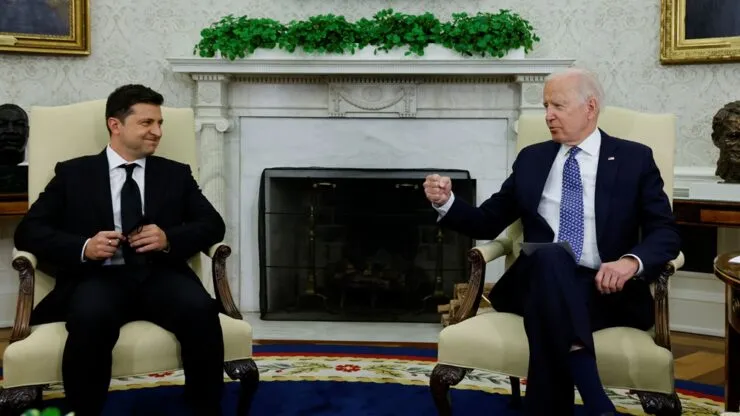 Referring to the March 1947 ambitious policy of the then US President Harry S Truman to contain the Soviet Union, many scholars in the US are calling this Joe Biden's 'Harry Truman moment' to contain Russia. But there are some others terming that transition from senility to dementia on the type of leverage Beijing will get with the US seeking Chinese help to get out of the quagmire.
Speaking on Russia-China relations, Chinese foreign minister Wang Yi recently said that China and Russia remain committed to continuously deepening comprehensive partnership and strategic interaction in the new era, adding that the Sino-Russian relationship is considered one of the most important bilateral relations in the world. Wang Yi also said: "Sino-Russian relations are developing according to a clear historical logic and have strong internal driving forces…. friendship …is strong as a rock…"
With the recent Russia-China joint statement on international relations entering a new era, the US needs to think twice. How does it imagine breaking this partnership—by imposing sanctions and more sanctions?
The fallout of sanctioning Russian oil and gas is already visible. The requirements of Europe cannot be met, with Saudi Arabia giving thumbs down to the US and talks on the Iran Nuclear deal stuck in Vienna. Those who scoffed at the China-Iran-Russia bond calling it insignificant for the US to worry about need to think again; dismissing possible use of energy as a weapon?
One deduction from Zelensky's statement quoted above that "whenever the money that we get is mentioned—well, it all comes at a cost, it's not for free" is not for Ukraine to fight Russia as America's proxy but also the deadly pathogens developed and stored in the network of 30 bio-labs in Ukraine funded by the US DoD under the US-Ukraine Agreement signed in 2005 when Barack Obama was the POTUS.
There is speculation now that COVID-19 may have originated in Wuhan through viruses carried by the US contingent to the 7th CISM Military War Games at Wuhan in October 2019. And, subsequently Beijing hit back by biologically bombing the US and Europe (Italy) with genuine Chinese-viruses developed in Wuhan. The rest of the world was collateral damage amid the biological war between Washington and Beijing.
PN: This article (except the headline) was first published on Raksha Anirveda, 14 Mar 2022
Recent Posts: