Problems and challenges are always on the way for startups. Some are a small bump in the road, while others can be too hard to crack.
Regardless, all of us have a common enemy. This is finding the perfect budget program for your startup. Managing your cash balance is the key here, but how do you really do it?
Your startup cost will most likely be around $30,000, considering all the expenses and investments that you'll need to keep in mind. And then you'll need to define exactly how that money will be allocated.
Here comes the tricky part. You have to make your budget count and make the most out of it. But what marketing strategies will you use? How can your humble budget go a long way?
If you think of how reliable technology is nowadays, you'll know that it's a good time to start a tech company. As people continue to look for solutions online, tech companies continue to provide what people need.
Marketing and sales are an important aspect of your budget. Companies invest a lot of their budget in this. Tableau, a business analytics software company, allocates 51% of its revenue for marketing and sales. That's literally more than half of the company's revenue.
The demand is there, and the only thing that separates success from failure is your marketing strategy. It doesn't matter how small your company's budget is. As long as you know what strategies to use, you can make the most of your budget.
So here are 8 marketing strategies for tech companies that will help run well and on a low budget:
Budget friendly strategies:
If your tech company does not have a website, you're missing out on a lot of opportunities a website can give you. Your website is the face of your company in the online marketplace.
Customers often search online for a product before going to a store. As much as 88% of consumers search online first, and your website is the place consumers will go to learn more about your product line.
Making a website is a complex set of tasks. More so. if you have absolutely no idea about coding and website design.
Luckily, there is software that lets you manage a website without having any knowledge of coding. WordPress is a user-friendly software that enables you to manage your website easily, even for beginners!
There are many aspects to consider when putting together a website. To increase your visibility online, you'll have to consider optimizing your website for search engines. This is called Search Engine Optimization (SEO).
Optimizing your website is not an easy task nor is it a quick one. There is a lot to modify on your website in order to optimize it. Here is a list of points that you'll need to consider when optimizing a website:
User experience (UX) – make sure that your website is optimized to be user-friendly.
Link building – establishing a connection with other blogs so that your website is accessible through other blog's content.
Content management – using keywords in your content increases your website's ranking on search engines.
Mobile functionality – make sure that your website has the same functionality on a desktop and a mobile phone.
When you cross paths with one of the widely-known names in the technology industry, you'll want to have a wonderful pitch to present. Your pitch should always be able to convert.
What comprises a perfect pitch? What are the things that you need to say when you want your pitch to convert? Given the time constraint, you need to make every minute count.
To elevate the level of your pitch, here's what you need to do:
Focus on the essentials: Considering the limited amount of time that you have to deliver your presentation, you'll need to communicate what is essential from your business plan. If you're doing an elevator pitch, you need to summarize everything within a minute.Focus on the essentials. Focus on what actually matters in your presentation and you'll have a concise and effective business pitch.
Describe a real problem for customers that your product solves
Show your audience what problems your product addresses and its scope. By doing so, you can demonstrate for your investors how your product will positively impact the market.
Crystal clear presentation: Do not slouch when doing your presentation. This conveys a lack of confidence in your business or in your abilities. When presenting your pitch to other people, it's important to exude confidence and trust in yourself and your products.Grab an audience outside of your business and show your presentation to them. Afterward, ask them what information they remember. If they'd like to ask you some questions, they are free to ask. Also,be sure to ask them for honest feedback.
Tell investors about your story: It all starts with a story. Your every accomplishment has a story behind it. Prove to them that your business is the right place for them to invest their money.
Tell them what gives you an edge over your competitors: Understand that there will always be competition at play. You can't just ignore that your company may have many competitors, even with the unique ideas you may be offering..Instead, address this issue head-on. Tell your investors why they should choose you instead of your competition. Tell them what gives you an edge over your rivals.
If you're planning to start your business alone, you're up for some real challenges. To make things easier, it will be necessary to grow your connections and establish a network.
You'll want to reach out to the "big guns" in the industry. Establish a network with professionals in the IT industry and build credibility out in the market.
Another budget-friendly way is to attend online gatherings and webinars. With the ongoing pandemic, many of us have been forced to stay in our homes. It's important to stay in touch with other professionals and colleagues online and this networking with come in handy at some time and could prove as one of the important marketing strategies for tech companies.
It's satisfying to see a follow-up email whenever you make a purchase. Especially if you know the message has a personal touch.
Email marketing can be in the form of a greeting, a thank you for business, a proof of purchase or a newsletter, etc. The goal is for the customer to click on the links in your email.
This may be a small investment, but can bloat your return on investment (ROI). Your ROI can increase up to 30 times your initial investment. That means that for every dollar that you spend, you'll gain at least $30 in return.
Building mutual trust between your tech company and your customers is a challenging task. That's why when you have the trust, you need to secure it.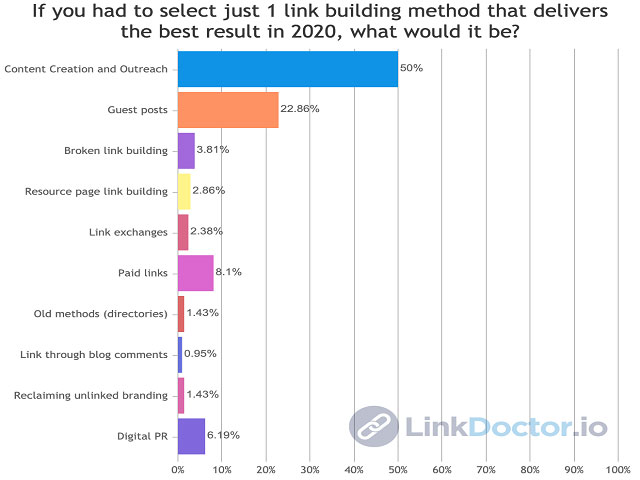 Link Building – Marketing Strategies (Chart credits: LinkDoctor)
I've mentioned link building as one of the things that you'll need to consider when you want to optimize your website. It's important to increase your website's visibility on other famous websites. This is the concept of link building.
In a link building report in 2020, 22.86% of SEO professionals said that guest posting is an effective link building method. Of course, it is! Blogs are designed to educate those looking for a solution to their problem.
Guest posting is writing an article for another website or blog. Although it is a good way to build your brand and increase traffic, don't guest post just for the links alone.
Guest posts should have good information and shouldn't be swarming with advertisements. Your guest post should also mimic the format of other posts in the blog. It's also better for your guest post to include internal links from your host.
You build a relationship with your host website by guest posting for them. Make sure to have a great blog post for them to appreciate your efforts.
If you want to put your brand out in the open, you have to consider using social media as one of the important marketing strategies for tech companies. With an increasing number of social media users around the world, your company can reach them through social media.
By using social media, you have a customer support platform for free. Communication nurtures the relationship between you and your customers. You can communicate with your prospects and current customers through Facebook, Twitter, Instagram, or LinkedIn.
Establish profiles on these major social media platforms. Make your profile responsive to questions. If newcomers see that you attend to what your audience needs, they are more drawn to try your product themselves.
7
Using a POS system to cut the cost
A point of sale system (POS) replaces the traditional cash registry system by running the transactions for your store. This may be costly for your startup budget, but it will surely cut the cost in the long run.
An on-premise POS system can cost around $5000-$7000. Going for an iPad POS system can cut the cost to $800-$1000 without sacrificing functionality.
An iPad POS system's functionality includes:
Cloud-based: Uses the cloud to save your data. You can access your data anywhere provided that the device has an internet connection. Software updates are also free of charge for iPad POS systems.
Flexible: You can use an iPad POS system for pop-up shops on IT conferences because it is portable. You can use it as a catalog for your products. It can also serve as the barcode scanner and a credit card reader.
Provides tech advancement: Your company will look modern and up to date when you use an iPad POS system instead of an on-premise POS system. This shows that your company is more tech-savvy than your competition.
Enhances customer experience: POS systems are made to enhance the customer's online experience. You can use your POS systems for easier checkouts and paperless receipts. Your customers don't have to worry about long lines anymore.
8
Investing in good content
If your content is satisfactory for your audience, they will definitely come back to your website. They can even join your newsletter to stay updated on your blogs.
You can use infographics in your content to make IT less technical and intimidating than it already is. This way, you will attract more traffic to your website.
More traffic means a higher ranking on search engines. This will gain your website more credibility. Bloggers will start to recommend your website to other bloggers, further increasing your website's reach.
Always engage with your audience and ask them to write down comments in the comments section. Communicate with your audience and don't let their questions hang out to dry. Provide answers to their questions. The effort that you will invest in good content will surely be rewarded.
Final word
Starting small for tech companies is a really challenging task. You have to think of innovative strategies to get the most for your money.
These budget-friendly marketing strategies for tech companies show you how your little budget can go a long way. All you have to do is choose the perfect marketing strategy that will work best for your tech company.
Additional Resources: