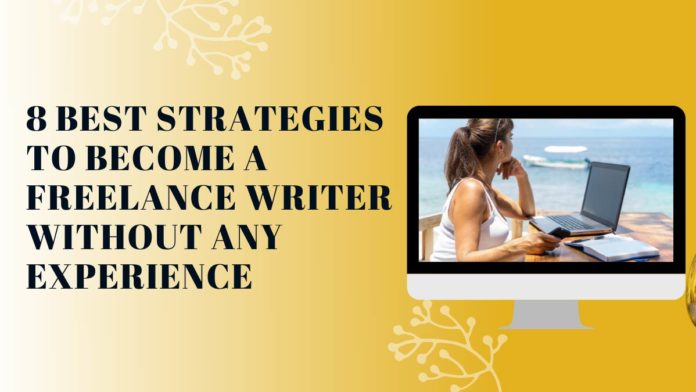 One of the questions that people often ask me: "How do I become a freelance writer without any experience?" And my answer is simple enough. That nobody becomes a writer with experience. You start as a fresher somewhere and go on to gain experience in the writing field.
But to begin your career as a writer, you need to start somewhere. Therefore, if you're interested to become a freelance writer but don't have any experience, continue reading. Because I'll be discussing the eight best strategies to become a freelance writer without any experience.
Let's start by first knowing how many types of freelance writing skills are actually in demand in the market.
Types of Freelancing Writing Skills in Demand
There're several different types of writing skills that are usually in demand in the freelance work market. You can select any of these skills to become a freelance writer.
Content Writing
Content writers create articles for blogs and websites. They do a lot of research on a specific field to create amazing content that people would love to read and engage with. Content writers either work freelance or with an organization.
Feature Writing
Generally, feature writers work for newspapers and magazines. They write about interesting things after experiencing them personally. Their job is to create features that promote a place, cause, or product, among others.
Travel Writing
Travel writing is a very specialized skill. It involves traveling to different places and visiting the various attractions over there, tasting local cuisine, and understanding their culture. Travel writers usually promote a tourist destination through their works.
Copywriting
Copywriters work for advertising companies. Their job is to write amazing copies that promote a brand, product, or service. Their writings go on literature, company and product brochures, and ads. They also make creative slogans for ad campaigns.
Script Writing
If you've ever seen a movie, you might have wondered how the various actors get their dialogues. Actually, these dialogues and the script of the movie are written by a scriptwriter. They read books and convert them into scripts for movies.
Reporter
As you would definitely know, a reporter is someone who covers the news. They work for newspapers, magazines, radio stations, and TV channels. This is a very specialized field because reporters are journalists and should have a sharp nose for news. They also do news analysis.
Author
An author is someone that writes books. They usually write books from their own experience or from fiction, using their imagination. Writing a book requires very creative skills because you've to weave a story that people would love to read and the story can be made as a movie too.
Technical Writing
A technical writer creates user manuals that we get along with electronics and household appliances. They convert complex technical information to simple, easy-to-understand terms that ordinary users of the stuff like you and I can easily understand.
These are the top eight writing skills that buyers of freelance work look for. There are no specific data on which is the topmost skill in demand since all writing jobs have an equal share. In some cases, the demand for a specific skill can vary according to the season or situation. For example, the demand for content writers grew by some 23 percent during the peak of the Covid-19 pandemic in 2020.
Eight Strategies to Become a Freelance Writer
Now that you're aware of the eight different kinds of writing skills that are in great demand, here's a quick guide to becoming a freelance writer without any experience. You can use adapt these strategies to suit your need.
1. Define Your Niche
Defining your niche first. This means, select which specific field you would love to work in as a freelance writer, from any of the eight choices that I mentioned above. Defining your niche requires you to take a skills inventory. To do so, identify your passions and hobbies, profession, or your academic qualifications.
Find out the subjects or topics where you have superb knowledge. That's because your knowledge will help you become an excellent writer. And when you define a niche, you can find clients in that particular specialty and serve them properly with your work.
2. Read, Read and Read
One of the best strategies that you've to observe strictly is to read, read and read a lot. That's because reading will help you gain a lot of knowledge about your specific field. Additionally, reading also sharpens your vocabulary. Writing superb articles of any kind requires excellent writing skills and a sharp vocabulary. Reading helps you develop both these skills.
Other than books and articles in your field, you could also include newspapers and magazines because they would help you increase your general knowledge. While writing about anything, general knowledge is also important because it would help you to do research about a subject properly.
3. Open Your Own Blog
One of the best short-cut to become a freelance writer is to start your own blog. Now, I'll assure you that it's very easy and simple to start your own blog. There're two ways to start your own blog. One is by creating an account on any free blogging platform such as Wix.com or Blogger.com. The other is by buying an excellent domain name, web hosting, and other essentials. Nowadays, you can build your own blog site for as low as $9.99 per month only.
You can also earn a lot of money from your own blog by uploading superb content that people love to read and engage. At the same time, a personal blog helps you in self-branding. You can display your personal blog to buyers of your freelance work. If your blog is indeed superb and successful, you can find several buyers for your freelance work.
4. Create Amazing LinkedIn Profile
Nowadays, for freelance work, a killer LinkedIn profile is very important. As a matter of fact, almost every freelancing platform where you'll register will ask you to provide a link to your LinkedIn profile. Therefore, spend some time and exert extra efforts to make a wonderful profile for yourself as a freelance writer. You could read articles about how to make a killer LinkedIn profile from the company's website itself.
LinkedIn is a vital resource for personal branding. Therefore, you can mention clearly that you're a freelance writer and mention your specialties on the profile. Also provide some excellent references on your LinkedIn profile. Understandably, you might not have any professional references because you're starting a career as a freelance writer without experience. Therefore, use references from faculty members of your educational institute or friends that are in the same field.
5. Learn About SEO
Nowadays, almost all kinds of writing go online. Therefore, learn a few basic tips and tweaks about Search Engine Optimization (SEO). This means, your article or content can be found easily on the Internet whenever anyone searches with the right keywords. SEO isn't very relevant if you're going to work as an author, scriptwriter, or technical writer. However, for the other five kinds of freelance writing jobs, you'll require at least basic knowledge about SEO.
The Internet is a superb way to learn SEO basics. There're several amazing videos on YouTube and articles written by professional digital marketers on this subject. That would teach you how to blend various kinds of keywords in your writings. When you have basic knowledge of SEO, writing for an audience also becomes easier since you know what kind of topics they would be looking for and the keywords they'll use to find such articles.
6. Find Internships
Internships are the best way to learn a lot about working as a freelance writer. In fact, when you work as an intern in any specialty of writing, you get a lot of experience and can learn from seniors in the field. This helps you to patch up your own grey areas and learn tips and tweaks about writing. An internship will also help you get the necessary references that you will need to upload to your LinkedIn profile.
In most cases, you will be able to find a paid internship as a writer. However, if the organization of your choice offers only free internships, it's best to accept them as well because the skills and other resources you'll gain are more valuable than money.
7. Learn About Flesch Readability Test
There's something known as the Flesch readability test. This means, your articles have to be written in a simple language that even a fourth-grader or an 11-years old student can easily understand. Having a superb vocabulary is fine. However, the trick in reaching out to a larger audience with your content is to keep your language simple and precise.
You can write a few sample articles and test them online to find if they conform to Flesch's ease of reading test. There're several websites where you could run such tests on your articles for free. Also, if you own a blog, you'll find the Flesch test right on your WordPress dashboard too. Nowadays, every article or content has to comply with Flesch ease of reading standards because that's how Google will rank your content.
8. Register on Freelancing Platforms
And finally, register yourself by creating an account on any top freelancing platform such as Upwork.com, FlexJobs.com, Freelancer.com, Guru.com or Fiverr.com, among others. Creating a freelance writer's profile isn't easy. You need to create it in a manner that attracts buyers of freelance work and helps you compete with other skilled and experienced writers.
Also, fix your price for your work. Usually, freelance writers charge on an hourly basis. You can decide how much money you wish to charge a client by viewing what others freelance writers are charging. Usually, the charges correspond with your experience. Since you don't have any experience except for internships, you could peg your price a bit lower than your seasoned and experienced counterparts.
In Conclusion
These eight strategies could help you to become a freelance writer without any experience. However, you'll need to exert extra effort on all these strategies if you're serious about making a career as a freelance writer. Becoming a freelance writer without experience isn't an overnight process. Therefore, give yourself the extra time it takes to enter the profession.
Also Read: