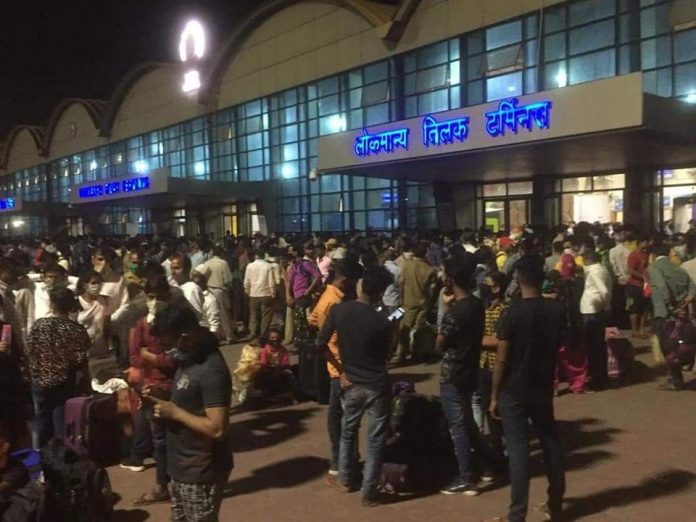 The exodus of inter-state migrants has prompted a debate on social media, with many  privileged ones calling them "selfish" and "insensitive" for leaving metros and cities and possibly taking the virus with them to their respective states provinces.
Ever since the lockdowns started, state after state, many have left for their homes, stuffing into buses and trains, in panic, as govts and employers leave them without info, wages, rations or shelter. 
I see some strong views condemning the stupidity and non-cooperation of migrant workers by crowding stations to get back to their homes in the process. Many are concerned that they are responsible for causing the spread of corona virus.
Theoretically, you are right, sir/ madam. And how I wish human civilization works in theory.
Not foreseeing that these inter state migrants mostly poor workers would be the first to rush away from cities and not providing and provisioning for their safe passage is at best stupid and at worst, sinister.
Migrant Workers – Not Sympathies, But Redressal By Govt Needed
An administration worth its name should have planned for this even before a lockdown is declared. They should have helped in the smooth movement of the public at best or, at worst, assuaged their fears and uncertainty in these trying times.
As people, as urban rich, we should have chimed in support and with solutions for urban poor. On the contrary, the insensitivity has been attributed to the administrators in some states. With directions to close all interstate terminals and plying of buses, the migrant labourers were left to fend for themselves.
No interstate buses,no trains.Migrant labourers asked to leave for home and they march on for Amroha, Aligarh,Badayun,Buland Shahar and many places from Delhi N.C.R pic.twitter.com/5ZajIjwbq5

— Anindya Chattopadhya (@ANINDYAtimes) March 24, 2020
Ranjan, from Siwan, Bihar had only been in Mumbai for less than a year and was working at a local gymnasium to earn money to send home to his aged parents.
With no work and no income, how can i afford to stay in Mumbai where I would still have to share my room rent and other bills.
When asked as to how he felt about people branding him  "selfish" and "irresponsible" Ranjan simply replied with a rueful face: "It's fine. They can't realize till they get into a situation in which we are now."
I think that any uncertainty triggers panic and makes people go back to / seek comfort spaces – a.k.a homes. That is the 'safest place to die.' Exactly how rabbits rush into their burrows or rats into their holes. We humans are no different.
It is thus natural that migrant daily wage workers in Chennai, Bangalore, Pune or Mumbai want to rush back to their mothers / homes. What else would they do with a little or no savings, uncertain / lost employment, no roof over their head, loss of livelihood, no food/restaurants – just wasting money for weeks/ months?
"Imperative That the World prepares for an economic depression": economist kumar
Isn't this what the thousands of 'rich' migrant Indians / students and short term workers did and were then airlifted by Air India or those that paid princely amounts in commercial airlines did to run away from New York, Iran, Italy or Wuhan.
Have we as a human race become insensitive not to relate the two as similar triggers? One such insensitive tweet that drummed up the sentiments against the poor migrants is reproduced here:
These ppl are leaving mumbai without caring what will this much crowd can bring soon. Why do only mumbai and metros allow crowd which burdens cities, systems. Can't there be work permit to every entering person here? Can't there be record of interstate immigrants n their jobs? pic.twitter.com/a6fS0RdEgz

— Vivek Khade (@VivekKhade12) March 22, 2020
We live in extraordinary times And we should be ready for extraordinary responses. And yes, the administration (almost always) has extended special treatment to airlift people while we chase away / lathi-charge local immigrants crowding stations.
Where will they go? And worse, the public is blaming only the local immigrants crowding a Mumbai Railway Station or Koyambedu bus terminus. Do we see the irony? What is your thought?