Movie (Drama Film): Bishmillah
Directed by: Indraadip Dasgupta
Viewers: 18+
Genre: Art, drama
Directed by Indraadip Dasgupta, Bishmillah is a drama film released on 19th August 2022. The movie stars Riddhi Sen as the central figure of the show; a bohemian musician. It projects Bishu's (Riddhi Sen's) quest for his ultimate love that he locates in Radha, Meera and Rukmini. The film touches on several issues of the society and reminds us how certain traditions are fading away with the sudden insurgence of western traditions.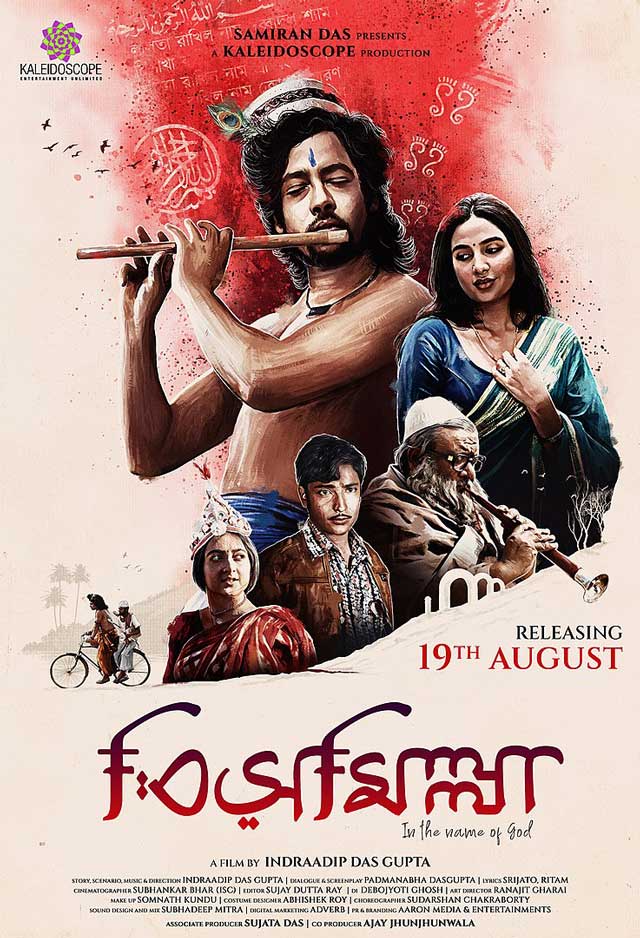 Bishmillah relishes playing flute and constantly picturises himself as Lord Krishna/ Shyam and keeps on attending jatras while hallucinating about divine love. The image of Riddhi Sen running along the woods with a flute in his hand is a tyrannical epiphany that shatters all religious diversions. Born in an impoverished Muslim family, his father; Ustad Rashid (Kaushik Ganguly) is a legendary shehnai player. Rashid however is barely able to afford meals and other liabilities of his family but stands firmly on his principles.
In a world that has turned mechanical and relies on gadgets, the sound of shehnai is almost abstract here and dies out in the efflux of upbeat music. Bishmillah in turn struggles to keep up with his own passion as he is asked by his father to take lessons of playing shehnai. For them music is the only solution for the question of poverty. The transitions that Bishu undergoes as he emerges as the laudable shehnai player is truly ravishing. In an exclusive interview, actor Riddhi Sen reveals that:
"Shehnai is a difficult instrument and playing that on screen was a challenge".
Kaushik Ganguly portrays the digressions that an artist faces as he fights the tide of innovativeness with his notes of music. An artist is unlike an ordinary human and has little concern about the worldly affairs. Simultaneously, Bishmillah is too painted as a shy character who keeps up with his father's expectations as he dwells in his own unrealistic world. Riddhi Sen's acting is indeed commendable and Kaushik Ganguly as Rashid has played an excellent part as a provocative artist who is depressed about the fact that his elder son has not yet written him back. The plot celebrates the union of the two religions that constantly rebels against each other; Hinduism and Muslim. It is through Bishmillah that both becomes one, the peacock feather on his hat becomes a silent indication of this.
An artist has no religion of his own and for him divinity is his music. The idol worship is replaced by Leela's (Surangana Bandyopadhyay) appreciation of Bishmillah's sound of flute. Love has various forms and when investigated closely we can connect Krishna's undying, scandalous love for Radha with Bishmillah's seductive and sexualised love for Fatima. Both engages in rash leela as Fatima leaves her infant home and runs to the terrace in the arms of her lover. The sound of flute lures maiden much as Krishna's bansuri attracting milkmaids. The close resemblance with Hindu culture leaves us astonished and the Hindu-Muslim eternal battles finally collapses as Bishmillah agrees to marry a Hindu girl, who is half blind.
Bishmillah's muse is "pain" that becomes his only companion. As he encounters loss upon loss, he is finally left with nothing and the voices of the dead haunts him. The movie is a representation of several fictional scenes like the post office without a roof on its head and takes a psychological turn as the conflicts inside Bishu takes the form of a dance.
The movie has received several negative response as people have strived to boycott the film. The actor reveals his disappointment as people questions religious atrocities without bothering to even watch the film. The sudden boycott trend has instigated a fire amongst the people as they are questioning the importance of romanticising Bishmillah (the Muslim's invocation) over Bandemataram.
On the contrary, the movie doesn't propagates Islam but rather brings together two diverse religions which I find to be very challenging and equally beautiful. After Dharmajudhho and Lal Singh Chadda, Bishmillah continues to be criticized for violating religions grounds. While, many have commented that the film otherwise good is extraordinarily long with a running time of near about 2 hours but, from a personal level the 2 hours were lucrative. Riddhi Sen on being questioned about romanticising Subhashree replies that it wasn't a much difficult task owing to his theatrical background where he had enough experience of romancing with elder women.
The adultery between Subhashree Ganguly and Riddhi Sen frames the ending of the show. As, the rain pours in and the wind lifts the kafan off, revealing the face of Fatima, Bishu's world crumples down. The blood rain, the post office on fire, the dance of the dead and multiple imageries floods the movie. It's a recommended must watch for people preferring art films and has the inquisitive ability of decoding various subtle topics as reflected on the screen.
Also Read: