A certainty with startups is their tendency to change and grow due to several reasons. Unlike already established businesses, startups have adaptability that makes them malleable. This ensures they can absorb changes both external and internal that affect them.
Indeed, this adaptability has never been more pronounced like it currently is in the post-pandemic landscape. This year, Covid19 has ripped off the existing ground rules and established new ones. Startups, however, have changed and adapted to cope. Most startups have had to redesign their product offerings, seek new means of fund and change the modes of operations to stay afloat.
As the world continues its slow recovery from the pandemic effects, new opportunities will present themselves. Accordingly, startups would evolve in order to maximise these chances and thrive off them.
Changing Startup landscape around the world
The global pandemic has resulted in a Startup market boom. Recently the number of new enterprises throughout the world significantly exceeded the figures recorded last year. The reasons are not far-fetched, and workers laid off during the lockdown have gone on to establish their startups.
The numbers tell the story. Citing official statistics, the Financial Times has reported a surge in business start-ups globally owing to the pandemic. According to the Census Bureau, the number of applications for creating a new business in the United States hit an all-time high of 551,657 00 in July 2020. This represented a 95% increase over the same month in 2019. France, Japan and the United Kingdom also experienced a similar increase in the number of post-pandemic startups.
The change in the existing startup landscape that we currently see post-pandemic is attributed to several reasons. This include:
A significant outcome of the covid 19 pandemic was the global lockdown. Non-essential workers had to minimise contact by working from home to avoid the spread of the virus. The situation resulted in closed businesses leading to workers being sacked or furloughed. For others, they simply had to stay at home.
Consequently, people had more time on their hands and, for whatever reason, decided to start a business. For some who had lost their jobs, it was the only option left. For others, it was something to do to keep from remaining idle and break their lockdown schedule. While a considerable number wanted to explore a skill they never had the time for. Thus, creating a startup at home was not only logical; it was vital. While it reduced overhead cost, it also allowed its locked down owners to stay close to their families while earning an income.
As the world continues its recovery from the pandemic, many startups have remained and have continued to thrive.With more work being done remotely and the attendant technological level being able to support it, individuals will run more startups over the internet in their own homes.
Startups adapt quickly to fast-changing environments.
The pandemic and the slow recovery has given credence to Plato's famous saying. "necessity is indeed the mother of invention." Another effect of the pandemic has been increased digitization. From customer service to remote work to the reinvention of the supply chain, the use of AI. Healthcare is being digitised as telehealth and Biopharm continue their fast-paced development. Every aspect of our lives is somehow linked to the internet right now; Startups are leveraging this.
Despite affecting businesses in general, the pandemic has also created several avenues for the exploration of startups. Research by Statistica.com has shown that most new start-ups tend to lean towards the internet and digital technologies. From the chart below, the Fintech industry accounts for the bulk of new startups globally, with 7.1%. Life sciences and healthcare have 6.8%, artificial intelligence 5.0%, gaming 4.7%, Adtech 3.3%, and Edtech 2.8%.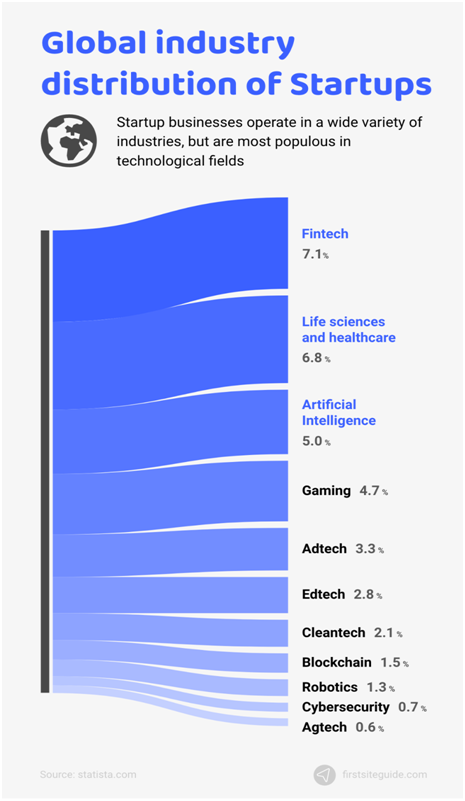 The data still holds even as we continue our recovery from the pandemic. The tremendous acceleration in the use of technology, digitization, and new modes of working will continue. Many executives reported that they could move 20 to 25 times quicker than they believed possible. Issues like boosting supply-chain redundancy, improving data security, and increasing the use of new technologies for digital operations are boosted due to the pandemic.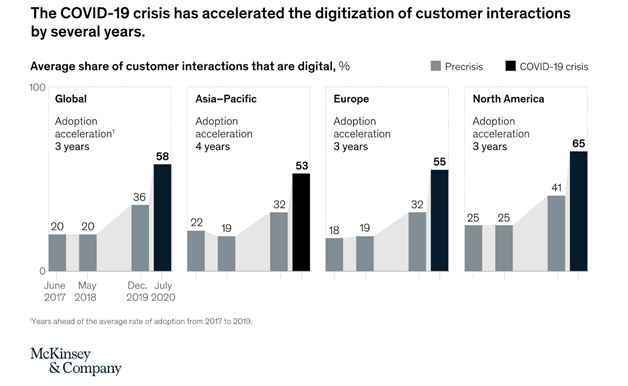 The resulting effect is that most new Startups are now based on the internet or use it in some form. Social media has also come to the fore to advertise products and services and reach new customer bases for these startups.
Increasing Venture Funding
The global recovery from the pandemic has also increased venture capitalist (VC) spending on startups. During Covid 19, VC spending took a severe hitdue to uncertainties concerning how economies would cope.
However, post-pandemic, VC spending is starting to take off. VC funds, which are required to invest their capital, have publicly stated that they are open for business. They have encouraged companies to approach them.
This has created a win-win for innovative startups to access much-needed funds, critical for their survival and expansion. New businesses that can prove their relevance in this post covid world would be funded adequately by these VCs.
The current boom in the Startup industry may most likely not last a long time. Several of these businesses were temporary setups used as stop-gap in-between jobs or side gigs due to the pandemic. However, many new companies may last due to the aforementioned conditions, which have caused a change in the start-up landscape.
The failure rate of a startup is another consideration despite the changing industry. Historically, 9 out of 10 startups fail eventually, and also, two out of every ten new businesses fail in the first year of existence. These are damning statistics. More countries are beginning to adopt measures to help reduce these failure rates and make them convenient for creating a successful startup company.
Estonia, a haven for startups
According to Startupranking.com, The United States, India, and the United Kingdom currently have the most startups per country. With 63,703 startups, the US leads the rest of the world by a wide margin. India takes second place with 8,301 firms, and the United Kingdom has 5,377. Many other countries have made initiatives to bridge the gap somewhat and make them suitable for startups. One such country is Estonia.
Estonia is a small country located in Eastern Europe with a population of around 1.3 million. At first look, it does not come off as a country known for its many startups, but a closer investigation is revealing. Estonia has many businesses which make use of its robust digital infrastructure. This has seen it rank as the 13th beststartup economy globally.
In 2020, the Estonian government had made concerted efforts to develop the startup landscape. It released a whitepaper through its subsidiary Startup Estonia in which it highlighted plans for the start-up ecosystem between 2021 and 2027. The industry is a significantfocus of the Estonian government, seeing it as one of its primary economic vehicles.
In the whitepaper, specific points were underscored as the goals of the initiative. Theses are;
To foster a forward-thinking startup ecosystem.
The Estonian government intends to make the startup environment more transparent and inter-linked. By assisting businesses at the various stages of their development, they aim to create an entrepreneur-friendly and less bureaucratic environment.
To encourage an entrepreneurial and startup mindset in Research and Development (R&D) while scaling the growth of scaleups.
The startup industry is a powerful force for introducing new inventions, R&D operations, and scaleup expansion. This has resulted in the Estonian government ensuring that its more friendly startup ecosystem can attract more entrepreneurs and establish a more robust startup ecosystem (with more startups, investments, and employees). Officials intend to achieve this goal by attracting employees with academic, science, or other high-level educational qualifications, thereby growing research and technology-intensive enterprises.
To ensure variation in gender, age, and cultural and geographic background.
Officials want to establish the educational and business sectors as more inclusive institutions to make this a reality. Thus, creating possibilities for future startup founders irrespective of gender, age, education, or position. They want the startup industry to become a magnet for the most talented and skilled entrepreneurs. The goal is to increase the number of female founders by at least 20% and female employees by 50%, foreign workers by 30% while ensuring employee diversity through various measures.
To create a data-driven startup ecosystem that is available to anyone.
The Estonian government intends to create a forward-thinking, transparent data infrastructure that will make the ecosystem less crisis-prone. It is possible to achieve this through the creation of a startup database together with other analytical tools. Even while a large amount of startup-related data is accessible and publicly available today, this will become more pronounced in the future.
Estonia's time in the startup limelight has come, and the government is doing everything it can to ensure that the country remains a haven for startups. Its favourable location, easy to understand legal structure, high-quality talent pool and low cost of living makes Estonia a suitable place to establish a startup. Foreigners looking to develop new startups or expand can take advantage of the Startup Visa Estonia initiative.
Let's have a look at several prominent startups that have been founded in Estonia.
Bitsgap
Bitsgap is Estonian startup that is deeply rooted in cryptocurrency founded by Maxim Kalmykov back in 2017.The startup made itslef a name by offering a robust trading platform for trading across multiple exchanges in a fully automatic or semi-automatic way.
It also allows traders to get the best exchange rates and trade on various exchanges from a single account. Features available include trading bots, and demo mode while allowing users to fine-tune their strategies before paying for any subscription packages available on the platform.
Bitsgap team, unlike other startups, did not run any investment campaigns and have been funded from the original team's pockets. This allowed Bitsgap to secure the highest level of autonomy and pave their vision of the future where investing into digital assets can be accessable for everyone, no matter the income or trading skill.
Bolt
Bolt is another Estonian startup responsible for the popular meal delivery and ride-hailing app. It was founded in 2013 by Markus Villig, Martin Villig, and Olivier Leisalu and has grown to have a staff size numbering over one thousand.
While its headquarters is in Tallinn, Bolt is not just a local business, and it provides its services globally in at least 40 countries, predominantly to the European and African markets.
The company intends to provide a single logistics platform that connects businesses and customers. So far, Bolt has received significant startup funding to aid in its development.
The startup has raised over $1.3 billionfrom more than 27 different investors, with the European Investment Bank and the International Finance Corporation being two of such investors.
Monese
Monese is another well-known FinTech startup from Estonia. Although the company's headquarters is located in London, it was established by Norris Koppel in Estonia in 2013.
The company offers banking services in 31 European nations, with built-in multi-currency capability. This allows Europeans to travel across Europe and spend money without any issue using the same bank account.
Monese has so far garnered a large amount of funding to help it continue to flourish. A total of $170 million has been raised for the Estonian startup by 23 investors.  PayPal Ventures, surprisingly, is one of the investors in this startup, albeit a modest one. Monese also happens to be one of several Estonian Startups to have moved abroad.
Also Read: