The nations around the world are sold on the idea of increased urbanization as a solution to make the wheels of economic development go fast to meet the objective of trillion-dollar economies and to provide modern amenities to a larger proportion of the world population. India is no exception, as is expected to achieve the target of 50% population living in urban towns and megacities by 2050. No wonder as the world cities are regarded as the powerhouse of world economic growth, accounting for 60% of global GDP and hence form the basis of developing a prosperous world, as per the UN Habitat World Cities Report 2020. The report also mentions that the world cities occupy 3 percent of earth area but consume 70 percent electricity and account for 80% of total carbon emissions as of today! What more, the rapid urbanization is resulting in a growing number of slum dwellers, inadequate and overburdened infrastructure and great pressure on services such as waste collection and disposal, water and sanitation systems, roads and transport, worsening air pollution and unplanned urban expansion.
Increased urbanisation for development strategy assumes that in the years to come the cities will be greener and sustainable by increased focus on energy efficiency, sustainable technology innovations and smart and intelligent systems to manage urban habitat. Smart and sustainable cities are being projected as a promise for a green and bright future to the global community.
But the advocates of urbanization forget that increased urbanisation after the globalisation and liberalization created megacities and urban townships but also created several problems including exodus from rural areas to cities and metropolis towns. They also created slums.It is alarming to note that In India by 2011 the slum population was 5.41% and by 2017 it increased to 10.4% of India's population. It is further projected to grow to 18% by 2036. Hence, if the business as usual continues by 2050 when urbanization is expected to grow to 50%, the slum's population shall account for almost 40 % of population in India.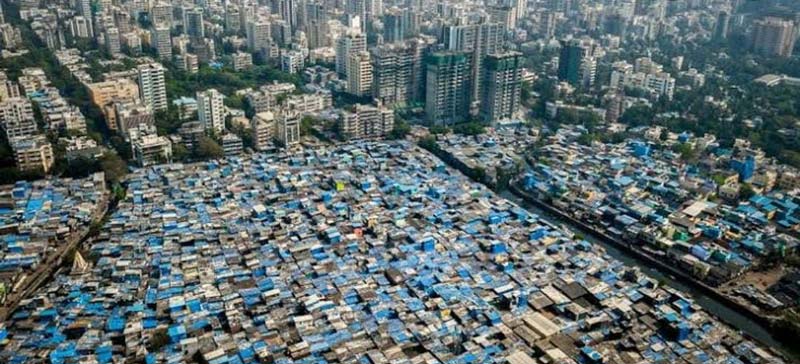 The UN Secretary General in his foreword to the WCR-2020 has said "We cannot go back to business as usual. Cities and communities are demanding that those in authority take the opportunity to build back better. To emerge stronger, we need a sustainable, inclusive and green recovery for people and the planet. That means dealing with the existing challenges of how cities are planned, managed and financed, and ensuring their development is compatible with the goal of net zero emissions by 2050". The emphasis here is clearly on ensuring a green and sustainable future for the mankind.
I must not hesitate to say that the increased urbanization is the decease of the western mind and is not the best way for a country like India to create a green and bright future to either the current or the future generations. A better way for a country like India where 80 percent population is still living in rural areas would be to find better ways of developing a New and Sustainable India of our dream.
A better way would be, to"Go Rural with a High-techMind and Scientific Solutions" and build rural areas as  vibrant economic growth centres of new India, creating millions of jobs and usher into an era of mass entrepreneurship, powered by the innovative genius of young India. It makes a strong case for going back to basics of sustainable , happy and developed habitat
Our major focus in India should be how to create jobs in millions and yet without the exodus of our population from rural to urban areas. The advocates of urbanisation shall argue that it is for the reasons of job creation and to usher rapid economic growth that the urbanisation-based development is needed. What they forget of course that the same jobs could be created in the rural areas had we been able to penetrate rural areas with good quality education, skilling and industrialisation in areas that matter for a sustainable rural development. High-tech aggrotech, Food-tech, info-tech, scientifically developed herbal Pharmaceuticals and whole lot of cottage industries, including in areas of modern technologies like low-cost electronics, and a large number of ancillaries of modern industries can be pushed in rural areas now that skilling and good quality education can make its inroads in rural India. This would not only decongest the cities that are already choking because of population exodus from rural to urbanization. Green energy technologies, water conservation in agriculture and improving the yield as well as quality of agriculture produce would be the positive outcome of go rural with high-tech minds. We spend so much of efforts to educate rural children in the cities and delink them from their native habitat in our urban centric industrialisation thus denying the rural India the benefit of its talented children. A high-tech rural centric development model is needed for a country like India for achieving the goal of sustainable inclusive growth in the coming years.
As we move deeper into the scientific explorations and mind boggling technology innovations now on, the education in Indian universities should take on board sustainability and sustainable development goals as the guiding principles for accelerating innovations and rolling out startups powered by the inspired minds of young India to make New India a prosperous and happy abode of humanity alongside achieving the goal of inclusive development powered by mass entrepreneurship and sustained focus on creating a green and sustainable future. I would advocate for a strong case for redesigning our education system tuned to sustainability."
Our age old traditions of education for man making was founded on the principle of Janani Janam Bhumascha Swargadapi Gariyashi (develop your motherland as the heaven on earth) despite the fact that education in ancient India has a universal appeal. The mass production led industrial development in India created increased demand for labour, both skilled as well as unskilled and also created huge migration of labour from villages to industrial hubs in large cities and metros. The great economic disparity that India growth story created during 75 years of India's independence is a matter of grave concern. 42.5% wealth of India is still in the hands of the top 1% of population while the bottom 50% account for mere 2.8% of India's wealth in 2020 as per a paper by Maitreesh Ghatak of London School of Economics (June 2021). It is also interesting to note that the corresponding figures for 1991 were 16.5% for top 1% and 8.8% for the bottom 50% of the population. Thus, the globalization and liberalization that made Indian economy to grow leaps and bounds also resulted into greater economic disparity due to growth-centric development devoid of equity and inclusiveness. The damage it did for environment and air and water pollution created further tears and distress in the Indian society.
Also Read