With a steady stream of incidents of brutal rapes and molestations of women across India going viral in the past couple of years, its no surprise that India was headed to earn a position of disrepute globally.  Today, accordingly to findings of a new study, India was named as the most dangerous country in the world for women to live in.
Thomson Reuters Foundation, a fairly reputed organization on global rankings, has ranked countries to identify as to where in the world is considered most dangerous to live as a woman, taking into account discrimination, human trafficking and sexual violence.
India tops the list as its levels of human trafficking and sexual violence were found to be the worst across the globe.
The Foundation said: "The world's second-most populous nation, with 1.3 billion people, ranked as the most dangerous on three of the topic questions—the risk of sexual violence and harassment against women, the danger women face from cultural, tribal, and traditional practices, and the country where women are most in danger of human trafficking including forced labour, sex slavery, and domestic servitude,"
Afghanistan, Syria and Somalia were the countries ranked the next most dangerous behind India. According to the survey, the ranking order is:
India
Afghanistan
Syria
Somalia
Saudi Arabia
Pakistan
Democratic Republic of Congo
Yemen
Nigeria
United States
Between March 26 and May 4, the Foundation surveyed 548 experts on women's issues across the world to determine where it was most dangerous to be a woman. This wide list included health workers, academics, policy-makers and NGO workers.
The survey follows the Foundation's 2011 ranking of the most dangerous countries, where Afghanistan, Democratic Republic of Congo, Pakistan, India and Somalia were in the top five.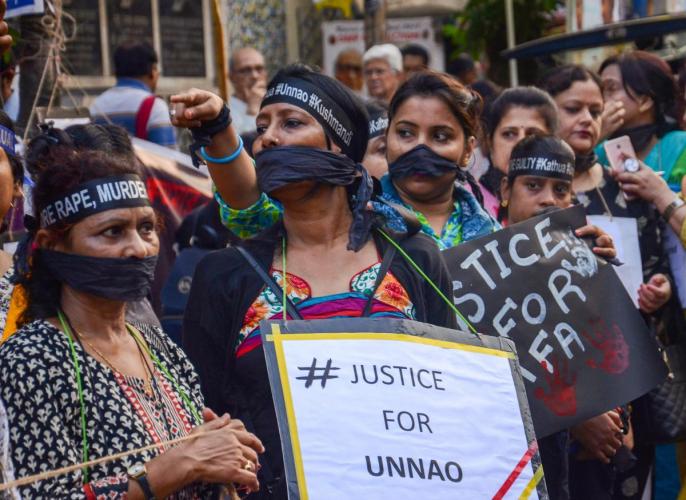 Violence against women in India has caused "national and international outrage" according to the foundation, especially since 2012 when a student was brutally gang-raped and killed in New Delhi.
The recent Kathua horror incident of an 8 year old Asifa Bano being kidnapped, brutally gang raped and then murdered (stoned to death) had hit international headlines and caused global outrage at the sheer brutality of it.
In this year's survey, America also made the list.
Ranked at number ten, the United States was placed in the list because its levels of sexual violence are said to be third in the world, according to the foundation.
Its levels of non-sexual violence towards women was also found to be very high as it ranked sixth in the world, ahead of Saudi Arabia, Democratic Republic of the Congo, Somalia and Mexico.
What Could Be Wrong – IIT Alumni Threatening To Rape 9-Month-old Daughter of Indian Stars