This is the 5th article (S No: VI-360.05) of the series "Visit India 360". It's an endeavor initiated by N4M, through a series of articles highlighting the various facets of 'Indian Tourism', and in the process synch with the ongoing efforts to make India the preferred destination of World Tourism.
The Island Groups Of India – Most countries in the world, located in whichever continent of the world they may be, are blessed with a limited numbers of landforms only. India, probably, is the only exception which has got every landscape that Mother Nature has to offer, be it mountains, deserts, plains, waterfalls, plateaus, islands etc. The country has numerous places which instantly become the cynosure of all those who are fortunate enough to visit them and partake of the natural beauty they are embellished with. All such places have been praised to the skies by the tourists and have been well documented in different newspapers, magazines and travel journals, both Indian and foreign. But some spots in India still do not command the publicity and attention which they so richly deserve. These are the islands groups of India which lie in entirely different water bodies flanking the two sides of Indian peninsula. These two islands groups are entirely different from each other in form, origin and the dazzling beauty which they have to offer. They are the Lakshadweep Islands and the Andaman and Nicobar Islands.
The Lakshadweep Islands
India's first group of islands is Lakshadweep, an archipelago in emerald waters of the Arabian Sea, located around 200-400 km off the Kerala coast. Its name comes from Sanskrit which means "one hundred thousand islands". At an area of 32 sq. km., it is India's smallest union territory which is made up of reefs, atolls, submerged banks and islands.It is one of the most spectacular island groups of the world. Of its collection of 36 islands, only 10 such as Kavaratti, Kadmat, Chetlat, Agatti, Andrott, Kiltan, Amini, Kalpeni, Minicoy and Bitra are inhabited.All these islands are made up of corals while 4,200 sq. km of coral reefs, rich in marine wealth, fringe their shores. For all their supplies, the islands depend on Kerala which is nearest neighbour.Kavaratti is its capital and principal town. The only airport of the islands is the Agatti Aerodrome which is well served by flights from Cochin (Kochi).
The natural and lush green and blue landscapes, the exotic and sun-kissed sandybeaches, turquoise-blue clear waters, stunning kaleidoscopical coral reefs, abundant flora and fauna and a laidback and unrushed lifestyle have led Lakshadweep to be called "Emerald Isles" and "Paradise Islands" thus further enhancing its mystique. An extremely fragile ecosystem supports this precious ecological and cultural heritage. The islands boast of tropical climate throughout the year and the ideal time for a visit is between October and March.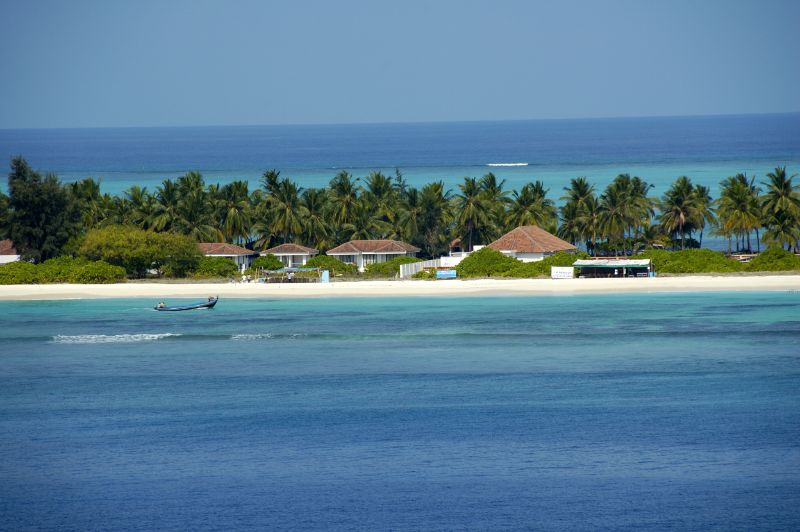 As the area of the islands is very small, industries cannot be promoted here. So, for income generation, the government has been promoting ecotourism which pulls in significant revenue. To ensure that overcrowding does not take place and puts pressure on the ecology, there is a restriction on entry into Lakshadweep. Indians can visit all islands but the foreign tourists are restricted to Agatti, Bangaram and Kadmat Islands only.The permit to enter the islands is issued from Kochi,located 480 km away in Kerala. In order to facilitate the direct entry of tourists, the government has proposed to set up 2 custom clearance check-in offices. As the islands lie on one of the busiest cruise routes, the operationalization of these offices is expected to provide a big leg-up to tourism here.
Forests are absent on the islands and they also do not possess any unique flora that cannot be found on the Indian mainland. Coconut groves and coastal shrubs abound locally. Besides around 400 types of flowering plants besides sea grasses, algae, fungi and lichen are found here. A variety of fauna such as around 78 species of coral, 50 species of crabs, 600 species of fish, 100 species of birds, lobsters etc. are found in these islands.
Though all these breathtakingly beautiful coral islands possess glittering white sandy beaches, crystal clear turquoise water and welcoming and hospitable settings, they offer different services and facilities. While some provide calm relaxing and peaceful atmosphere, others provide a plethora of water sports such as kayaking, surfing, scuba diving, snorkeling, wind surfing, water skiing, fishing canoeing, yachting and sea voyages at night time.
Kavaratti Island
Kavaratti Island, the administrative capital of Lakshadweep with a multitude of swaying coconut canopies, provides dramatic vistas of crystal clear surrounding waters. As the island is secluded and has a small population, its beaches are less visited and hence, provides quiet and serene atmosphere to relax and unwind in peace. The marine aquarium located here has a collection of sea turtles, fish and underwater seaweeds besides the ubiquitous coral reefs. For lovers of adventure and excitement, activities such as kayaking, scuba diving, jet skiing and motorboat rides are aplenty. The Mohidden Mosque or Ujra Mosque was built in 17th century is revered by the locals. It has intricately carved pillars while its ornately carved ceiling was designed from a single piece of driftwood. One of its walls has water with supposedly curative powers.
Minicoy Island
The crescent shaped Minicoy, second biggest among all the islands of Lakshadweep, lies close to Maldives. On its southern side is one of the largest lagoon with a small uninhabited island. Surrounded on all sides by the pristine blue waters of the Arabian Sea, the colourful coral reefs of the island along with its scenic beauty, white sandy beaches and coconut lined shores enthrall and captivate the visitors.
As the waters are teeming with tuna, the island is popular for tuna fishing. The British set up a tuna canning facility here in 1885 which is a must visit. Other fish found here are napoleon wrasse, red snappers, bull rays, hump-back parrot fish and barracuda.
The island possesses a lively culture and folk dances such as dandi, lava, bandiya, thaara and fuli are performed on festive occasions.Jahadhoni are the local colourful boats which are used to receive visiting dignitaries. These are also used in racing. The British also built a 300-foot tall lighthouse here in 1885 which serves as the local landmark. Tourists climb it up to be stunned by sweeping views of the surrounding panorama.
Minicoy has 3 large shipwrecks which lie at a shallow depth of about 8 m which has turned the island into a popular diving site as tourists love to view these virtual underwater museums.
Bangaram Island
The teardrop shaped Bangaram Island has a shallow lagoon surrounding it which is, in turn, enclosed by coral reef. The islands of Parali and Thinnakara are its neighbours in the same lagoon. Being the only uninhabited island in the region adds to its charm. It has own collection of unspoilt beaches, beautiful coral reefs, coconut canopies and tranquil and peaceful surroundings which has enabled it to be ranked amongst the best getaways in the world.
Visitors can have their fill of scuba diving, kayaking, deep sea diving, catamaran sailing, wind surfing and snorkeling. At nights, the beaches are lit up with another worldly bluish glow because of phosphorescent plankton which is washed ashore. This gives rise to an enchanting and surreal feeling which leaves the visitors pining for more.
Agatti Island
The sparsely populated Agatti Island, lying on a coral atoll, has the near perfect combination of sun, sand and sea. Known as "Gateway to Lakshadweep" as it has the only aerodrome of the islands, the white sandy beach of Agatti Island along with its azure waters take the visitors' breath away.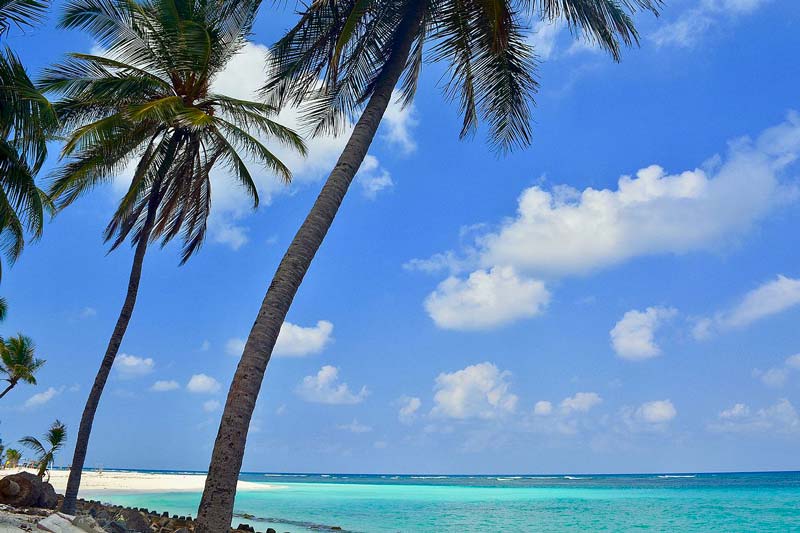 Bestowed with one of the most beautiful lagoons, Agatti is also called "The Fishing Capital" as it has a profusion of colourful fish one can ever see.The island has facilities for angling, kayaking, glass bottom boating, speed boating, sailing, canoeing, snorkeling and scuba diving. Scuba divers love it here because besides the adrenaline rush, they also get to see colourful fish swimming past besides the kaleidoscopic corals.
Kadmat Island
The really tiny island of Kadmat, also called Cardamom Island, has long sandy and silvery beaches, surrounded as it is by beautifully spectacular lagoons to its east and west.Besides, it has invaluably rich coral habitat and reef banks which have made it one of the most enticing tourism spot in Lakshadweep. This is the reason why sun bathing crowd throng the place. The island has an abundance of flora and fauna to be explored by kayaking, scuba diving and snorkeling. Local cruises are also arranged so that the tourists can have their fill of the stunning seascape and wealthy marine life.
Kalpeni Island
The three islands of Cheriyam, Pitti and Tillakkam comprise the Kalpeni Islands, a single atoll, one of the most frequented spots in Lakshadweep. These stunning islands have been popularized by the beautifully gorgeous lagoon in which they lie. Tourists can either lie at the beach and relax or partake in number of fun activities like kayaking, sailing, snorkeling, canoeing, reef walking and pedal boating.
Kalpeni Island's unique and peculiar feature is a storm bank of coral debris on its east and south shores. It is believed that these coral boulders were thrown up by a violent storm in 1847. The Tip Beach, with a shallow lagoon by its side, is a popular tourist spot. Adding to the rustic charm of the island is a 37 m high lighthouse whose image shimmers in the lagoon waters at night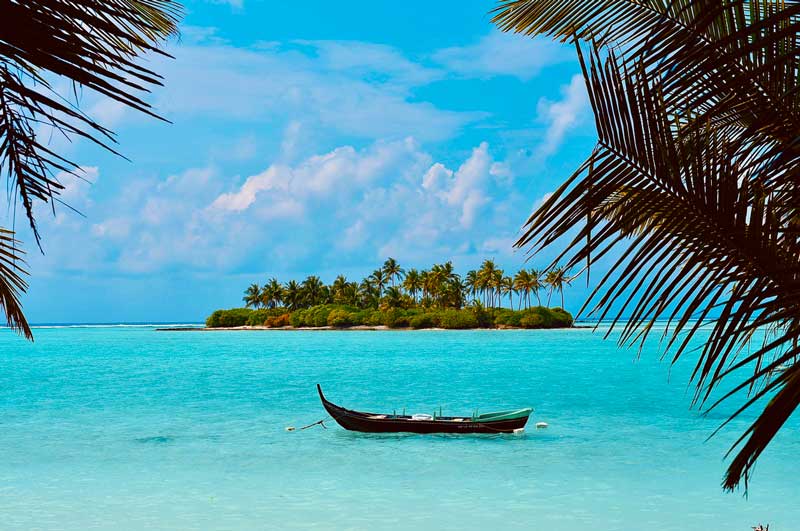 Andrott Island
Andrott or Androth is the largest and the longest island of the Lakshadweep archipelago and closest to the Indian mainland. It is covered with thick coconut groves whose canopies, along with the pristine blue waters all around, give rise to a languorous feeling in the tourists. The island has an ancient Buddhist past whose archaeological ruins are a proof of its rich religious legacy. Later, it became the first island to embrace Islam due to the influence of Hazrat Ubaidullah whose tomb lies within the local Juma Mosque.
Thinnakara Island
Opposite to Bangaram Island and 8 km northeast of Agatti lies Thinnakara Island. As it is uninhabited and has limited connectivity with other islands and the mainland, its natural beauty has been retained and that makes it all the more paradisiacal. Its sun drenched beaches, sylvan waters all around, swaying coconut and palms, brilliant marine fauna provide a great experience. As one goes around the island, lack of any crowd gives the feeling as if the island belongs to him/her only. The beach provides a sylvan setting for sunbathing or a game of beach volleyball. Lovers of water sports can indulge in kayaking, snorkeling, scuba diving and glass-bottomed boating to their heart's content while at night, visitors can ogle over the sight of a billion stars lighting up the sky.
Andaman & Nicobar Islands
India's second group of islands is Andaman and Nicobar Islands, which is another magnificent archipelago in the Bay of Bengal. This group comprises of 572 islands, 38 are which are inhabited. These islands are part of two distinct groups and a 150 km wide water channel, the Ten Degree Channel separates the two.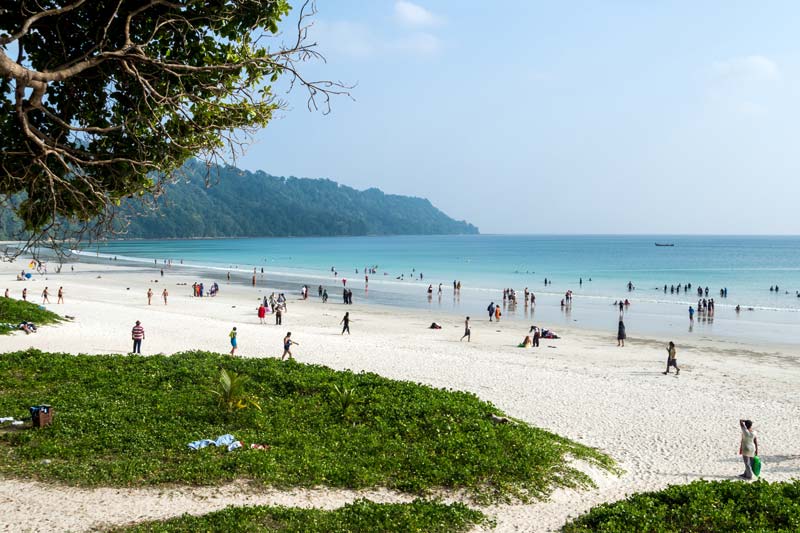 In the 11th century, the Chola emperor Rajendra I used Andaman and Nicobar Islands as a naval base to launch an expedition against the Srivijaya kingdom in Indonesia. In the 18th century, the Danish East India Company set up a colony in the islands which was soon abandoned due to malaria outbreak. Austrians followed them and tried to set up a colony. The British landed here in 1789 and these islands formally became a part of British India when the Danes sold their rights to the British. The Japanese controlled these islands during Second World War. After the dawn of freedom in 1947, the British laid claim to the islands as they wanted to settle the Anglo-Indian and Anglo-Burmese population here but the Indian government resisted any such move. The territory became a part of the Indian Union in 1950 and were declared a union territory in 1956.
Popularly called Emerald Isles, Andaman and Nicobar Islands have a large number of pearl white and palm-fringed beaches, one better than the other. Coral reefs fringe some of these islands. With crystal clear turquoise blue water all around and a peaceful atmosphere, the serenity and the peace enveloping the place invite tourists of all shades to come for a visit. With lush and primitive forests and mangroves, the islands resemble a tropical paradise.
There are hundreds of beaches on these islands and some of them are ranked among the top beaches in the world, the examples being Vijaynagar and Radhanagar beaches. These beaches, with lush greenery in the background and an azure sea in the foreground presents a spectacularly beautiful vista of nature that is far better than anything seen on television and has to be seen in person to be believed.
The tropical evergreen forests have an abundance of marine life. This ecological museum has a large number of animals, plants and corals. Around 260 species of birds, with 106 endemic species, have been documented living in the region. The presence of 9 national parks, 1 biosphere reserve and around 96 wildlife sanctuaries make this place a truly amazing biodiversity hotspot.
These islands boast of good weather all throughout the year which makes it perfect place to visit which can be visited as per one's own whim. Besides the scenery and the weather, water sports such as scuba diving, surfing, snorkeling, banana boat rides, glass bottom boat rides besides island camping and trekking are the goodies which are offered by this jewel in the crown of India.
Port Blair
The capital of the territory is Port Blair, gleaming like a pearl on sand, is located on south Andaman Island. Serving as an entry point to other picturesque islands, the town possesses fine beaches where one may indulge in activities such as swimming, snorkelling, boating or go for sight-seeing or sea cruises. Aberdeen Bazaar lies at the centre of the town and the hub of its culture as most hotels and restaurants are located around here only. Almost all the entry and exit points of the town lie here. The walkway along the sea allures the visitors who love to have a whiff of sea breeze as they walk.
Many small islands such as Viper Island, Wandoor, Ross Island and Corbyn's Cove besides the infamous Cellular Jail make this town famous. The Cellular Jail, built around 1906, was used to house Indian freedom fighters and political prisoners, under inhuman conditions, mostly in solitary confinement. This was called Kala Pani (Black Water) but it could not break the spirit of the Indians. Now it has been designated as a shrine to all those who breathed their last here.
The town has many museums and INS Jarawa, India's naval base, is located here. The first integrated tri-command of the Indian Armed Forces is also located here.
Havelock Island
Havelock Island. 39 km from Port Blair, is a popular tourist spot. With its spotless white sandy beaches, azure blue water all around, lush greenery and brilliant coral reefs, the island provides a surreal snapshot of a tropical paradise. Its main beaches are Elephant Beach, Vijaynagar Beach, Radhanagar Beach and Kalapathar Beach.
As the waters of the Elephant Beach are shallow, the spellbinding underwater coral reef is brought close to the surface and that makes it perfect for snorkeling. The On the east coast of the island is located Vijaynagar Beach where swimming and having a glimpse of marine fauna are the preferred activities. One may also indulge in activities like bird watching, kayaking and trekking. The TIME magazine has declared Radhanagar Beach, located on the south coast, as one of the best beaches around and one doesn't need to say anything more. Minutes away from it lies Neil's Cove, a beautiful lagoon that enchants with its serenity. Located around 12 km from the Havelock jetty is the Kalapathar Beach, named so because of black rocks on the beach, is largely unexplored and provides a peaceful panorama of the nature where one can spend hours surrounded by sheer tranquility.
Also known as one of the best coral islands in the country, Havelock Island is one of the best places for scuba diving. In the year 2018, the island was renamed Swaraj Dweep by the Indian Prime Minister Narendra Modi.
Neil Island
The tiny Neil Island has uncrowded beaches, lush tropical greenery, unexplored coral reefs and rich biodiversity that make it ideal for solitude-seeking tourists. It is also known as vegetable bowl of the Andamans because its pleasant climate enables the cultivation of a large number of vegetable and fruits.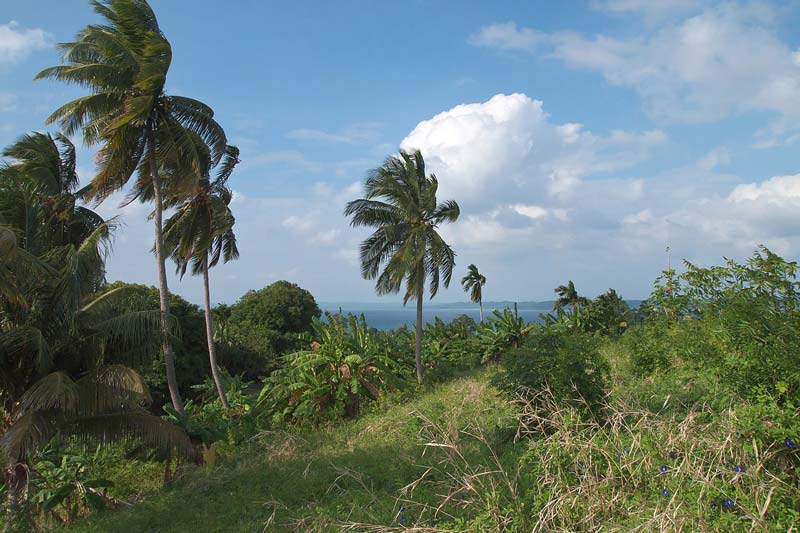 The island also has a variety of beaches with different activities and experience at each one. The Lakshmanpur Beach is famous for its view of the sunsets while Bharatpur Beach offers coral reefs teeming with colourful fish. The natural rock formation of Howrah Bridge can be accessed at low tide whereas Sitapur Beach is renowned for its glorious sunrises.
Neil Island is also reputed as an exotic destinations for the newly-weds. It attracts a huge crowd of both international and domestic tourists for its spectacular coral reefs and wealth of tropical colourful fish. As it is around 5 km in width, enthusiastic and exploring tourists cover it from end to end in about 2 hours.
A turtle sanctuary is located at Chhota Neil (Small Neil) or Rose Island.
Little Andaman Island
Little Andaman Island, known for its mangroves, white surf waterfalls and spotless beaches, is a lovely place to visit. A tribal reserve since 1957, the island is off the beaten track and is less crowded. It is supposed to be one of the best islands in India and is renowned for surfing. One of the best surfing spots in India, the unique concave shaped Butler Bay is located here. Besides surfing, one may also indulge in coral viewing. The tourists can also visit elephant logging plantation or experience boating through the creeks. The Netaji Nagar Beach lies 11 km from Hut Bay jetty.
The picnic spot of White Surf Waterfall lies deep in an evergreen rainforest while a trip to Whisper Wave Waterfall leads one to trek through enchanting biodiversity of primitive forests. The lighthouse on the island is 42 m high and one has to climb it up to enjoy the splendour of nature.
47 miles from the capital town of Port Blair lies Ling Island. With its laidback and relaxing charm, the island offers beautiful beaches, hills covered with lush green carpet, a rich marine fauna, ancient and mysterious caves besides the weather and the gorgeous ecology to the adventure loving tourists. Variety of birds have made its tropical rainforests and swamps their home making the place a veritable paradise for avid birdwatchers.
Long Island
The main attraction of the island is Lalaji Bay which can be reached by a ferry from Rangat jetty. The boat ride through mind-blowing mangroves is a feast for the senses. Tourists can swim at the beach and indulge in snorkeling as well.
Different parts of the island are covered by well laid tree-lined concrete trails so as to explore and discover its hidden gems.
Netaji Subhash Chandra Bose Island (Ross Island)
The tiny Subhash Chandra Bose Island, earlier known as Ross Island, lies bang opposite from Port Blair. Less than a square kilometer in area, the island was the British capital till 1941 when the Japanese occupiers made it a prison for POWs. The main attractions to lure tourists are a British graveyard, a cathedral, a church and the residence of the chief commissioner. It can be reached by a ferry from Aberdeen jetty of Port Blair. A light and sound show telling of the history of the island and its residents is a show not to be missed.
Prime Minister Modi renamed this island as Netaji Subhash Chandra Bose Island in December 2018.
Baratang Island
150 m north of Port Blair lies the Baratang Island. This island boasts of breath-taking beaches, creeks with lush mangroves, mud-oozing volcanoes and limestone caves. Tourists can indulge in all kinds of activities on the beaches besides sunbathing to their heart's delight.
For exploring these limestone caves, a prior official permission is required. One needs to get on a 30 minutes ride from Nilambur jetty through a mangrove lined creek, followed by around 15-20 minutes trek through tropical greenery to reach these caves. Inside the caves are huge sedimentary limestone formations, some growing up from the floor while others hang from the roof. These caves are dynamic as they are constantly changing their shapes and sizes.
The mud-oozing volcanoes are reached by roads from Nilambur jetty. Here, the organic mud from deep underground that has been pushed out by gases has deposited and hardened on the ground. As more and more mud is pushed up the vent, the miniature volcanoes have grown in size.
Around 30 km from Baratang jetty lies Parrot Island, which as its name reveals, is the abode of thousands of beautiful parrots. This small uninhabited island is a veritable feast of colours and a cacophony of parrot sounds. This bird paradise is a must-see spot for bird watchers and nature lovers. As one is on the ferry to this island, he/she is greeted with stunning views of the blue waters of the sea, lush green mangroves and thousands of parrots hovering all over the tree tops.
Barren Island
Barren Island, lying around 135 km south from Port Blair, is India's and South Asia's only confirmed volcano. This beautiful and pristine island is uninhabited, hence its name but its animal residents comprise of rodents, goats and various bird species. As it has an active volcano, no one is allowed to land ashore and tourists can only circle it in a vessel. The volcano lies about 500 metres from the shore and regularly spews out smoke and flashes of light.
The waters around this 3 km wide rocky and craggy island are considered one of the best diving sites in the world. As one is underwater, he/she gets to see intricate rock formations and the beautiful manta rays.
An official permit is needed for a visit to the island.
Conclusion
As one may conclude from the present write-up, the aforementioned groups of Indian islands are unmatched in their natural beauty. As these islands are ecologically fragile, the concerned authorities need to tread with care before going in for any large scale development plan. It is true that the region is in need of infrastructure upgradation but the need of the ecology also needs to be taken care of. An all-inclusive holistic development plan needs to be formulated which promotes tourism in the islands besides the focus on job creation for the local inhabitants and provision of facilities for a burgeoning trade in coconut based products and seafood.
For tourism development in the islands, private sector needs to be roped in on a priority basis as only it can pump in the huge amount of money needed for the same. The islands also need to be properly connected by air, sea and digital network. This would go a long way in strengthen the support to infrastructural projects.But before embarking on all these tasks, the authorities need to formulate a policy to maintain the clean and green environment and the healthy ecology of these pristine islands.
Also Read: