Small is often seen to be crowded and unpleasant, but who says it can't be beautiful? The lack of spaciousness and resulting limited space in tiny kitchen design is a challenge to both designers and owners, but there are limitless opportunities to be innovative and experimental while planning their designs.
In many Indian homes, small kitchens are the norm, whether it's a tiny galley kitchen in condo or an elongated passageway space adjacent the dining area in your independent house. Every kitchen is distinctive, but what lifts it from a standard cooking place to something stylish and practical is how it is used efficiently.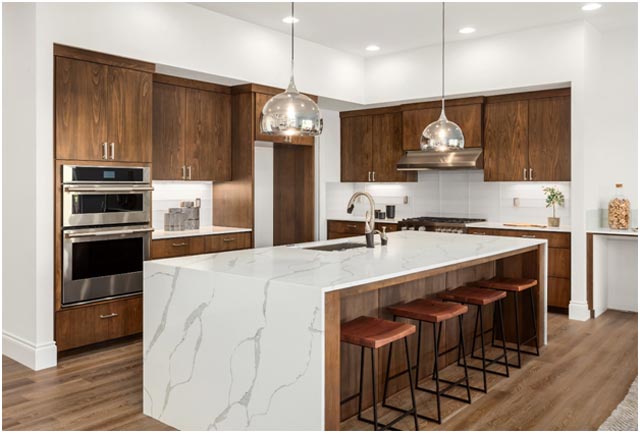 So, how do you make the most of your little kitchen design? Here are a few ideas we employed when designing our kitchens that you may apply as well.
1. Kitchen Islands
These are becoming increasingly common in Indian kitchen designs. Integrating an island in your kitchen interior design will provide you with more area to work on or entertain visitors. Islands provide additional storage, open up a kitchen, and can also provide a casual divide between the kitchen and other sections of the home.
2. Be Creative with Cabinets
Cabinetry do not have to be evenly spaced all of the time. They can be gathered to one side of the kitchen, moved closer to the walls, or even constructed as pull-out drawers that glide in and out on rollers as needed.
3. Lighter, Brighter Hues
In a kitchen, a snow-white, creamy, or pastel palette absorbs natural light, making the area lively and spacious. These light colours are pleasing to the eye, lighten up the kitchen, and fit in with any cabinet or appliance, while also giving the room a feeling of spaciousness.
4. Be Mindful with the Furniture
Tables, chairs and other pieces of furniture should be small and neutral in colour, with the ability to be placed under the counter after usage. To accommodate more individuals, a folding table extension may function as an additional workplace.
5. Open Shelving
Shelves without doors provide a softer feel to the kitchen while also creating the impression of more room. They are also simple to maintain, eliminate the need for extra illumination, and make cutlery more accessible.
6. Mirrors, Mirrors, Mirrors
The inclusion of glass and mirrors in any component of the kitchen area, such as cupboards or the kitchen back panel, helps to expand the space. Clear glass doors make cabinets feel less confining, while mirrored/glass back panels make the space appear larger while improving the visual appeal.
7. What About Those Nooks?
Large modernkitchen designs can possibly leave their corners empty. However, in tiny kitchens, making good use of corners provides extra storage. Putting shelves in these kind of corners and utilising various types of corner racks will turn such cabinets into your go-to, convenient spots around the house.
8. Bold Black Accents
If you want a dramatic colour combination for your kitchen, black should be your first pick. Black cabinets are fashionable, but what matters most is the illusion of space they generate by being virtually undetectable. Black is an excellent foil for a wide range of kitchen colour schemes, whether strong or somber.
These are just a few pointers to help you make the best use of your kitchen space in your house. However, if you're looking to give your kitchen that insta-ready look, get in touch with renowned interior designer firms like Livspace. Livspace is one of the most reputed interior design companies in India and is known for providing holistic interior design solutions. Visit their website to know more about their services.
Also Read: