New Delhi: The families of victims of alleged extrajudicial killings, led by social activist and advocate Prashant Bhushan along with representatives from the rights group, met NHRC Chairperson, H.L. Dattu yesterday. The latter is believed to have taken up the matter for further consideration and investigation.
A report compiled by a rights group, 'Citizens Against Hate' had claimed that "extra-judicial killings" have taken place in Uttar Pradesh in recent months, with the victims mostly from vulnerable social groups such as Dalits and Muslims.
The report documents 16 incidents of alleged encounter killings in UP and 12 cases in the Mewat region, that took place between 2017-18.
Senior Supreme Court lawyer Prashant Bhushan dubbed the police encounter killings in UP as "murders" and demanded a probe into all such cases by independent teams of National Human Rights Commission(NHRC).
"These are extra-judicial killings, murders. Such killings by police are probed by junior level officers of the department and it cannot be independent. NHRC should get all such cases probed by its independent teams," he said at a press conference.
Family members of three people killed in alleged encounters in the state, claimed that the "victims" were either "abducted and tortured" by the police before being killed or died due to lack of proper medical facilities.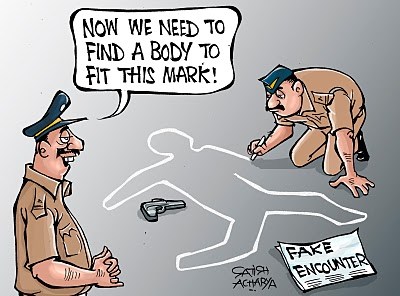 Based on the family members' narrations and analyses of the legal documents available, the report claimed that these alleged "encounter killings are in fact pre-meditated, extra-judicial executions".
"Victims of these killings belong to vulnerable social groups — Muslims, Dalits and Bahujans, and come from low-economic households," the report said.
The report presents a case for a range of amendments required in the legislation including Section 46 (2) of Criminal Procedure Code (CrPC); exception 3 of Section 300 of IPC; and section 197 of CrPC; along with revision in Supreme Court guidelines of PUCL Vs. State of Maharashtra to to bring out specific and clear directions for recording of statements of family members of the victims and not just the "witnesses" in encounter killings.
It also demanded immediate access of the family members to FIR and post-mortem report; recording of FIR's u/s IPC 302 – not leaving it up to the discretion of police to decide what kind of an FIR would be registered and strengthening the NHRC to make it play a more proactive role in protecting human rights of victims and their families.
Citizens Against Hate is a collective of individuals and groups "committed to a secular, democratic and caring India", the report says.
It seeks to provide practical help to victims of hate crime and to counter, through research, outreach, advocacy and litigation, hate in all its forms.
Undeterred by allegations of "fake encounters" by the opposition, the Uttar Pradesh Police under Yogi Adityanath's chief ministership has killed 50 dreaded criminals in over 1,400 encounters in the past over one year, officials have said.