Dr. Sam Pitroda, a close personal friend of acclaimed journalist and writer Saeed Naqvi recommended that I read Naqvi's latest work, 'The Muslim Vanishes', a gripping tale that had me on the edge of my seat.  The work published by Penguin is a satirical one despite the irony in its tone, commenting on the fictional disappearance of Muslims from India
I purchased the e-book from Amazon Kindle and finished reading it in one go, forgetting the world around me because such was the compelling nature of this masterpiece.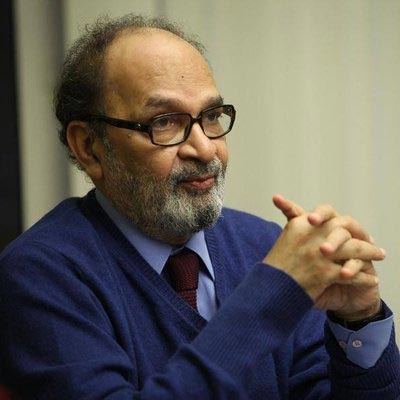 Presented as play, the book 'The Muslim Vanishes' begins with a news studio gearing up to release a breaking news story. The young journalist at the news desk although lively in his mannerism appears grim and tense . Even though the young journalist in the news desk appears as much excited, still he was seen irritated.  He is seen saying that appear to hint at a major catastrophic event and the words he uttered  like 'They're gone?! And th – . . . they . . . they've taken it with them. It has disappeared.' has a dystopian feel to it.  He talked in loud that this is the biggest news in life. In response to his words prime time anchor Anand  said  [sharply]: Breathe, man! [After a pause] Who's gone? 
JOURNALIST: The reporters are saying there's not even one left in the city. Not one.
JOURNALIST: The reporters are saying there's not even one left in the city. Not one. All gone. Every single one . . . [he trails off, as if contemplating the gravity of the situation]. ANAND: Arrey! But tell us who? Where did they go? Don't speak in riddles. There is nothing about anyone or anything disappearing on the wires.
JOURNALIST: Sir, believe me, they're just gone, each one of them. God only knows where. It must be magic, sir, black magic!
ANAND [exasperated]: You first said 'it' has gone. Now you are saying 'they' have gone. A goat could have disappeared. A bride could have disappeared. Birds could have disappeared. [Raising his voice] What is gone? Who is gone? Don't confuse us. JOURNALIST [tongue-tied]: I don't know how to explain . . . It's just . . . so unbelievable. Sir, there is no one left! I mean the Muslims. Muslims have gone. Some say they have taken the Qutub Minar with them.
The event-filled book 'The Muslim Vanishes' cannot finish reading without incredulity and curiosity.
This four-scene work is an emotional roller coaster ride and we are with the writer, experiencing the hints of nostalgic reflection, betrayal, alienation, insecurity, isolation, and intense grief that the Muslims of the country are subject to in their lifetime.
The play depicts a world where language, poetry, music, food, clothing, and monuments brought to our country by Muslims and became essential to India's rich cultural fabric disappearing from their graves, leaving behind just the lost remnants of a rich and beautiful cultural heritage. I spoke to Naqvi in Delhi the very next day after completing the book. The book had successfully shaken me to my core and I was badly in need of a long conversation with the man who made me think deeper than I ever had in my life.
Saeed Naqvi spoke to me with the tone of a man who had been prepared for my onslaught of questions about what he had written. After all, the picture that the book painted was of the Indian society being polarized intensely, all in the name of caste, creed, religion, and political games. I needed answers and Naqvi explained that he was of the firm opinion that those offended by the facts and those who were responsible for this division in our rich social fabric would seek to suppress the truth. Naqvi said that those who read this book would have to take steps to correct this division before it was too late.
We also had much to talk about the current political climate. The Russian Invasion of Ukraine is one of the most terrifying conflicts of the modern world. It is indeed unfortunate that innocent people fall victim to a crisis like this. He hopes India never becomes embroiled in such a global calamity.
Saeed Naqvi is a much-travelled man who has visited hundred and ten nations in his lifetime and over the course of his illustrious career as a journalist. He has hosted an international news show called 'It's a Small World' for Star TV as well as a news show called 'World View India' for Doordarshan during the period of 1986-87. During his tenure as an international journalist, he has interviewed renowned world leaders such as Nelson Mandela, Fidel Castro, Muammar Gaddafi, Henry Kissinger, Benazir Bhutto, Hamid Karzai, and Shimon Peres to name just a few. These interviews and his writings were widely published in acclaimed media outlets such as BBC News, The New York Times, The Washington Times, The Statesman, The Guardian, and The Indian Express.
Naqvi, over the course of his colourful and impressive career, has worked as a television commentator, Foreign Affairs Editor and Chief Editor. Owing to his impressive contribution in this field, he was honoured with the National Integration Award for his services towards social harmony and national integration in 2003.
While reading 'The Muslim Vanishes', we know that deep in our hearts such a scenario will never come to pass. But his words are compelling and gripping enough that at times we tend to forget that the book is entirely satirical and that our reactions are natural. Once you read this book, there can be no doubt in your mind that Naqvi's words in this power-packed book is a strong voice against the current situation in the country. We know no one is going anywhere, wont go then. Still the reader could understand that the writing of Saeed Naqvi is the strong protest on the present situation prevailing in the nation.
Also Read: