A new entrant making its footprint in the fast-growing beer market in India, 7Ink Brews, makes a grand entry in Pune by offering Copter7, a range of commercial beers, Smooth Lager Premium and Strong Beer Premium, in the city. The sundowner was hosted at one of the lively places in Pune, Elephant & Co, Kalyani Nagar on 8th September 2021. The Co- Founder of 7Ink Brews, Mr. Kunal Patel graced the event along with some of the known socialites and personalities from the Food & Beverage industry. The guests were welcomed with special Copter7 beer shots and Copter7 cocktails that were paired with a customized food menu by the hospitality and venue partner, Elephant & Co. The guests also tried their hands in making their own concoctions of 'Copter7 Cocktails' with 7 ingredients as they were engaged with fun activities at the sundowner.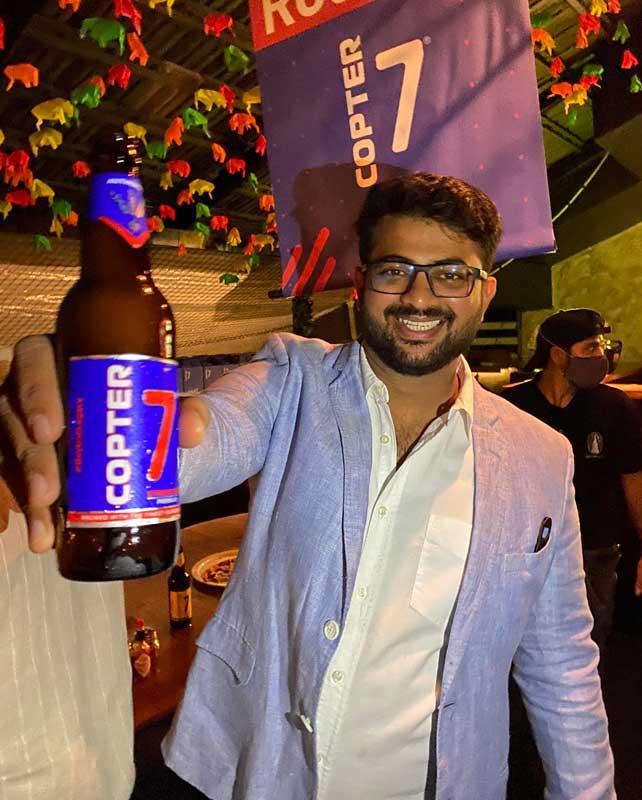 The young and dynamic food and beverage (alcoholic and non-alcoholic) company is Founded by Mr. Mohit Bhagchandani and Co-Founded by Adil Mistry and Kunal Patel. The brand is built around the attributes of champion cricketer, Mahendra Singh Dhoni who also happens to be the brand ambassador and shareholder. The story behind naming the beer Copter7 has been inspired by MS Dhoni's signature 'helicopter shot' and the product's striking packaging and labelling are additional noteworthy features that are designed on the lines of Dhoni's different jerseys and their colours. What sets the brand apart, is the fact that this is one of the first instances where a brand has been created around a personality's attributes and charisma.
In a departure from the number of craft brew brands that are popping up across the country, 7Ink Brews focuses on brewing its beers commercially. Taking inspiration from the proud call of 'Make in India', these beers are passionately formulated and brewed in India, focusing on the global palate as well. Each beer has been formulated with careful thought, with the help of expert craft and commercial brewers. The beers are brewed locally using high-quality hops and malts, in state-of-the-art facilities in Karnataka and Punjab.
Speaking on the launch, Mohit Bhagchandani, Founder and Managing Director, 7Ink Brews says, "I have always aimed at providing a product that is consistently classic and authentic. My team has worked relentlessly to achieve our goals and I am sure the Punekars will enjoy every sip of our beers. We look forward to engaging our audience with more of such exciting offerings and further intend to expand our footprint across the country."

Copter7 commercial beers will be available in select wine shops, restaurants and pubs in Pune.
About 7ink Brews & Copter7 Commercial Beers
Driven by grit, belief and commitment towards providing sustained quality products and value to their stakeholders, the dynamic start-up 7Ink Brews has a range of premium commercial beers and artisanal chocolates available in the market under the brand name Copter7 launched in April 2021. Copter7 Premium Strong brand is a malty amber lager with a toasty aroma, which makes it ideal for easy drinking, while staying true to signature strong style while the Premium Smooth Lager is low on bitterness and has a fruity and refreshing flavour making it suitable as an everyday beer.
N4M Reviews: