Virus can corrupt the computers and the network as the way corona virus is infecting humans. Covid-19 has disconnected and unconnected people especially those in rural areas of India. The global pandemic Covid-19 has tremendously affected our day to day life.
Among many affected areas, one of the most affected sectors is the education. Today schools are closed. Students are at home. Classes and examinations are on hold. Parents and students are worried. Teachers are trying for online classes. School and college managements might not have prepared for managing and implementing such online classes. Government has also sought feedback from people how to conduct online classes without classrooms.
Some initiations have also begun from government agencies to conduct online classes. But many worrying issues remain.  Villages remain unconnected in the digital network world.
No one is blamed as no one expected such onset of corona virus pandemic. Hence, we were not prepared to cope with such unexpected closure of educational institutes for such a long time. Use of gadgets and mobiles by students and children are not well accepted in India by parents and also by schools. Restriction and strong apprehension exist among parents on the use of mobiles and lab top by children.
Here I am not trying to explain technical feasibility, benefit and psychological impact of online class verses physical classrooms. There could be some real issues with online classes as pointed by Prof Anurgah Mehra from IIT, Mumbai. It is quite sad to note that only 2% of students out of 200 students in a school in Maharashtra have access to computers and laptops at their homes. Statistics indicates India may have 500 million smartphone users and about 75% of Indians are using wireless broadband through phones.
The Covid-19 situation questions our technological capability in modern communication and digitalization. Where are we now with our digital network and telecommunications? We have attained capability to communicate between earth and outer space. In India we remain unconnected. Some states may be performing well in computer literacy and digital network better than others. But many students, families and teachers all over India remain unconnected through network. It is reported that only 8% population connected through online for classes which was initiated months back. What about remaining 92%?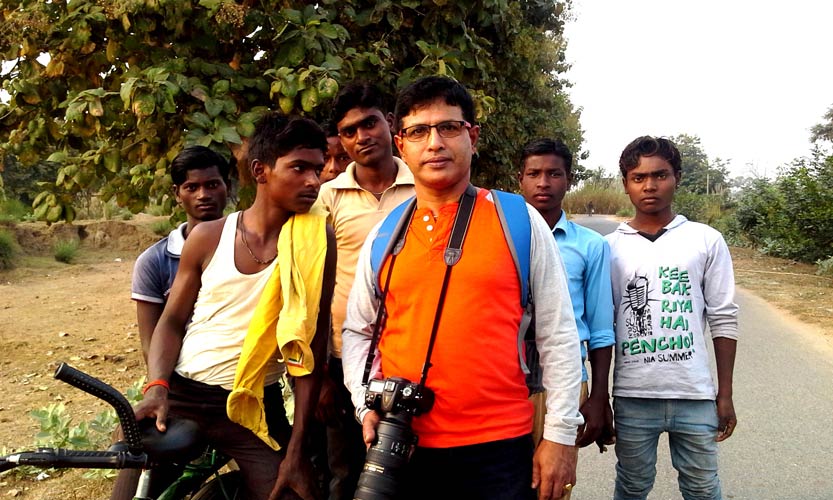 Corona virus infection has really made us to dissect India's present network and digitalization insufficiency and inefficiency.Digital connections are active in metro cities due to many reasons. Rural India remains in a dark phase. Majority of the parents and students are so much worried, depressed and remain frustrated due to lack of network and infrastructures. We know that even father had to sell his cow and mother had to sell her mangalsutra to buy mobile/TV for their children for online classes. There are millions of such fathers and mothers exist in the remote and rural areas.
In many rural areas the digital divide is a fact among economically and socially weaker sections due to the unavailability of smartphones in each house, lack of proper internet at houses and schools and lack of technical support. Time has come for the policy makers, planners, technocrats, scientific experts and business units to think deeply what best can be done to connect every Indian and every family through network and online facilities. What are the possible and feasible actions government shall coordinate on a war footing to implement most effective measures for digital literacy. Some of the possible short term and long term measures are viewed here for analysis and actions
Television is one of the best channels for information transmission across people. DD Free Dish has only 15% of the total TV Households in the country.Government and private companies must come together to set up television network in all rural, remote areas, schools, colleges.This would facilitate telecast the pre-recorded non- interactive online classes. Prerecording can be done at schools and can later be relayed from the television relay stations. Every state shall use the Doordarshan channel to allot at least majority of the time for setting up teaching programs for school students especially during this Covid-19 and other situations.
Another option is the use of radio service. All India Radio, the largest radio network in the world, is accessible to 92% of the country's area and 99% of the total population of India in many languages. The

radio network is free of cost

to everyone and it is one of the cheapest ways of providing at least a non-interactive delivery of information to the listeners especially to school children, teachers and college students. Authorities need to think aggressively how All India radio (Akashvani) facilities and program can be tuned for providing online classes or pre-recorded classes through government managed channels.Value addition to the existing radio services could be well thought for educational programs spanning across the country.
All online teaching modules and also recorded version shall be made available through TV, computer network , mobile or radio telecast by bringing technological set up in each every schools in this country for attaining digital India mission
Every family shall be given subsided TV units, TV network connection or free connection for those are below BPL. This benefit shall be implemented as a mission and may remain operative irrespective of Covid-19 pandemic.
Every needy family and schools shall be given affordable custom made/built laptop or desktop  with useful and required educational interactive online software with audio video systems,  mobile or TV or radios through coordinated effort of government , corporate companies and state administrations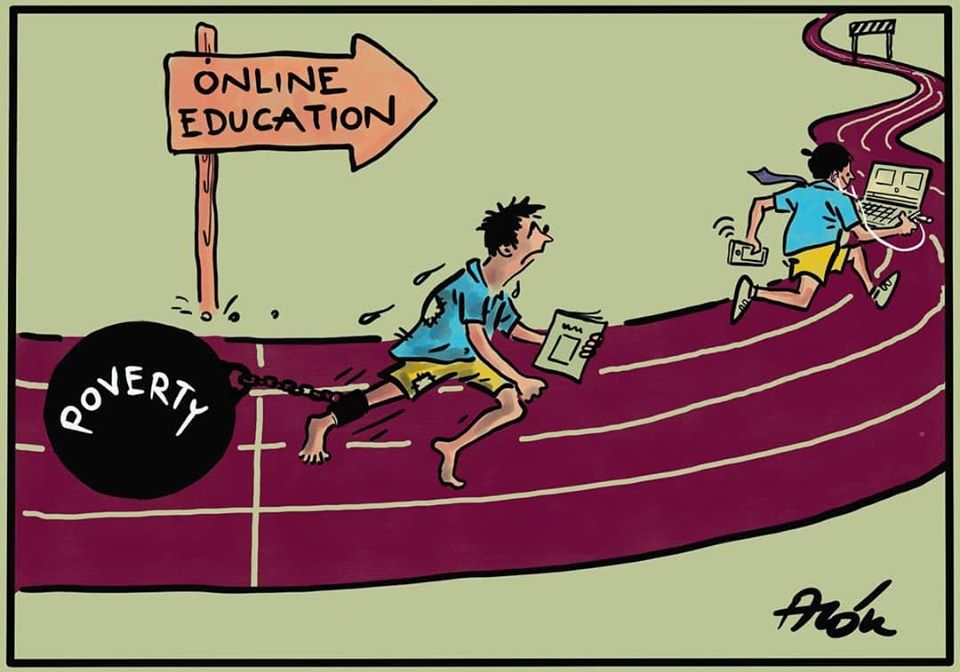 Panchayat, local taluk and state government authority shall work and coordinate to set up such network and digital connection at the remotest of rural India for

sustainable digital network platforms

for education and telecommunication programs.
Private companies and corporate giants shall come forward to set up online digital platform in every school, which can be used through computers, mobiles or TVs and will remain in future for teachers, students and teacher – teacher interactions.
Many business companies shall take up

digital mission

as their corporate social responsibility (CSR) Initiatives to help and implement technical and service operation of mobile and digital network for needy families and schools in every village. This shall be a mandate formulated by the government for each company based on the turn over and there could be some tax rebate for such companies.
We have lot of technical human resources available and how to tap them is important. Many technical schools, ITI and engineering colleges available in villages and rural areas shall pitch in to help schools, district and taluk administration to help in setting up such network and provide training and technical guidance to schools, families and students.
Each state has its school and college syllabus pattern in addition to the central board syllabus patters. Hence, a suitable option is that state could select team teachers in each subject for each syllabus pattern. State shall establish interactive facilities or centres at district headquarters or in nearby places which may have all the well-established recording and telecasting teaching modules and educational programs for relaying through TV, radio and internet connections to reach houses and schools in rural India.
It is imperative for us to establish such digital and network facilities in Public, state, district, Panchayat libraries, primary health centres, police stations, post offices, telephone exchange offices so that health care workers, teachers, police forces, students, teachers and public can access internet and digital communication facilities
There is unwanted fear and unwillingness among teachers and students to learn and utilize the digital platform for many online interactive functions. Government and private agencies shall come forward to remove this prevailing technophobia among students and teachers by implementing

onsite training

and providing technical manpower in the above places.
The major drawback in network setup in remote villages is the unavailability of technical human support. There are many graduates and ITI trained people available in every state. We need to download this vast pool of technocrats to villages and remote places in India for their technical services for supporting digital network in rural India.
It shall be a mandate for engineering faculties and technocrats from private and government organizations to work for short period and extend their rural services to support digital network and train staff at schools, colleges, primary health centres, post offices, local libraries, panchayat and other local offices in rural India. There shall be free flow of technical support and penetration of technical information to the

remotest villages

.
We need to put effort. While teaching school children during Covid-19 pandemic , Sato Akihito, an English teacher in a Japanese school says "Complaining about what we can't do right now does not help. Instead we should be thinking about what we can do."  Television and mobile companies, network operators, gadget manufactures technical and engineering colleges and institutes, state and local administration and central government agencies need to have coordinated effort to attain the goals. Unless such digital network system is not connected and made available at the fingertips of every Indian, India may remain in the dark phase of the digital world.
Time To Integrate Integrity, Compassion & Aatmiyata With Digital Transformation
We have to resolve the psychological issues existing not only among students but also to a larger extent among teachers. Teachers may not be well versed with the use of internet or even carrying out online classes. The existing social stigma has to be removed. Many available engineering and ITI trained manpower shall be utilized the best at rural areas. India is a world reservoir of technical human resources. Unemployment may be like infectious diseases and India needs to work to curtail unemployment infection. This would facilitate employability in providing technical and operational support in schools, colleges, primary health centres, Panchayat offices, post offices, local libraries etc to make online digital platform easier and accessible to everyone so that digital divided and digital fear could be removed.Similar to rural service applicable to doctors, engineering students can also do services at rural areas as a prerequisite for the courses.
India has produced world class technocrats in India and abroad who work for world class organizations to bring the newest technology and digital information to improve the quality of life in other countries. We have excellent software companies in the world which cater and support other developed countries for their advancement. We have many global businessmen and world rich business leaders who can drive technology to the door steps in remote villagers in India. Their responsibilities and effort can accelerate digitalization processes in rural India.
Mobile companies and network service providers play market strategies to sell their products in rural India as rural market is one of the most viable market opportunities for many players. They should also equally extend social responsibility at rural areas.
This small virus has wakened up our digital technology capabilities available for Indians. If science and technology achievements do not reach corners of India and do not benefit every Indian at affordable cost at affordable level, then achievements are not deliverables.
Mission with a vision can bring efficient digital network across India. Telecommunication revolution began by Sam Pitroda and by many others who brought measures in setting up yellow-signed public call offices (PCOs) at remote places. TheCovid-19 has also given us wake up call to realize where our digital network technology stands and how much it is useful to common man.
Even if Covid-19 pandemic is controlled, the digital technology and online platform created among rural areas, schools and colleges will remain as a strong digital platform in India by eliminating the digital divide.
Planning and implementing some of these above possible actions or actions better than these can only provide evidences to boast India's digital efficiency and digital information technology capable of connecting those unconnected in rural India.