You're bored the F#$K out locked down in your home. You've binged- watched all the latest shows, memorized every new album out there, and even tried your hand at a new hobby. And yet you're unsatisfied! Well, have you tried racing to scratch that boredom itch? No, I'm not talking about meeting your bud at an empty alley or an abandoned track (Please, stay home, stay safe!) I'm talking about the virtual kind. Oh yeah, that rush of adrenaline works wonders too.
But what if you don't own a gaming PC? Well, you don't need an OTT rig sitting on your desk to get your gaming fix. Or a totally-bitchin' sim racing rig slapped to an ultra-wide TV for that matter. Racing is one genre that many believe works only on a console or PC with a joypad – or a wheel peripheral if you're feeling flush. Yet plenty of developers have taken the genre to mobile devices and done a great job.
You have your Android phone. Today, that bad boy can provide access to millions of games available on the PlayStore. If you're a racing fanatic in 2020, you're most definitely spoiled for choice. But don't worry, you don't have to trial-install every game until you find the one that gets your heart pumping. Yours truly already went through the trouble so that you can take out that beer, get all snug & cozy in your bed, plug in your earphones & prepare yourself for a thrilling race-a-thon.
Here are the best android racing games for 2020.
 1. 

Grid Autosport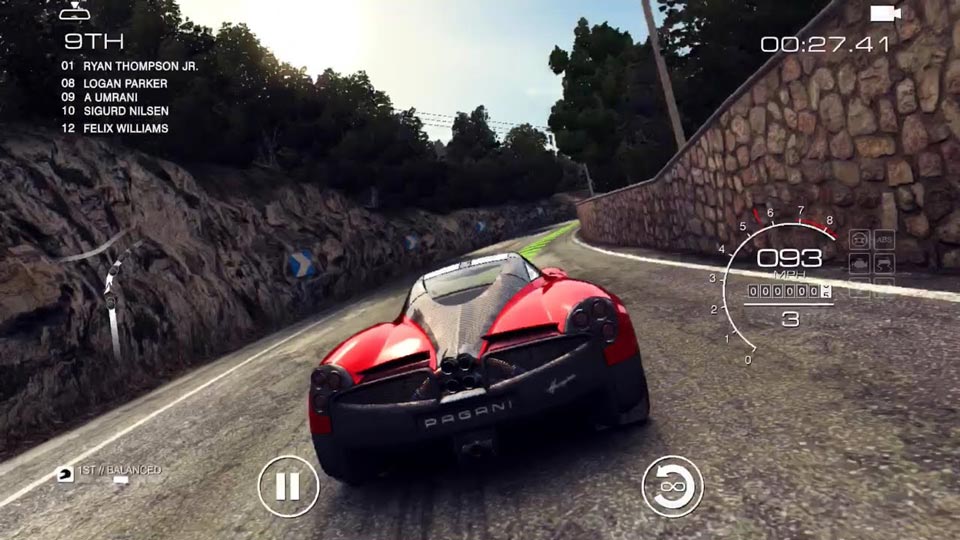 According to publisher Feral Interactive, Grid Autosport is a full-on racing simulator that will ignite your high-speed career as a pro-racer. The game is engineered to deliver an irresistible mix of simulation handling and arcade thrills. Meaning, the physics offers real-life driving experience while packing some arcade-style punch. Well, I, for one, agree wholeheartedly!
The ninth installment in the TOCA series, GRID Autosport came to the play store in Nov '19. It is hands down one of the most visually impressive racing games available on Android. And the fact that it's a premium release easily places this title above many of its competitors on the Play Store. It's insane how they put this game into mobile! Codemasters, the developer of the game, has maintained the same aesthetics since Grid 1, only now it's much more classy & beautiful. Autosport isn't an arcade fest. You actually have to learn to drive your ride to have any chance at winning. But that just makes that first chequered flag all the more rewarding. Meanwhile, you can thrill at the speed & gawk at the stunning graphics, idly wondering if someone has sneakily stuffed an entire PC inside your blower.
The visuals are top-notch, the controls are fairly easy to get used to, and the game puts you at the wheel of various real-world cars, driving on classic and modern race tracks including Mount Panorama, Spa-Francorchamps, Indianapolis Motor Speedway, and Yas Marina Circuit. The game features over 100 vehicles and 100 different courses for each race. You can adjust the difficulty level to enjoy all the tracks. You can choose whether to try your hand at a quick race, with a large number of single tournaments (also customizable) or with a career mode that will offer five different categories: Endurance, Open Wheel, Touring, Tuner and Street.
Once you actually get to racing, the experience Codemasters has in the racing genre really begins to shine. The bumping and grinding that the developer is known for is quite prevalent in this game, with wheel-to-wheel racing generally being the order of the day. Depending on your choice, you will find yourselves at the wheel of entirely different cars, all very well rendered in their peculiarities. To progress and make a reputation for yourself, you'll have to choose a team, sign sponsorship agreements (with specific goals to be achieved), and finally get on the track and put your best foot forward to bring home the top possible result. Grid Autosport is one of the easiest recommendations on the list, simply because it feels so complete. Just stick to driving correctly, and in time, you will gain excellent control of your vehicle, enjoy brushing the curves, set time records, and spend hours on this nifty lil' piece of entertainment.
A major setback for the game is that it works only on Android 9.0 (Pie) or later and is supported on a limited number of devices. Plus, it requires 3.9 GB of free space, which can go above & beyond 5 GB after installation. One might even say that the price (₹ 900) is a bit on the higher side. But you get the FULL game, along with all the DLCs for that price, making it hard to complain.
 2. 

Riptide GP: Renegade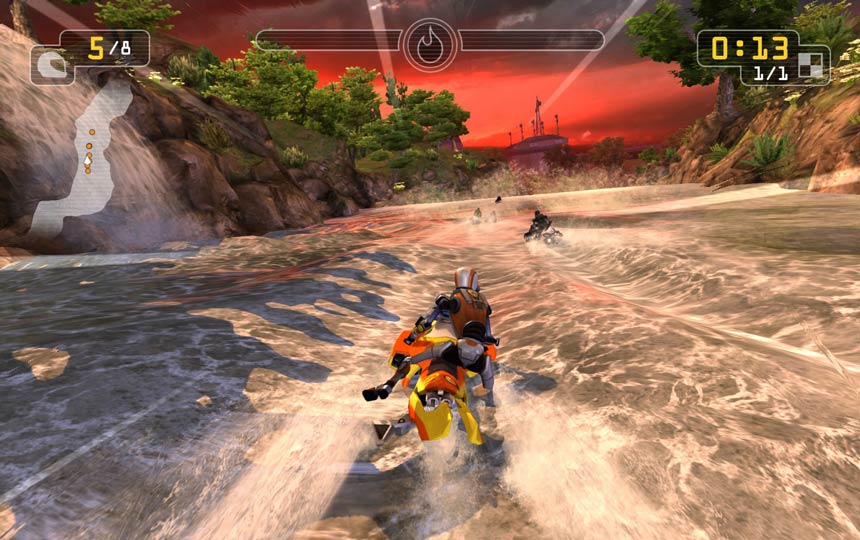 Riptide GP: Renegade (RGR) is one title that proves you don't need wheels for a fun racing game! Forget cars; the best mobile racer might just be this one, which puts you at the controls of a hydrojet. RGR doesn't stray far from the series' tried and true racing game formula. But it is more than just an improved version of its predecessor – offering better water physics, fast-paced racing, great visuals, and a dope techno soundtrack. The developer, Vector Unit, has taken the gameplay in a more action-arcade racing direction. The result is a game that looks amazing, feels great to handle, and is genuinely fun to play.
If you've never heard of this title, think Need For Speed Most Wanted but in an aquatic environment. RGR puts the player into a post-apocalyptic world of illicit hydrojet racing where armored riders kick out death-defying stunts over giant waterfalls, outrun the police, and boost at breakneck speeds across surging waves. The game's packed with modes – you've got the career mode, quick race mode, challenge mode (where you climb the leaderboards) plus you've got a full online multiplayer and even split-screen mode.
The Single Player career mode is simple. You play the role of a hydrojet rider, framed-up and cast out from the Riptide GP league. He (or she) is forced to race illegally through city waterways, flooded ruins, and churning factory machinery to reclaim his reputation and title. You have to fight your way through a variety of races and boss fights to reach the top of the underground racing circuit. Along the way, you'll compete with some eccentric characters and earn cash & experience. You can upgrade and customize (or rather, transform) your hydrojet, unlock new stunts and increase your rider's performance. For your vehicle, you can change your vehicle's color, the bib number, and the decals. Even better, you can improve its acceleration, speed, maneuverability, and propulsion.
The eccentricity of the characters is quite loveable. They're more than just plastic figures sitting on top of beautiful futuristic jet-skis; each has a unique personality & signature move. But the real stars of Riptide GP Renegade are the 9 interactive tracks featuring secret shortcuts, destructible elements, better water physics, and lots of animation. Every track is loaded with  dynamic obstacles, interactive set pieces, and secret shortcuts. A rocket ship takes off in one track, the blast causes huge ripples. In another, cops on jet skis try to nudge you off track, and massive gunships float past to become impromptu ramps. There's also a downtown track with flying cars and swanky skyscrapers. While the Alpha Station has more than just flying cars, it has a f$#kin' Millennium Falcon swooping by the most opportune times. At times like this, Riptide really leans onto its arcade influences -the campy retro thrills of Hydro Thunder and Jet Moto.
What makes this game one of the best android racing games of 2020, is the developer's pursuit of creating an entire world of futuristic racing with a compelling setting. Vector Unit could have just created a series of brightly colored courses based on popular real-world settings. But instead, they've crafted a fascinating sci-fi arena full of spaceships, intense battles, and post-apocalyptic cities. From performing crazy stunts, breaking through glass, blasting across floating factory platforms, brave hurricane-strength waves, infiltrating a military base amidst battle, or nitro-boosting to first place, the game is packed with helluva fun. Rest assured, you'll be blown away by not just the environment, or the animation, but also the level of confidence that exudes from this  ₹69 download.
 3.

 Asphalt 9 Legends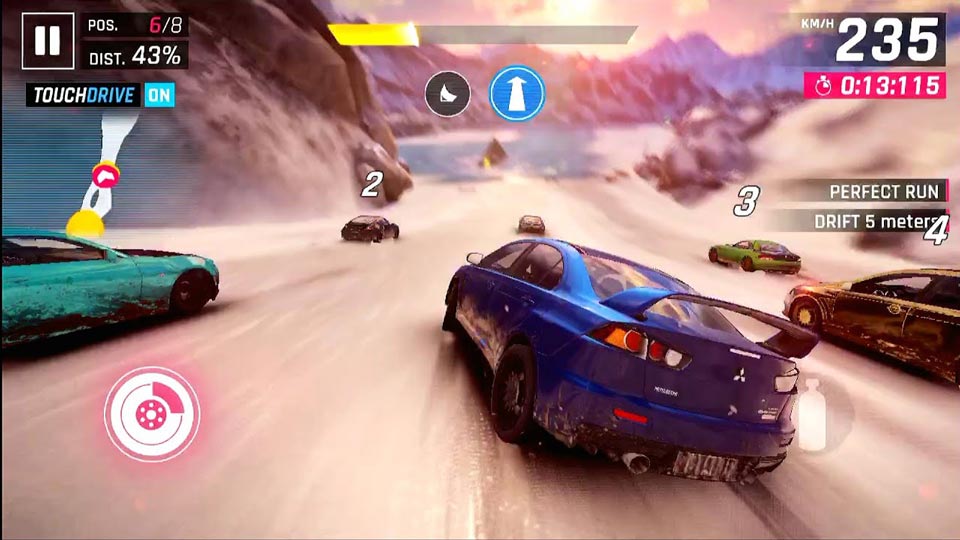 Asphalt 9: Legends is the latest title from Gameloft and IMO, the best in the popular Asphalt franchise. The eleventh installment of the acclaimed saga is undoubtedly one of the best android games 2020.
An arcade racing game is expected to exude a certain environment – something with loud engine noises, screeching tires, the thrill of speed, and the feeling that you're at the very brink of losing control at almost every turn. Asphalt 9 understands this well enough to strip back almost all the frippery and become a blistering assault on your senses that's super easy to handle. What sets it apart is its ability to harness a mobile device's power to display rich levels of detail, vibrancy of colors, fluid performance, and a rendering feature set rivaling a modern console game. In this unhinged nitro-fest, you belt along at breakneck speeds, regularly catapulting your car into the air in a manner that would be utterly unacceptable under your insurance plan in real life.
To the user, Asphalt Legends offers 3 modes – Career, Multiplayer, and Events. The game has everything one can expect from a modern racing title – incredible graphics, solid mechanics, 93 cars (spread across 5 different classes – D, C, B, A & S), upgrades, tracks, events, accessories, weekly competitions, & more. If that's not enough, you and your 19 other friends can form a 'club' to collaboratively score reputation points to achieve rewards. The more reputation points your club scores, the better rewards, ranging from credits to blueprints for cars. Rest assured, there's a s#@t ton of content to play through in both single-player & multiplayer.
The game features several race tracks set in new locations while also bringing back four from previous games in the series. There are 3 race types in Asphalt 9: Legends. The Classic Race mode (where you must win the race … duh!) has returned from previous games. In Time Attack, you have to cross the finish line before the timer runs out. While in Hunted, you must escape the police without crashing or running out of time. Apart from the usual Tap and Tilt controls that give you total control of the car, Gameloft now offers the option to handle your vehicle via 'Touch Drive.' This innovative system keeps your vehicle on the racing line while you choose the route by swiping left & right.
Whether you're a newbie to the Asphalt series or a fan, you'll fall in love with the adrenaline-infused gameplay – drifting at the right moment, damaging opponents' cars, the ramp-based stunts and especially the nitro shockwave. Yep, the feature has returned from Asphalt 6 & 7. But the fun doesn't stop here. Besides racing, you will enjoy the custom paint jobs, accessory upgrades (especially the rare carbon fiber ones), blueprint achievements & the new car editor feature.
On the downside, the freemium strategy is a bit more aggressive than it usually should be. However, other than that, it is a great racing game. It's proof that Gameloft still has the gasoline of eternal youth. P.S. – Asphalt 8: Airborne is still actively updated in case you're looking for a more mature title. Also, Asphalt Xtreme is another excellent arcade racer in the franchise, but with off-road vehicles.
 4. 

Rush Rally 3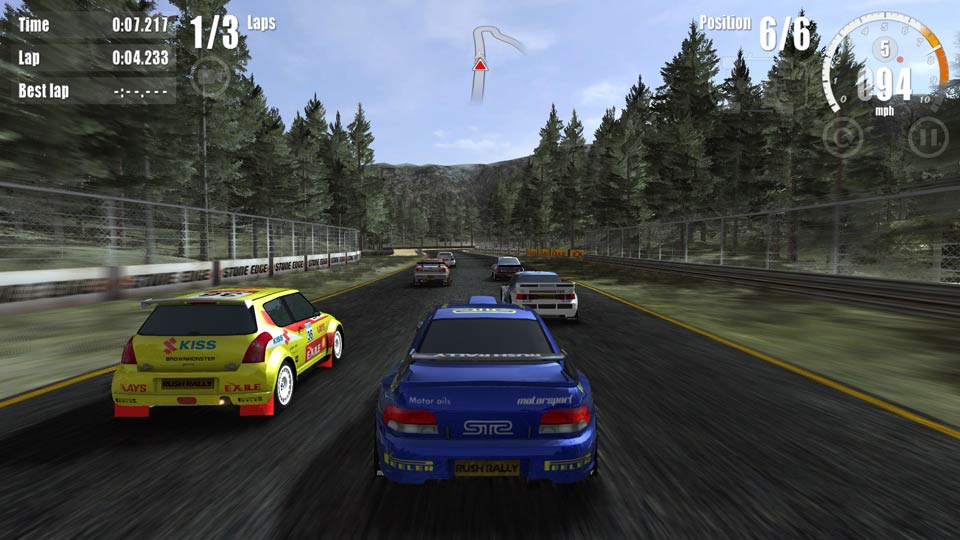 The most recent title by Brownmonster Games can be traced back through a lineage that begins with 2004's Rush Rally 1. This latest avatar symbolizes a whole new rebuild for the bloodline. The game has subsequently evolved alongside input from users, yet the development team's brief to prioritize the driving experience above all hasn't altered.
That determination to deliver the most convincing example of motor rallying on Android sees Rush Rally 3 cut a totally fresh set of tire tracks across the technological gravel. None of this Android game's contemporaries or ancestors can get close to its handling model. RR3 veers into high-end rally simulation territory with the grace and exquisite assurance of a young Sébastien Loeb.
Rush Rally 3 comes packed full to the brim – so much so that you'll handle your phone with gloves in fear of spilling all the goodies. The game moves ahead on its journey of providing off-road fun in style. It brings a new roster of vehicles, 72 new and unique stages each with different surface types including snow, gravel, tarmac & dirt, real-time vehicle deformation & damage, and a new career mode. Together these new features test your skill in a whole new way. You can upgrade, tune, and customize a garage full of cars. Use the new livery editor to revamp the look of your vehicles. Buy new wheels and upgrades to make each ride truly unique. Rest assured, the game is packed with tons of taut, thrilling moments because it demands absolute engagement from its drivers.
Whether you're tackling narrow, serpentine hill tracks or drifting through snow-covered woods, the comprehensive handling model details the nuances of changes in the road surface, camber, elevation, and weather conditions in a quite exquisite manner. The game conveys subtle shifts in car balance or the specific characteristics of front-, rear- or four-wheel-drive masterfully, which gives you a sense of the rallying dynamics constantly at play and requiring eyes on the road, ears on the co-driver's voice (more on this below), and full concentration at all times. Where a mistake in your usual racing game leaves you with slower cars to overtake to get back to the front, here, you're competing against yourself, the track, and an always ticking clock.
One of the reasons I've placed RR3 among the best 2020 racing games, is that it's quite flexible when it comes to user controls. Fancy an in-depth, in-car action? There's an option for that. Or maybe you prefer a more bird's eye camera angle – like a drone following your car? Well, yes, there's an option for that too. There's a bunch of other views in-between those as well, so the player can rest assured there's going to be one that suits his or her liking. The meat of the experience, though, is the career mode. You buy a ride, then work your way up the leagues – races are broken into sections, and it's just you on the road. Well, you and the digital co-driver whose shouts are replaced with colored arrows telling you which way you need to go and how hard you need to turn the steering wheel. Pop in your earphones, and the ferocity of your ride blasting away is conveyed via the game's SFX, which seamlessly matches the driving model for competence.
How To Design & Laser Cut Game Card Storage Box With Dividers?
To the tune of a raging engine note, you can expect an accompaniment ranging from gravel blast into your wheel arches, the brutality your suspension endures after each jump, your brakes' increased squealing the farther you power into a hairpin-happy stage, or the grind of metal to metal with other cars in Rally Cross. Everything is conveyed with convincing aural detail.
All in all, Rush Rally 3 does a f#$#$king fantastic job at balancing out being loose and chaotic with not feeling out of control, and that's what makes this worth checking out. Personally, it reminds me of the earlier Colin McRae games, which is a high accolade, especially so when you stop and think this bestseller on all platforms is made by a one-man indie studio. Regular updates bring new features & game modes. Added to all of this, you have real-time multiplayer, weekly live events as well as support for external controllers. For your own sake, just give it a try, please? It's only  ₹480 on the PlayStore.
On a broader note, it's great to see the gaming industry focus on making apps that provide a rich feel without making the player overwhelmed with controls. The goal is to reduce the number of pedals to take the complexity of braking and gear changes away from already-overloaded fingers. There's also the aim to increase the realism of the experience and deploy simulations that stop you from shaving the fractions of a second off your lap times – something that means the difference between a winner and a loser.
So, these were the best android games 2020 in the racing genre. Go ahead, tell me what I've missed or got wrong! The comments section below is open for your mobile-racing recommendations, as well as your thoughts on the games I've chosen above.
Disclaimer: This article is not about new Android racing games released in 2020 but the best ones available in 2020. It'll be updated from time to time. Also, it's okay to have a difference of opinion.