When Zaman Rana went to study forensic science at Anglia Ruskin University in Cambridge last year, he had looked forward to buying a car. A year later, he has shelved the plan and works part-time at a nearby Marks & Spencer to cover his cost of education, which has been increasing steadily with the sliding rupee.
Manoj Gupta, whose son joined an economics programme at the University of Arkansas this summer, is also on tenterhooks as the yearly cost of education has increased by Rs 3 lakh in just five months.
Gupta, an executive with an oil and gas major, is paying $30,000 per year. "When we started the application process in May, the rupee was at 64 to a dollar, it has now fallen to 74. The first payment I made was at Rs 67, and it has risen every month since, upending my budget."
It's a predicament thousands of Indians studying in America, Britain and the eurozone are caught in. Last month, when TOI reported on the uncertainty they are facing, the dollar was below the 72 mark. As most of the students are dependents, the increasing burden of the dollar, pound and euro falls on their families, and they are left wondering where the slide will halt.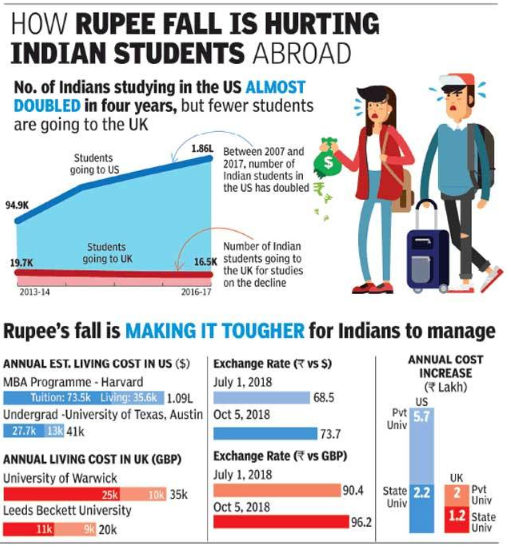 Gupta is worried that the dollar might rise to the 78-79 mark, "which would increase the cost of education by 20% for Indian students who enrolled in the US this year." Already, the annual cost of an MBA programme in the US has risen by more than Rs 5.5 lakh, in the past three months, while undergraduate courses are dearer by Rs 2.5 lakh to Rs 3 lakh.
In the past 12 months, the pound has risen from Rs 85.5 to 96.7, the dollar from 65.2 to 74.2, and the euro from 76.3 to 84.8.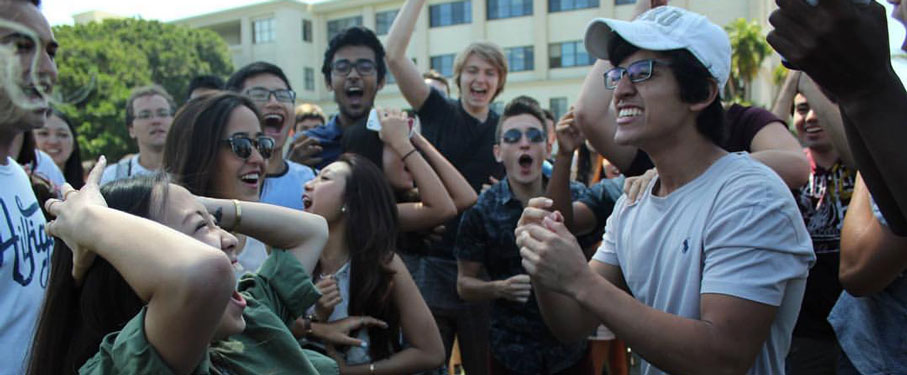 "My annual cost of education is a little over £20,000, which was around Rs 19.5 lakh when I joined, as the rupee was around 85 to a pound. Today it's costlier by at least Rs 2.5 lakh, which has impacted my parents," said Zaman. "I was working in the university earlier, now I work at an M&S."
Also Read: DeMonetisation Stress – British MP Calls On India To End Uncertainty
If the rupee continues to weaken against western currencies, more Indian students might enrol in other English-speaking areas, such as Australia, New Zealand, Singapore and Hong Kong, said Gupta. But educational consultants say the rupee's slide is likely to be temporary, and it will deter Indian students from enrolling in the US and UK only if it continues for a long time.
Vijay Naidu, a Nagpur-based consultant working with British universities for the past 20 years, said the rupee will not affect enrolments this year as parents and students have already committed to universities in the US and UK. Besides, most of them are from affluent families who are not affected "if the cost goes up by 15% to 20% in the short term. But if the rupee continues to weaken year after year, it will definitely affect the US numbers in 2-5 years."
In the US, students who have so far paid 50% of the fee, have requested the universities for flexible payments, said Naidu. They are also working and paying.