With the Ukraine crisis in its 15th month, the human and economic costs, already enormous, is not only expected to continue but likely to climb as both Moscow and Kyiv ready their next moves on the battlefield. The recent astonishing set of security leaks of top-secret Pentagon documents that surfaced most likely being true in every respect reinforces the same. The Russian military's numerical superiority likely gives it the ability to counter every Ukraine's capability including its access to Western support. Accordingly, the most likely outcome of the conflict is a bloody stalemate with human crisis for Ukraine and food and energy crisis for the world only mounting further. Russia seems determined to retain the territories captured and occupy a larger chunk of the Donbas.
U.S. officials have privately conveyed their concerns over the course of the war in Ukraine. In public, they continue to stress their enduring commitment to help Kyiv but in more candid discussions, with reporters and directly with Ukrainians, they pointed to a tougher reality: A victory of any sort on any of the fronts for Ukraine seems impossible; the military-industrial base in Western countries required to sustain the flow of foreign munitions and arms to the front is under severe strain; and, at some point, the support of Western publics, especially the members of the EU and even large segment of Americans, would wane, and the support of tens of billions of dollars in aid to Ukraine in material and money would get turned off.
The trove of documents has offered revelations into deep misgivings of the U.S. national security establishment about the trajectory of the war in Ukraine, which, according to a leaked analysis by the Defence Intelligence Agency, will likely drift into 2024 with no resolution in sight. The documents paint an inescapably grim picture of the United States' view of the conflict. The DIA assessment concluded that even if Ukraine recaptures "significant" amounts of territory — an outcome that U.S. intelligence found unlikely — those territorial gains would not lead to peace talks. Beyond forecasting a costly open-ended conflict, the newly disclosed document also predicts that the year will end with the two sides achieving only 'marginal' territorial gains as a result of 'insufficient troops and supplies for effective operations. A separate document among the leaked materials warns that new Russian fortifications as well as "enduring Ukrainian deficiencies in training and munitions supplies probably will strain progress and exacerbate casualties during the offensive,".
None of this should be particularly surprising. The Ukrainian military, which reportedly has suffered perhaps more than 120,000 casualties (actual figures may be much more as the casualties on the Ukrainian side has been grossly underreported) over the past year of fighting, is short on both ammunition and skilled troops.
While there is much favour that the United States and Europe should in the near-term significantly step up their support for Ukraine's war effort so that it may regain as much lost territory as possible, but there is huge demand for diplomatic strategy that offers meaningful inducements to both sides to accept a cease fire. For over a year, the West has allowed Ukraine to define success and set the war aims of the West. This policy, regardless of whether it made sense at the outset of the war, has now run its course.
The weariness of the West is also from the perspective of the minimal impact on Russia's efforts and its economy as also the support that Russia draws from China. China approved "provision of lethal aid" to Russia for its war earlier this year and planned to disguise military equipment as civilian items, according to another leaked document.
"There are changes happening, the likes of which we haven't seen for 100 years," Chinese leader Xi Jinping said to Russian President Vladimir Putin last month at the end of a state visit to Russia. "Let's drive those changes together." To this, the Russian leader responded, "I agree." Truly significant developments took place during closed-door, in-person discussions, at which Xi and Putin made a number of important decisions about the future of Chinese-Russian defence cooperation and likely came to terms on arms deals that they may or may not make public.
Two European bigwigs, French president Emmanuel Macron and European Commission president Ursula von der Leyen met Mr Xi Jinping, the Chinese President to convince him to use his influence with Russian leader Vladimir Putin to end the Ukraine war. Their joint trip comes within months of other European leaders – German Chancellor Olaf Scholz and Spanish prime minister Pedro Sánchez – visiting China.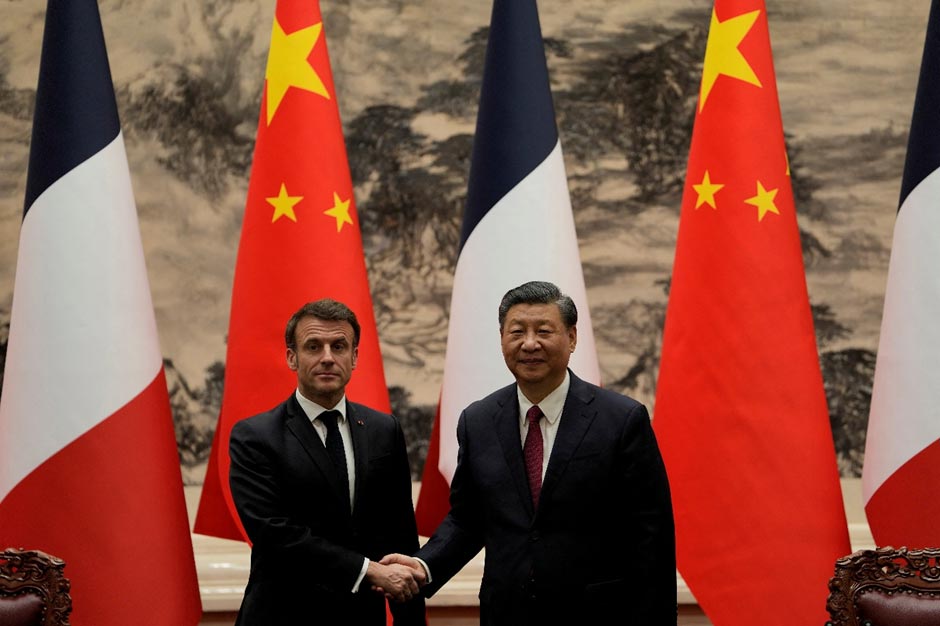 The French president visited China, along with his finance and foreign ministers as well as a 50-strong business delegation, including nuclear energy group EDF and European plane maker Airbus. These are clear indications that EU countries do not want to lose the business opportunities with China. The Chinese News site reported the visit as "The upcoming visits to China by the leaders of France and the European Union are expected to usher in new opportunities to resume and spur substantive collaboration in more sectors in the post-pandemic era, as well as narrow their differences and revitalize unity on the peaceful resolution of global hot-spot issues." China also has a new role now in the Middle East after brokering peace between Saudi Arabia and Iran thus outmanoeuvring USA.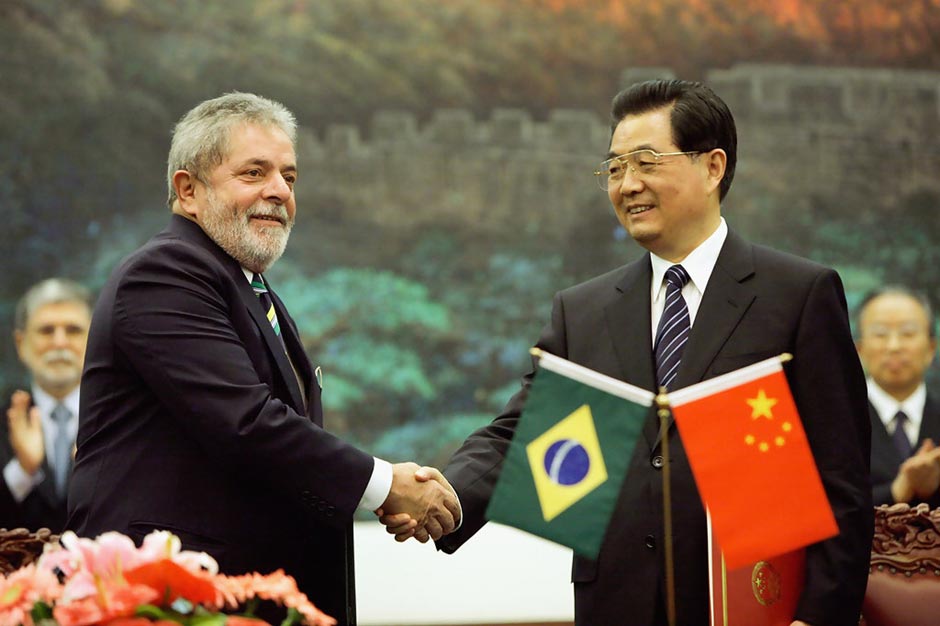 In his first months in office, Brazilian President Luiz Inácio Lula da Silva has declined to join President Biden in condemning the Russian invasion of Ukraine, allowed Iranian warships to dock in Rio de Janeiro and dispatched a senior adviser to meet with Venezuelan strongman Nicolás Maduro. On 14 April, Lula left for Beijing, the finale of a three-day trip to China. More than 200 Brazilian business leaders headed to China ahead of Lula's arrival to hash out a flurry of deals that will bring Brazil closer to its largest trading partner at a time when relations between Washington and Beijing have grown increasingly tense.
Clearly the USA, NATO or EU does not enjoy the support of the rest of the World as it would like to believe in its support to Ukraine or expanding NATO.
The economic sanctions have failed to strangle the Russian economy, and maintain popular support for the war, an operation that, according to polls from the Levada Centre, more than 70 percent of Russians still back. Putin doubts the staying power of Ukraine and its Western supporters, expecting that their resolve will wane. And he surely calculates that as his new conscripts enter the fight, Russia should be able to expand its territorial gains, allowing him to declare that he has substantially expanded Russia's borders when the fighting stops.
Yet for all the good that greater Western military help would do, it is unlikely to change the fundamental reality that this war is headed for stalemate. Even if the West steps up its military assistance, Ukraine is poised to fall well short of Russian forces. It is running out of soldiers and ammunition, and its economy continues to deteriorate. Russian troops are dug in, and fresh recruits are heading to the front.
From Ukraine's perspective, it would be unwise to keep doggedly pursuing the war at the behest of USA and comic president Zelensky as it would prove suicidal. Ukrainian forces have already suffered over 120,000 casualties and lost many of their best troops. The Ukrainian economy has shrunk by more than 30 percent, the poverty rate is spiking, and Russia continues to bombard the country's critical infrastructure. Around eight million Ukrainians have fled the country, with millions more internally displaced. Ukraine should not risk destroying itself in pursuit of goals that are out of reach.
Come the end of this fighting season, the United States and Europe will also have good reason to abandon their stated policy of supporting Ukraine for "as long as it takes," as U.S. President Joe Biden has put it. The continued large-scale support of Ukraine carries broader strategic risks for Europe. The war is eroding the West's military readiness and depleting its weapons stockpiles; the defence industrial base cannot keep up with Ukraine's expenditure of equipment and ammunition.
The war is imposing high costs on the global economy, as well. It has disrupted supply chains, contributing to high inflation and energy and food shortages. The Organization for Economic Cooperation and Development estimates that the war will reduce global economic output by $2.8 trillion in 2023. From France to Egypt to Peru, economic duress is triggering political unrest. The war is also polarizing the international system. As geopolitical rivalry between the Western democracies and a Chinese-Russian coalition augurs the return of a two-bloc world, most of the rest of the globe is sitting on the sidelines. The Western unity itself is under strain. Disorder is radiating outward from the war in Ukraine.
With all the turmoil that West pursuance of expanding NATO has caused, peace in Ukraine cannot be held hostage to war aims that are morally unjustified and are also likely unattainable.