Residing in Mussorie, Ruskin Bond is a famous Anglo-Indian author who is popularly known for his fiction and non-fiction works. His first novel "The Room on the Roof" was written when he was 16 years old and he published it when he when he was just 21. As a semi-autobiographical work, the protagonist in the novel Rusty travels through life's vicissitudes and goes on to discover himself. While the novel won the prestigious John Llewellyn Award in the year 1957, it built Bond's career as an author. His later awards include the esteemed Sahitya Akademi Award (1992), Padma Shree (1999) and Padma Bhushan (2014). Bond's stories are acknowledged because of their easy, free flowing words and simplistic plots. His characters have their own flaws but they are given a moment of epiphany and a chance for redemption.
Bond's association with nature and the way he describes the countryside landscape, hills and valleys almost rewinds us to the time of the "Romantic era of England". In Bond's portrayal of nature in its best form, we are reminded of Wordsworth, Shelly, Byron and Keats. Bond writes:
The statement is indeed true. Free from the commotion and the charred mentality of people living in cities, the residents of the hills have a certain innocence and tranquility in them. The lives of the ordinary people are described with a certain content of wit and humour. Bond locates the disparity that exists between cities and hills when he mentions:
The mesmerizing capacity of the hills thrills a young reader and one takes a metaphorical ride to the hill stations and to the valleys which allures you to get lost.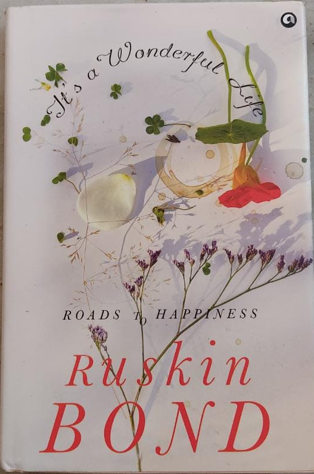 As a reader my first interaction with Bond's stories began when I took up his novel "The Blue Umbrella". It's a monumental story of a little girl who comes in possession of an umbrella meant for rich ladies, finds herself drawn towards it. As she and her umbrella grow to be inseparable, the sudden turn of events lets her realize that human sentiments and emotions matter more than materialistic things. The world outside the four walls of home have a lot to teach us and Bond makes sure that he appends didactic elements in his stories. He challenges the notion that only grown ups can incorporate moral values amongst the children.
Bond himself had a lonely childhood much different from other children. He had a close relationship with his father Alexander Bond who died at the war when Ruskin was only ten. He describes the period he spent with his father as the most memorable and happiest part of his life. His book "Looking for the Rainbow" is based upon those flourishing years. Living with his father who served the Royal Air Force, he could have a closer look at the 2nd World War. The devastation, deaths, anxiety and depression that a war creates perhaps left him with the only choice of creating his own alternate world of bliss. After the death of his father he was brought up by his mother and his stepfather.
In several documents Bond expresses his disgust towards his stepfather's knack for poaching innocent animals which contradicted his own nature. Bond's early life is reflected in many of his semi- autobiographical works. "Our Trees still grows in Dehra" is one such semi-autobiographical book which comprises of fourteen short stories which ranges from the author's childhood days to his present days. Full of nostalgia and memories of his deceased father, the author is forced to a trip to Dehra to visit his mother and foster father and stay with them. As he wishes for a final closure from his father, he laments about his early death. Lamentation about lost love is a recurrent theme of his novels. His collection of short stories, "Falling in Love again" treats the theme of love with a tinge of sensuousness. The heartfelt emotions and digressions in love are deep and can be perceived by the readers.
I remember the longing that comes with love as I read the story "The Eyes have it" in my high school.
"She was standing very close to me. So close that the perfume from her hair was tantalizing. I wanted to raise my hand and touch her hair but she moved away. Only the scent of perfume still lingered where she stood." 
The intoxication of love and the sweetness that comes from love been not reciprocated is something that every lover must have felt.
The fact that Bond's stories are semi-autobiographical and yet he refrains from making these stories immensely personalised. We as readers are aware of the fact that his stories come from his own personal experience. However, not once he alludes about the ups and downs and the pressure he was subjected to. He allows his reader to see the bright and colourful aspect of human lives.
"Perhaps there is too much of me in my stories, and at times this book might read like an autobiography…I am that kind of writer." (He talks about his book "The Night Train at Deoli").
Thus, he writes about things that gives his readers a "hope" that all is not lost. The war has crippled the human race and have disrupted normal activities, but life must go on. Bond explores human relationships, mostly friendship and he has the capability of bringing two strangers and binding their fate together with love or companionship. Often inanimate objects like railway station plays an important role in uniting two ordinary characters and at other times it's nature that intertwines hearts. Such examples can be found in his two excellent short stories, "The Woman on platform 8" and "The Coral Tree". His story "The Window" talks about a beautiful friendship that blossoms between a little child and the narrator.
Bond writes about ordinary people, especially the lower class who works hard to earn their daily bread. Bond himself wanted to be a writer and earned money by writing stories for various magazines. Although, the payment was not handsome but he could live with it. In "The story of Madhu", Bonds describes a young Madhu living in critical conditions,
The everyday experience, the markets of Mussorie, the windows of his room or the bookstore he visits are an integral component of his novels.
The last novel that I read of his was "Roads to Happiness". It was a signed copy from the author himself that I received as a gift from a closest person of mine. The world is still healing from the deadly virus Covid. Lacs of people have died and the ones living have places left empty in their hearts. The waves of Covid have not just maimed people physically but also struck a huge mental blow. We have never looked at death so closely before. People have been reduced to mere statistics in newspapers that delivers the report of Covid cases. Amidst such a critical phase, Ruskin Bond gives us momentous peace as he talks about the butterfly that settles on his desk or how he visits the bookstore and is visited by his admirers. He finds joy in the simplest things occurring in his life and responds to it through his essays, "lockdown journals". The collection of essays provides solace in such times of anxiety. It's a relief from the distaste that humans have grown for death. Afterall, in the end the writer establishes with a certain degree of positivity that,