These thoughts of mine are addressed to my friends, relatives and the countrymen at large, some of whom often observe, "When Muslims have created Pakistan, why don't they go there?"
The same sentiment was echoed recently by the Home Minister of the country in the Parliament, while tabling the Citizenship Amendment Bill, when he said, "Had the Congress not divided the nation in 1947, this bill would not have been required". Here Congress was possibly used in place of the word Muslim, purposely to brand Congress as a party of Muslims and by implication, BJP became the sole representative of Hindus. His supporters got the intended message – 'Muslims were responsible for partition and Hindus are distinct from them.'
This very idea numbs my nerves. It appears to me as an attack on my right to live in my
motherland. I am not merely a body born in Hindu religion or Tripathi family. I see myself in my teacher who laid the foundation of my life, the farmer who fed me, the weaver who clothed me, the cobbler who protected my feet, the sweeper who kept me clean, the Pundit who performed pooja for me, the Maulvi who gave meelad discourse, the classmates with whom I studied and my own students whom I taught at IIT Delhi, Madarsa workshops and elsewhere. My soul connects me to them. I am, of course, the son of my parents and brother of my sisters but I am integral to all these people, all my countrymen and even those beyond our frontiers.
I may feel envious of them, I may wish to defeat them in competition or grab their opportunities and jobs, but these negative thoughts pain my soul. This sensation of soul is my life. Soul is my being and it revolts against any attack on my countrymen in the name of religion, caste, gender or status. I wish to love and respect you my friends but the faces of humiliated men and bleeding women, whom you have started targeting as the other, of late, confront me. They are the part of me as you are.
Please think over as to how the thought of treating Muslims as the 'other' came to you and why is it persistenting?
What was partition? The farmer or worker of my village in Jhansi district had never demanded that his little farm, hut, goat, and cow be shifted to Pakistan, nor a peasant of Lahore district wanted his shelter and land shifted to Delhi. These holdings and belongings were part of their lives, means of their livelihood. Not a single Hindu, Muslim or Sikh had demanded to be moved away from his home. He wanted to live at his roots.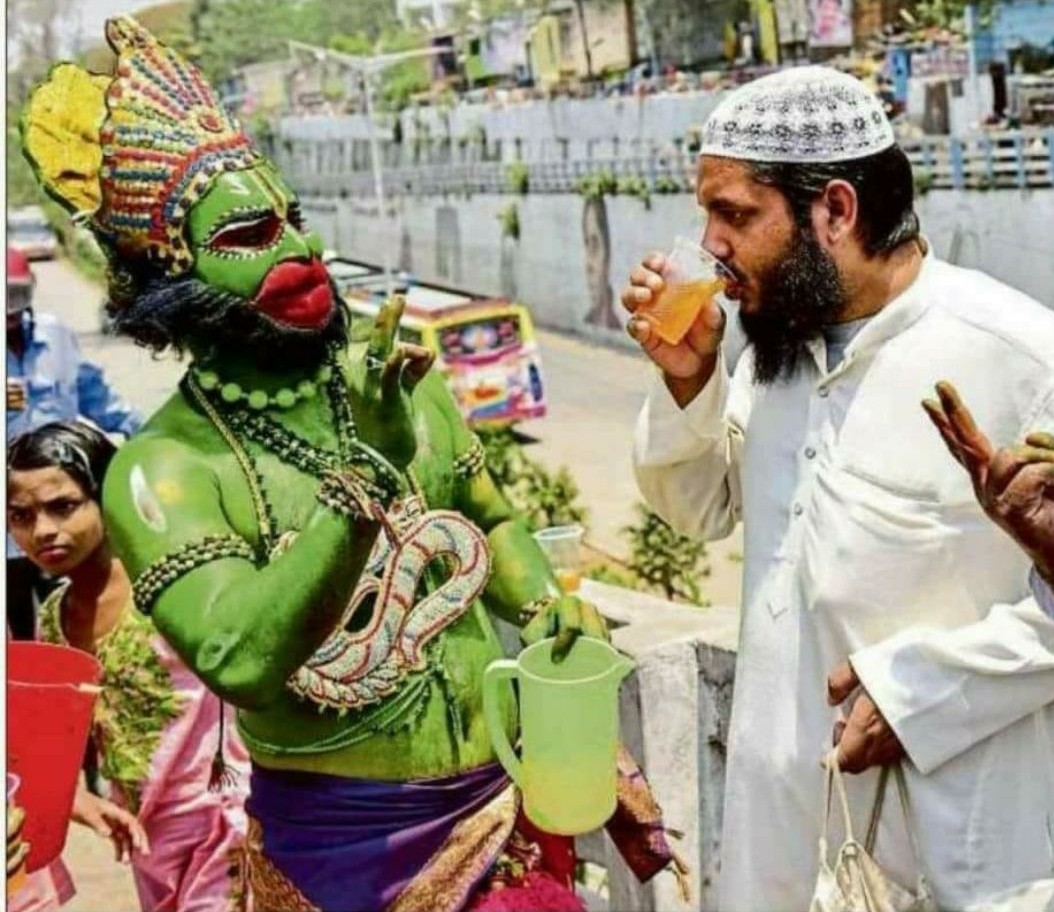 Sheer greed of a few officers, landlords, kings and nawabs wanting to have a share in power and power structure were the cause. It was the battle of privilege and power seekers. 90% people had nothing to do with it and it's not rocket science to understand this basic fact.
Even among the elite, the religious conflict was a new phenomenon. In 1857, the Muslim and Hindu nobles, from Bahadur Shah Zafar, Rani Laxmi Bai, Beghum Hazrat Mahal and Nana Sahib to numerous others, along with the masses, had fought together the first war of independence.
India Rediscovering Its Undivided Soul As Tide Of Polarization Ebbs
Mundar, a Muslim girl, accompanied Rani Laxmi Bai in martyrdom. Prior to that the chief gunman of Jhansi, Ghulam Gauss Khan had courted martyrdom (his grave is located inside the Jhansi Fort).
After the British gained power, they practiced discrimination, first against Muslims and later against the Hindus and gradually created mistrust among the elites of both the communities.
Odyssey Of Family Relationships – A Mother's Attachment In Detachment
Now please have a look at the attitude of these elite objectively, even if they were your
grandparents or great grandparents, towards the masses of their respective communities. As compared to the religious hatred they had among themselves, the humiliation they perpetrated on peasants, workers and downtrodden was manifold more severe. They carried the arrogance of affluence and caste, built army of muscle men and perpetrated acute exploitation.
Over centuries, the Hindu Muslim masses have shared each other's sorrows and joys. They were together in bhagwat and meelad, worked together in fields. Both stood with the freedom struggle and practiced Gandhi's principles of truth and nonviolence. Up till 1947 they stayed together.
The partition in 1947 was merely the division of ruling authority – West Punjab, Sindh, North West Frontier Province and East Bengal came under the power of the Muslim League and rest other provinces under the Congress. People had the right to live where ever they wanted. It was categorically stated that people will live where ever they had been living.
Also Read: 50 Organisations 'Peace Walk' to Promote Tolerance Amidst Mob-Lynchings | Karwan-e-Mohabbat
The nation, the land, the forests and the resources were not divided on proportion to population. Those who crossed the border due to violence, also had the right to live in their new nation. However, except from the border states, who else from among the masses could migrate. Hence, from the non-border states only the educated and well-off's migrated. The sectarian organizations, of course, seized the opportunity and got a weapon to beat people with. It too was and is a means of their own survival.
In life style I am hardly different from you. I take pension equivalent of earnings of 20
workers, live in a luxury flat, look down others. Only good thing is that these fallacies are visible to me. I hope self will gradually melt and I won't judge people on the scale of wealth, degrees, wisdom, caste, religion and nationality.
I wish you undertake an inward journey, stop for a second, ponder and ask yourself, "If Muslims don't belong here, how about me? Just because of religion, or the authority of my parents or the wealth, privileges and resources I hold? All these things in fact separate you from others, make you an alien and oppressor.
You belong to this land because you were born and brought up here and you have an inherent feeling of oneness with others.
Also think of your ambition to settle in USA to advance your career and make fortune but what about the craving and desire to deny the same right to the hard working masses and to make them remain under privileged and live in some dark ghettos in our own country.
This realization shall bring humbleness and modesty and is bound to diminish the arrogance that may have crept in unnoticed due to one's religion, caste or creed.
Religion is not an ornament to show off greatness but a practice to transcend self and be humane to the world around us.