Indian chemical and petrochemical sector holds huge potential to emerge as global manufacturing hub, says Shri D.V. Sadananda Gowda, Hon'ble Minister of Chemicals and Fertilizers at ASSOCHAM event
Speaking at an ASSOCHAM Foundation Week conference, Shri D.V. Sadananda Gowda, Minister of Chemicals and Fertilizers, today said that India stands at present at the cusp of interesting times when we have the big opportunity to make India into a global manufacturing hub for chemicals which could be achieved with both the industry and the government working on this together.
Addressing the session on "Future of manufacturing in India – becoming a competitive global hub"  at ASSOCHAM's virtual conference the Minister of Chemicals and Fertilizers said, "I believe that Indian chemical and petrochemical sector holds potential to emerge as global manufacturing hub. We are aware of the need to support cluster-based development of the sector through provision of world class infrastructure and logistics, and the Department is working on it. The sector has great opportunity to leverage on its talent pool and resources to attain a successful position in the world market. In addition, India has been increasing its export of chemical products in the recent years, so growth will also be a factor of buoyant exports."
"India's long-term growth scenario, supported by strong macro fundamentals bodes well for chemical manufacturing companies. I am told the chemical sector has a network of 200 national laboratories and 1,300 Research and Development (R&D) centers which provide a strong base to become innovation oriented. Shifting focus towards R&D would also facilitate growing opportunities which could propel Indian chemical industry to become global manufacturing hub and penetrate global value chain, he added.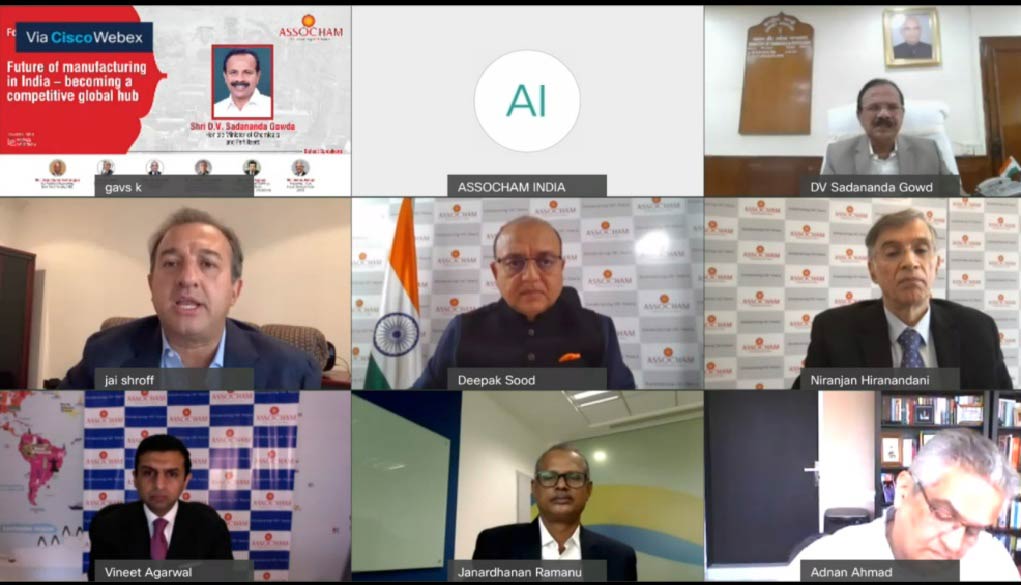 Speaking on the overall potential for manufacturing sector in the country Shri Gowda said: "The future of manufacturing sector in India is promising. Our manufacturing base has become mature and can rise up to occasion whenever necessary…. The Government under the visionary leadership of Hon'ble Prime Minister has taken several measures to boost competitiveness of the manufacturing sector. As a result of proactive and business friendly approach of the Government, India had done extremely well in consecutive ease of doing business reports of World Bank. India's rank improved to 63 in 2019 from a low rank of 142 in 2014. India has emerged as one of the top investment destinations among emerging economies. In 2018-19, India attracted FDI inflows of 73 billion dollar, up 18 % from previous year."
Also Read: Chemical Science & Chemical Technology To Help Develop New India (Opens in a new browser tab)
ASSOCHAM is organising a five day long virtual conference on its Foundation Week from 15th to 19th December 2020 with central theme "India's resilience: Atmanirbhar roadmap towards US$5 trillion economy" where series of sessions will be dedicated by various ministers including Smt. Nirmala Sitharaman, Shri Nitin Jairam Gadkiri, Shri Ravi Shankar Prasad, Shri Piyush Goyal, Smt Smriti Zubin Irani, Shri Dharmendra Pradhan, Shri D.V. Sadananda Gowda, Shri Narendra Singh Tomar, Shri Pratap Chandra Sarangi, Shri Santosh Gangwar, Shri Arjun Ram Meghwal, and Shri Prahlad Singh Patel.
Speaking at the event, Mr. Niranjan Hiranandani, President ASSOCHAM, said, "The Indian chemical industry presents excellent potential and is expected to register a growth of 8-9 per cent in the next decade and is expected to double its share in the global chemical industry to about 6 per cent by 2021. The Indian chemical industry has a significant potential for growth, provided some of the key drivers are focused upon like Securing Feedstock, Right Product Mix and M&A opportunities. The Government could continue to work toward the ease of doing business in India by streamlining regulations and processes and by issuing clear directives on future regulatory requirements. I am sure the insightful views from the experts would further contribute to the initiatives of the Government on making India a global manufacturing hub."
Welcoming  Mr Gowda and the eminent panellists, Mr. Deepak Sood,  Secretary General ASSOCHAM, said, "As we work towards enhancing our manufacturing prowess, we want to reduce our dependence on imports by strengthening the domestic ecosystem and at the same time enhance our share of exports. As several global oil and gas majors turn their sights on downstream chemical opportunities, India presents itself as a favoured investment destination in the petrochemicals segment. I would like to welcome our eminent industry guests and Hon'ble Minister to this discussion and look forward to their insights on making India a manufacturing powerhouse".
Also Read: Post Covid – "Manage Me" Emerges As New Normal Of Management Education (Opens in a new browser tab)
Mr. Jai Shroff, Global CEO, UPL Group said, "Chemical sector is the key sector in realizing Atmanirbharta and it has to play an important role in realising Honorable Prime Minister's vision for India. India has ample manufacturing potential for chemicals sector which needs to be leveraged to substitute imports and promote exports. For India, to emerge as a dominant leader in the sector, research and development and creation of centres of excellence need to be promoted and encouraged!
Speaking at the session, Mr. Janardhanan Ramanujalu, Vice President & Regional Head- South Asia & Australia, SABIC, said, All of Industrial Revolution 4.0 ingredients like precision manufacturing, digital capability, talent availability and supportive policies makes India best suited to be the global manufacturing hub".
Mr. Adnan Ahmad, Region Head – India, Clariant Chemicals (India) Limited, said, "India's position as a global manufacturing hub contender was always a given. The only question was when would we take cross the tipping point. Now we are seeing opportunities for the Specialty Chemicals Industry like never before, with the local demand expected to grow exponentially and global industries looking to de-risk their Supply Chain dependency on China. It is now time for us to act and move into a role that was destined to be ours, as a Global Manufacturing Hub for chemicals."
Giving the vote of thanks Mr. Vineet Agarwal, Sr. Vice President ASSOCHAM said, "  As the country stands by the Hon'ble Prime Minister's vision of making India a $5 trillion economy, a strengthened manufacturing ecosystem would be crucial to attracting global investments. We are delighted to note that the Ministry is in the process of creating an action plan for chemicals' exports and is giving preference to local suppliers through public procurement aimed at boosting 'Make in India'. This would not only transform the manufacturing sector but also boost job opportunities, helping India leverage its vast demographic dividend."
About ASSOCHAM
ASSOCHAM initiated its endeavour of value creation for Indian industry in 1920. It was established by promoter Chambers, representing all regions of India. Having in its fold over 400 Chambers and Trade Associations, and serving over 4.5 lakh members across India. ASSOCHAM has emerged as the fountainhead of Knowledge for Indian industry, which is all set to redefine the dynamics of growth and development in the Knowledge Based Economy.