Making your house feel like home is so important, especially when you're living amidst lockdown during a global pandemic. Now that you're spending more time at home than ever before, you're likely looking at your space with a whole new lens. Use your new perspective to your advantage and start making some meaningful improvements.
In this post, we're sharing five ways to personalize any room in your home. Read on to learn more!
1. Proudly Display Your Style
An interior designer's ultimate goal is to make their client's home feel A) comfortable and functional and B) showcase their personal style. As the designer of your own destiny, you should focus on the same two ideas.
When it comes to displaying your unique taste, it's a good idea to start with display options. Things like open shelves, glass cases, and trinkets can easily be incorporated throughout your home to show off your style, collections, and life adventures. Here are some fun ideas to pull inspiration from:
Install open shelving in your kitchen to display your collection of ceramic dishes and eclectic cookware.
Use shadow boxes to artfully store trinkets from your travels abroad and trips to the flea market.
Repurpose some of your favorite wine bottles into funky candle holders.
Decorate your coffee table with cool coffee table booksand coasters.
2. Add Personalized Artwork
Artwork is always very telling of a person's style and, of course, adding artwork to personalize any room in your home is a great way to dress up a drab space. The best part? There are so many amazing mediums to choose from to achieve your desired aesthetic. Check out these uniquely personalized ideas:
Hang up a personalized canvas art on your fireplace mantle, above your bed, or in the den to show off a special memory.
Shop from your favorite small businesses to find artisan designs that are local to your hometown.
Create your own pot or sculpture with the help of an air dry clay kit; display your creation in any room of your home!
Reupholster an old piece of furniture or pillows to make them more your own.
Turn one of your quarantine creations—like that artsy puzzle you finally finished—into a unique hanging piece or table facade. Just place glass over your masterpiece for an easy and artful addition.
3. Send A Message With Your Common Room Decor
Chalkboards are a really fun way to show off your art skills, share special notes with your housemates, and above all, incorporate your personal flair. All you need to DIY a chalk wall is a blank wall, painter's tape, chalk paint, and chalk. Chalk walls work great in kitchens and dens but they can also look great and offer up functionality when placed near the front door — add hooks for bag and key storage and you'll have the perfect setup!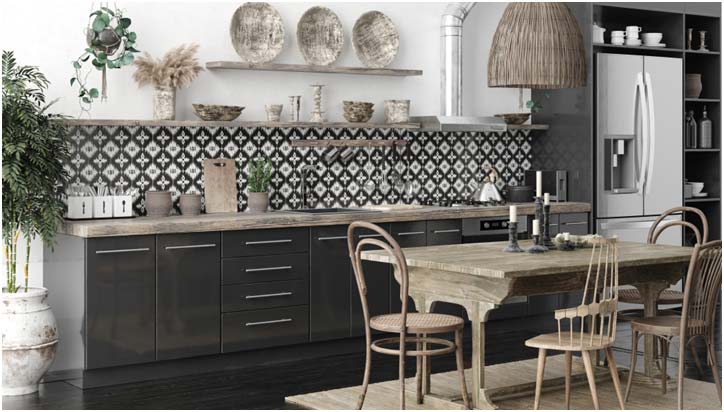 4. Refresh Your Rental
Rentals tend to be pretty drab. From white walls and stuffy carpets to unsightly backsplashes, there are probably plenty of renovation projects you dream of doing in your rental. However, many landlords and property managers prohibit any kind of unapproved renovation activity… keyword "unapproved."
With a little convincing and a well-thought out plan, you may be able to get your landlord to agree to a small project to personalize any room and spruce up the space. Redoing backsplashes, repainting, upgrading your outdoor space and replacing blinds are great starter projects to propose and you may even get some financial support from your landlord if you're lucky. Plus, adjusting small details like these goes a long way in styling your space exactly how you want it.
5. Tell Your Life Story Through Photography
Displaying photographs is one of the easiest ways you can start to personalize any space. From travels to precious family memories, there are so many meaningful options to choose from. Start by selecting some of your favorites and try to curate them so that your collection looks great when put together. Then, have your photos professionally printed and select frames to your liking — the thrift store is a great place to find unique frames!
Which of these five home decorating tips will you try out first? Share your personalization plans with us in the comment section below!