The onset of Russian Ukrainian conflict and the subsequent evacuation of Indian students from Ukraine has brought many issues to the fore. There have been umpteen number of discussions going around. The cost of medical studies in India, the number of medical colleges, the quality of medical education etc. All revolving around the main theme as to why such a huge chunk of students chose Ukraine over India for medical studies.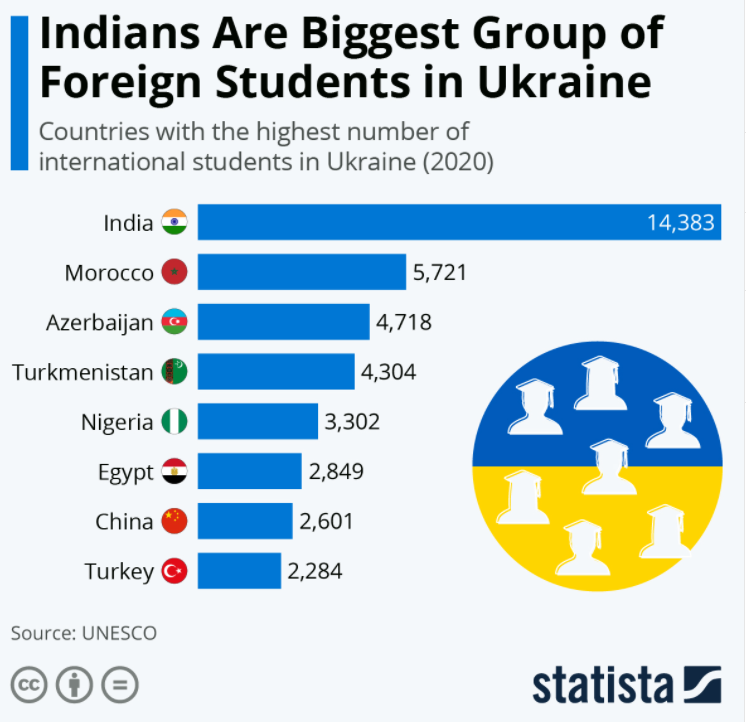 Rough estimates in 2022 of Indian students studying in just one country i.e. Ukraine point to upward of 22,000. Similarly the numbers studying in other similar countries add up to shocking figures. A look at some of the reasons why Indian students choose to go abroad for medical education:
No. Of Aspirants v/s Seat Availability:
First and foremost, there is a huge gap in the number of seats available for medical education in India v/s the number of applicants. In 2021, close to 1.6. million students appeared for the NEET (National Entrance cum Eligibility Test) for admission in MBBS. In comparison to this, the number of seats available were just 90,825 in 605 colleges. The glaring gap is obvious. The students are hence left with no other choice but to look at foreign lands to complete their dream education.
Infrastructure and Fees
Ukraine has more than 50 medical colleges that offer a degree in MBBS. If one looks at Belarus, it has 04 medical colleges in its country. Poland has 15 medical universities, Romania has 03 medical universities and Hungary has 04 medical universities. All these five countries are neighbouring countries that share their borders.
An MBBS course in Ukraine would cost around 22-26 lakhs. In Belarus a 6 year MBBS course would cost around 20-28 lakhs. The same course in Poland would cost around 58 lakhs. In Romania, one would have to pay 12 lakhs to 24 lakhs for the same course. Similarly an MBBS degree would cost around 30 lakhs in Hungary.
Now, coming to India. The average fees for MBBS from a reputed private college/university starts from 18 lakhs per year, which comes to about 72 lakhs for the entire course. The difference is glaring and obvious. This figure is the official fees taken by the colleges. The prevalence of seeking donations is something that most of us are aware of and the amount of donation varies from college to college, state to state. Thus, making it all the more expensive and unaffordable for an individual to seek a medical degree seat.
Similar is the case with pursuing Doctor of Medicine, or MD. It's a speciality degree that enhances the future prospects of individuals in the medical industry. There are approx 620 colleges spread across India that provide the specialized MD programs. Of these, 55 per cent of MD institutions are private, 40 per cent are government, and the rest are public-private partnerships or hybrids.
A screenshot of a marketing 'text message' was tweeted by a twitter handle recently. Even while not relying on the face value of the numerics, the figures still give an idea of the humongous costs associated with such specialities.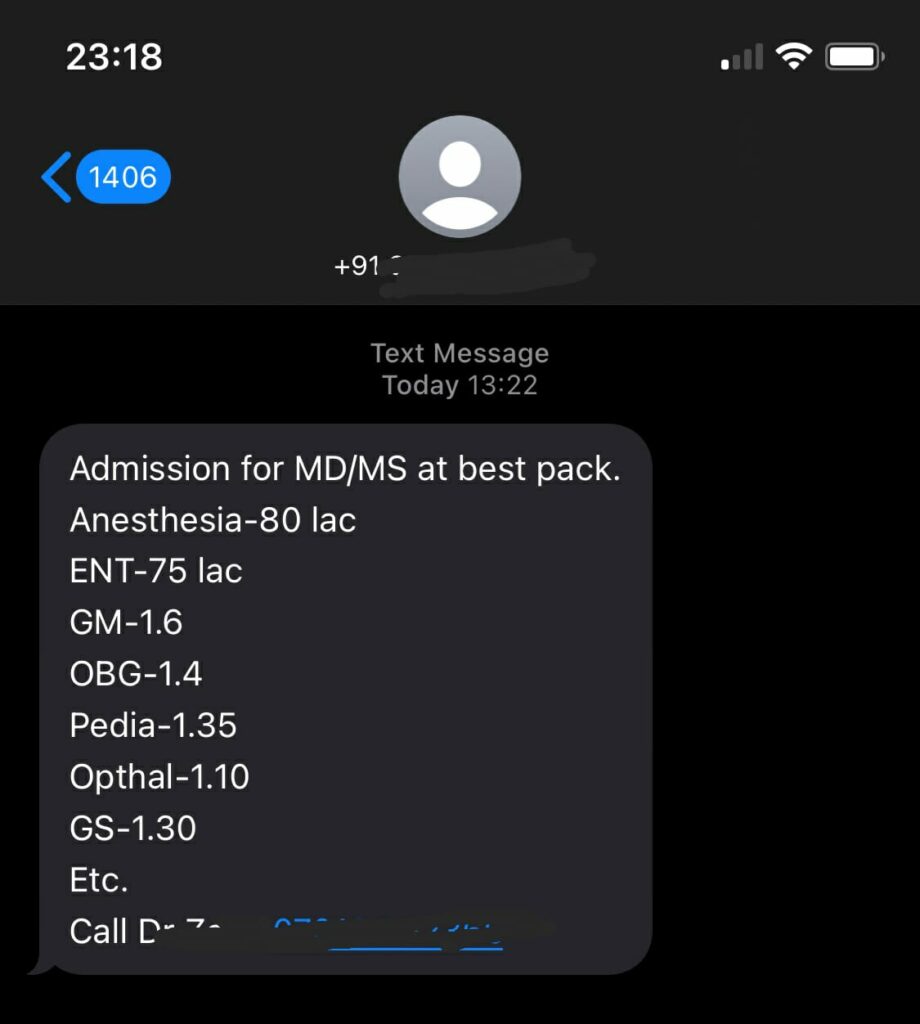 Making Medical Education In India Easy and Affordable
One can see that the demand-supply gap in the number of seats available along with high fees in private colleges are the prime reasons why students in India prefer countries like Ukraine and Belarus to pursue their education in Medical Health.
So isn't it strange that countries like Belarus and Romania who have such less number of medical colleges still provide Medical education at affordable rates while India which has 600 odd medical colleges is unable to do so. One of the reasons as already brought out is that the demand for medical seats is much more than what is available. Thus it's natural that when demand-supply gap is so vast, the price of what is available tends to shoot up exponentially.
Hon'ble Prime Minister Narendra Modi called on private sector companies to make a presence in the field of medical education, to enable bridging of this demand supply gap. However, experts in field of education consultancy and education strategy have differing opinions. They believe that while adding more colleges and making more seats available is a welcome move, the real solution lies in simultaneous regulation of fees and upgrading the quality of education.
It may also be worth noting that some of the countries like Ukraine who although have fewer medical colleges/universities than India, the latter are public funded. This could well be another reason for the low fees for the courses.
While India has close to 250 Government colleges, some students allege that a lot of these seats are used up in the Reservation Quota.
While adding new colleges is bound to be time consuming, what can be done immediately is to regulate the fees charged by private colleges and institutions. Maharashtra State government has a Fee Regulatory Authority in place that keeps a check on the fees collected by unaided private colleges. Karnataka State Chief Minister has also announced setting up of a committee for the medical colleges. However, if one had to check the fees charged by private colleges in Maharashtra, one wonders if having a regulatory authority is effective at all.
Also, if the government provides subsidies for college land, infrastructure and equipment, thereby reducing costs incurred, then this should also translate into effective lowering of fees.
Just like the Right to Education Act, having some sort of cap on medical fees by private colleges and strictly monitoring it, may help in reduction of the fees in these medical colleges.
The fact of the matter remains that the more the number of students go overseas for studies, the more of our forex reserves are spent elsewhere rather than within our country. It is for the government in tandem with educational institutions to take firm steps to curb this while making medical education in India affordable.
At a time when India is making its presence felt across the globe in more ways than one, isn't it necessary to create an environment, so as to retain our brightest of minds in our own country? If all resources and facilities are made available in one's own country, why would these youngsters search for greener pastures elsewhere?
Also Read: