Top most romantic Bollywood couples: People always get attracted to celebrities and especially film actors and actresses. Younger generation draws inspiration from the celebrities' each and every move and follow them in real life. Now in the current generation when marriages are falling apart within days and weeks for silly reasons, many people that they we can look upon as role models could be found among the celebrities. N4M Review shortlists the top ten most romantic Bollywood couples who justify the adage, 'Love is Strong' and give inspiration to us all to lead a happy married life with love, commitment and contentment.
11
Dharmendra – Hema Malini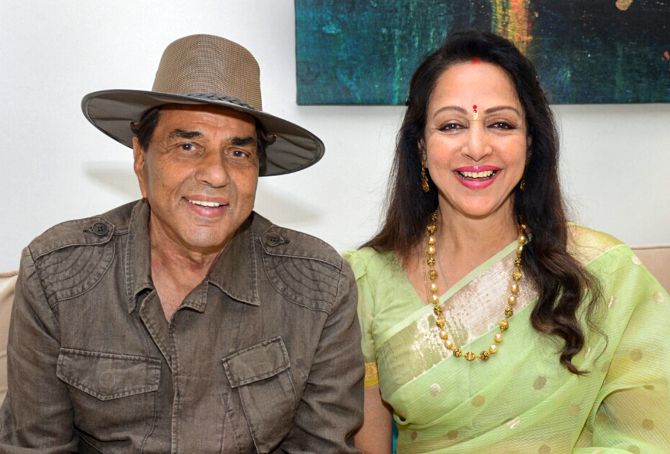 Hema Malini with her husband Dharmendra, in Mathura, Sunday, April 14, 2019. (PTI Photo).
Dharmendra was hailed as the original He Man of Bollywood. He had many female fans for his macho physique. He was already married but however he got bowled by the dream girl Hema Malini. Hema Malini who avoided him knowing his personal secrets as she didnot want to enter into any relation with a married person, however couldn't control his charms and advances. Finally she fell in love with Dharmendra on the sets of blockbuster film Sholay. Their relationship however reached a speedbraker when his wife Prakash Kaur, refused to sign the divorce papers and part ways.
During that time , Hema Malini was wooed by even stars like Jeetendra and Sanjeev Kumar. Hemamalini even planned to enter into wedlock with Jeetendra as Dharmendra remained silent and helpess spectator. Finally Dharmendra, decided to take a daring step and he converted to Islam and without leaving his first wife, entered into wedlock with Hema Malini. Both later embraced Islam in 1979 changing their names to Dilawar Keval Krishn and Aisha Bi R Chakravarthy to get married.