This is the first article (S No: OP.4.01) of the series "Stunning Offbeat Places In India". It's an endeavor initiated via a series of articles to familiarize you about the abundance of stunning places in India that you might not have heard much about and which you must visit in your lifetime.
India, by area, is the seventh largest country in the world. The country is also home to one of the oldest continuous existing culture. These two facts together have transformed the land into a veritable kaleidoscope of natural and man-made wonders that inspire both awe and amazement and draw wondrous gasps from the people who witness them. With the kind of numerous sights that embellish the Indian landscape, it would take a number of lifetimes to see and experience them all.
A very large number of people visit India to take in its marvelous sights, taste its varied cuisines, experience the warm hospitality of its people and immerse themselves in its culture but their visits are limited to a select few places like Delhi, Jaipur, Agra, Goa, Kerala etc. over and over again, which are pushed by the tourist brochures and Internet sites. They need to be told that our country has a huge number of stunning and amazing offbeat locations that a lot of Indian themselves have not heard about, let alone see them. Though it was very difficult selection, we've managed to cull out some of the very best of these locations. To experience these places, the visitors would need to move off the beaten track and enter a completely new, pleasantly unexpected and overwhelming realm of India.
Some such offbeat locations of India are:
1. Thachi Valley, Himachal Pradesh
Also known as 'Apple County' due to large number of expansive orchards all around, Thachi valley lies in the Seraj region at a distance of around 75 km from Mandi. The valley is covered with lush green meadows while in the blue sky overhead, fluffy white clouds sail silently by and deodar trees sway gently in the wind and a mist wraps you all around.Nature reigns supreme here since no tourists can be seen and the only sound that you hear is the soft chirping of birds and rustling leaves as you'll be stunned into silence by the sheer beauty of the place.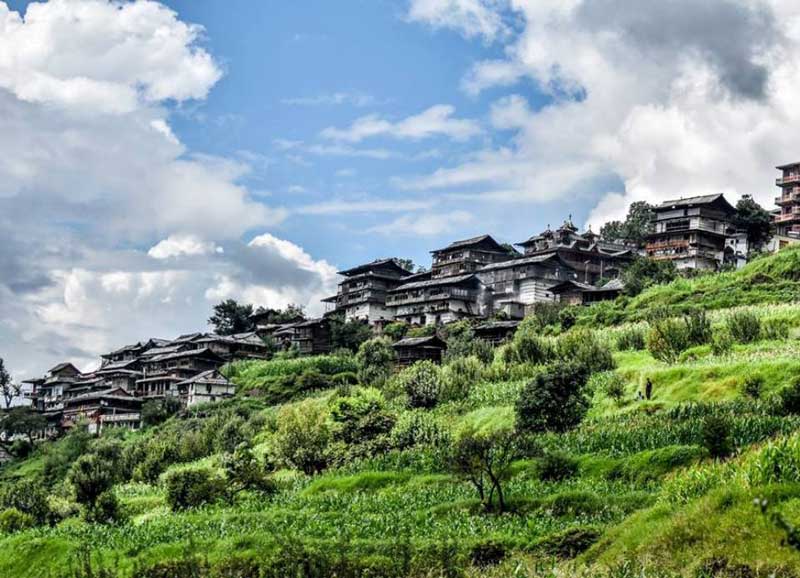 The place has a number of ancient temples. One of them is the Bithu Narayan Temple which has the beautifully carved stone statue of eleven headed Lord Vishnu, the presiding deity of the valley. Another one is pagoda-styleHadimba Temple, surrounded by lush green trees and located on a peak. Located around 5 km from here is a quiet and secluded Ropa Temple. With its slate roof sitting on wooden columns, the temple is surrounded by cedar trees.
Adventure enthusiasts can trek up to Chanjwala Peak which has a height of 9,800 feet, a trail that zigzags through terraced maize fields and apple orchards.Other places worth visiting are Beed Plateau, a high altitude meadow, and Ashu Alli and Gaunbeed waterfalls.
Visit Thachi during August since it is the apple ripening season and you can enjoy the juicy fruit straight off the trees.
2. Sangla Valley, Himachal Pradesh
Sangla Valley in Kinnaur district in Himachal Pradesh, located around 600 km from Delhi and 350 km from Chandigarh, is supposedly one of the most beautiful valleys in India. On your way, you can always have a dekko at Narkanda and Shimla. Also known as Baspa Valley because of the River Baspa flowing through the valley, the term Sangla in Tibetan stands for "pass of light" as the valley receives plenty of sunlight during daytime. As it located close to the border with Tibet, visitors were prohibited here but it is not so anymore and tourists have been allowed in this around 40 sq. km region surrounded by snow clad mountains, amongst lies the 4,800 meter high Kinnaur Kailash Peak.
As tourists still do not swarm the Sangla Valley, a visit to the place would make for a serene and relaxing holiday. Visitors can go for leisurely walks amongst the green carpeted meadows and admire the beautiful surroundings filled with apple orchards, fir and cedar trees. They may also indulge in angling, rock climbing, rappelling, river crossing and camping on the River Baspa. The 800 years old wooden Kamru Fort houses 33,000 gods and in its courtyard is located the famous Kamakhya Devi Temple. They may also visit Chitkul, the last Indian town on the border.
3. Gurez Valley, Kashmir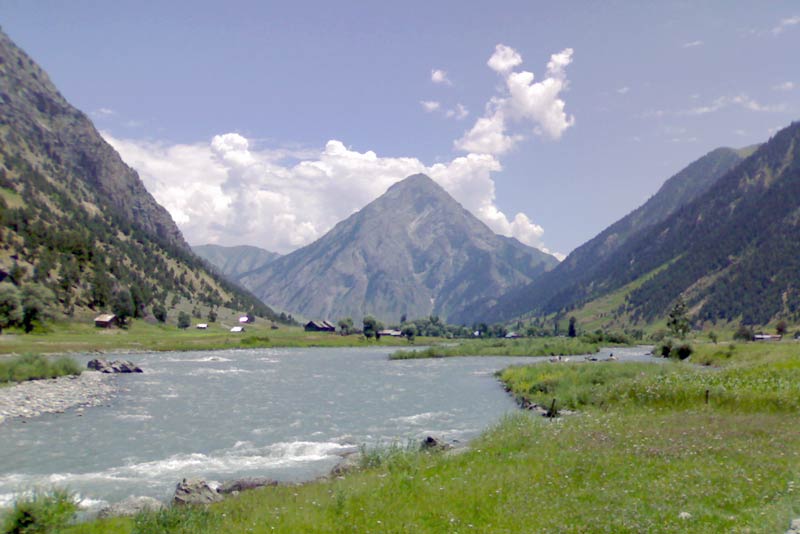 Gurez, also known as Gurais, is stunning valley in Kashmir that is located at about 8,000 feet in the high Himalayas and falls on the ancient Silk Route. It is surrounded by snow-capped lofty mountains, offering a beautiful poetic setting. The gurgling and roaring Kishanganga River flows through the valley.Besides its picture perfect scenery of shepherds grazing their sheep among the Alpine flora, the place also boasts of snow leopard and Himalayan bear. Tourists can raft in the gushing river which is also perfect for trout fishing. They may indulge in a spot of mountain climbing, hiking and trekking as well.For water skiing, boating and water sports, they may visit Wular Lake, which displays high and leaping waves in the afternoons. The best time for a visit is between May to September when the weather is pleasant.
4. Great Himalayan National Park, Himachal Pradesh
In in Banjaar sub-division of Kullu in Himachal Pradesh in the far Western Himalayas is located the Great Himalayan National Park (GHNP). It is a UNESCO World Heritage Site but not many people have heard of it. A Himalayan utopia, it comprises of valleys and mountains, covered with lush green vegetation. Noted for biodiversity conservation and spread across four picturesque valleys, the park has a large number of endemic and exotic flora and fauna.
The four valleys that comprise the park are Sainj, Parvati, Jiwa Nal and Tirthan. With an area of 90 sq km, the V-shaped Sainj Valley has Sainj River flowing through it. The Parvati Valley rising from the confluence of the Parvati and Beas Rivers at Bhuntar, has many cascading waterfalls. The Jiwa Nal Valley is next to Sainj Valley and has Jiwa Nal River flowing alongside that goes on to join the River Beas. This river rises from Sartoo, a pond which is fed by glacial and snow melt water. The Tirthan Valley is named after "Tirth", a sacred water spring that originates at 4,800 m high Hanskund Peak and flows down, through deep forested region.
The rivers in the Park are rich in trout which makes fishing and angling a popular activity. A large number of well-marked trekking trails make the Park a delight for both expert and amateur hikers.
Within the Park lie many villages with their unique temples, festivals, cuisines and culture. The people here are very warm and friendly and visitors can stay at their homestays.
5. Chopta, Uttarakhand
Located at a height of about 2,709 metres, Chopta in Uttarakhand is an unspoiled and one of the prettiest locations in India. This sleepy town has everything that a discerning visitor could ask for: all around view of snow-clad mountains,41, yes 41!! spell-casting peaks, lush forest trails with towering trees, green meadows, locally called bugyal and warm, welcoming local people.
This small region of meadows and evergreen forests of deodar and pine lies in Kedarnath Wildlife Sanctuary and serves as a base for trekking to Tungnath, locatedat a distance of 3.5 km. Further 1.5 km away is the 4,000 meter high Chandrashila peak. It also offers stunning views of Nanda Devi, Trishul, Kalanag, Nilkantha and Chaukhamba peaks. Tourists may also visit Devaria Tal, a lake at 2,438 meters, with a backdrop made up of lush green forests and snow-covered mountains.Trekking enthusiasts would love the Tungnath, Chandrashila and Devaria Tal trails as would the birdwatchers as they may sight monal bird, besides other rare species. Rock climbing, rappelling, snow trekking, snow skiing and camping are some other activities to be enjoyed here.
For people interested in religion, the region abounds in temples like Koteshwar Mahadev Temple, AnusuyaDevi Temple, Kartik Swami Temple and Atri Muni Ashram. Cool and pleasant climate reigns here from March to May so it is the best time for a visit.
6. Landour, Uttarakhand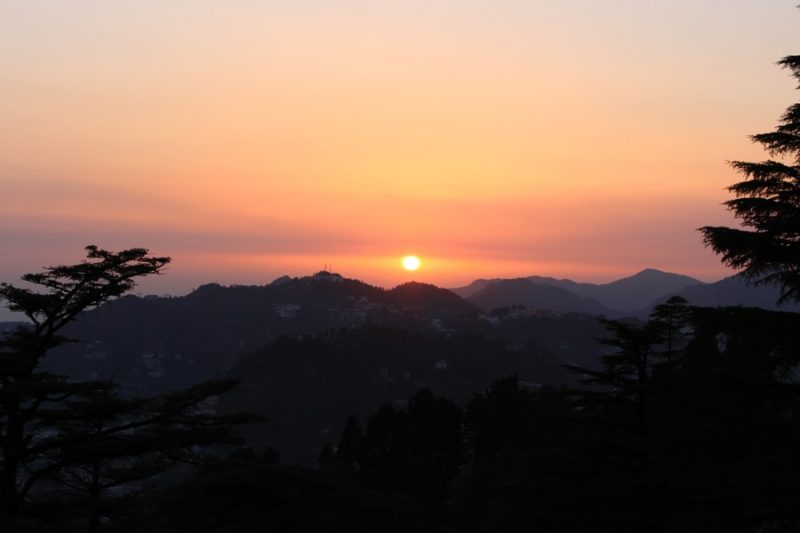 Landour in Uttarakhand is a small cantonment town, located in lower Western Himalayas at a height of around 8,500 feet, and lies around 35 km (22 mi) from Dehradun. It is one of the very few places in the country that has somehow managed to escape chaotic and frenetic over development. As it is of the beaten track, not many people know about it and so hardly any tourists reach the place. The famous Woodstock School is located in this town only.
The most prominent features of the region are local hills or Tibba. Some such hills are Lal Tibba, Landour, Pari Tibba, Nag Tibba, Tope Tibba and Pepperpot.The place has vast forests of deodar cedar, blue pine, chir pine, Himalayan oak, Himalayan maple etc. It is a wildlife lover's paradise as over 350 species of birds besides animals such as leopard, barking deer, jackal, goral and sloth bear can be seen here.
On a clear day, a visitor to the place can behold the magnificent site of grand snow-draped Himalayan peaks such as Kedarnath, Gangotri, Swarnbhogini, Yamunotri and Bandarpoonch. The serene grandeur of the whole town can be explored by a brisk walk.
7. Jabalpur, Madhya Pradesh
Jabalpur, the third largest city in Madhya Pradesh, is named after sage Jabali who supposedly meditated on the banks of River Narmada. Though vastly underrated, the place has nearly every attraction for every type of tourists.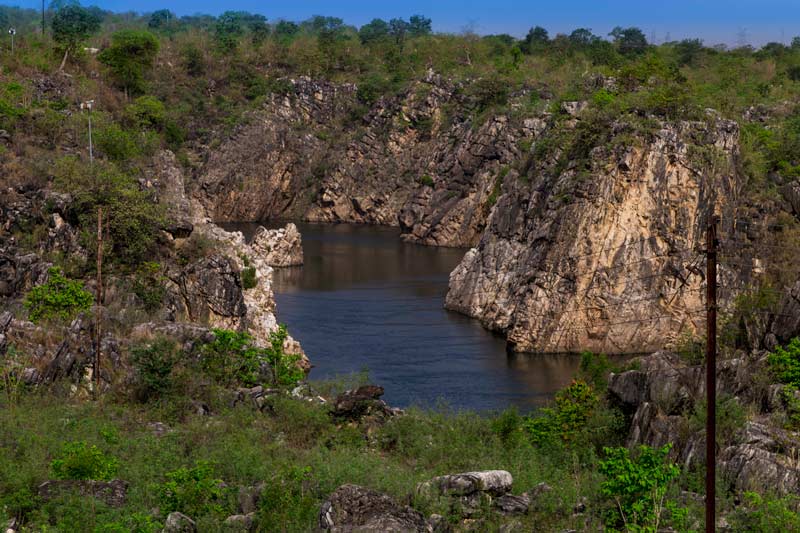 The fortress like Hanumantal Bada Jain Mandir with its large number of shikhara, is a Jain temple made in the 17th century and is embellished with 22 vedis (shrines). The Nandishwar Deep Temple located at Pisanhari Ki Madhiya is a pilgrimage place for Jains. The 76 feet high Shiva statue in Kachnar city houses a cavern with replicas of 12 Shiva lingams. Mahatma Gandhi's ashes were immersed at Tilwara Ghat on Narmada, near to which is located Tilwadeshwar Temple. The Chausanth Yogini Temple, also known as Golki Math, is located on a hilltop above Bhedaghat, has 81 shrines rather than 64 as the name implies. Situated atop a hill is the Madan Mahal Fort which was built by the 12th Gond king Madan Shah. Near to it lies the famous balancing rock.
Bhedaghat is marble valley through which flows the River Narmada.The beautiful Dhuandhar Waterfall is located here only. Another beautiful waterfall is Bhadbhada Waterfall, on Gour River, located in Jamtara while another famous ghat on Narmada is Lamheta Ghat. For the religious minded, the place offers Narmada Aarti at Gwari Ghatevery evening. Kanha and Bandhavgarh Tiger Reserves, world renowned for their tiger population, besides Pench National Park, are a sight distance away.
8. Patalkot, Madhya Pradesh
The horseshoe shaped landscape of1,200-1,500 feet high Patalkot Valley lies at a distance of around 80 km from Chhindwara in Madhya Pradesh.
According To Hindu mythology, Patalkot is home nagas and demons. This dense foliage region is populated mainly by Bharia and the Gond tribes that live in twelve villages. Different medicinal herbs, plants, animals and birds of various species are found in the region.Doodhi River flows silently by and is the only source of water for the residents. As sunlight cannot reach the deep depths of the valley, it is enveloped by darkness around noon only.
Lord Shiva, Fire and the Sun are worshipped by the locals in the Devghar and a special fair is held on Chaitra Purnima in March-April.
9. Khecheopalri Lake, Sikkim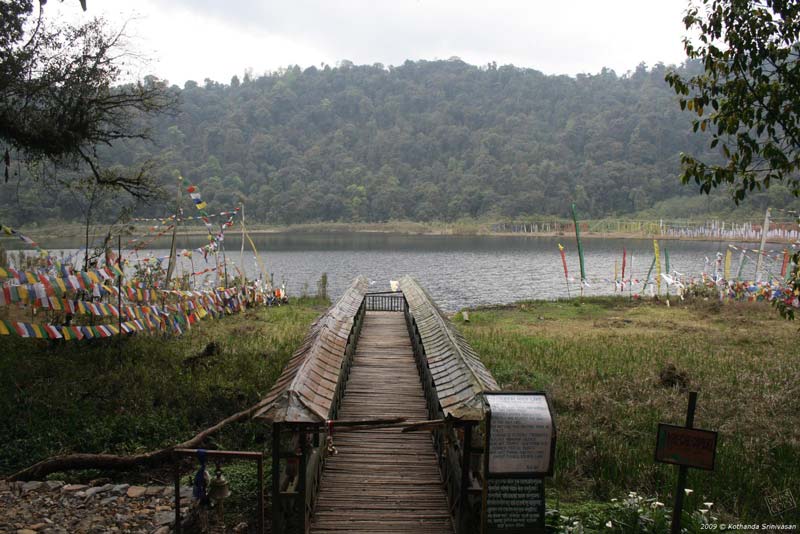 The small state of Sikkim lies in the north-eastern region of India and is bordered by Bhutan in the east, Nepal in the west and Tibet in the north. The state has a number of mystical places, foremost among them being Khecheopalri Lake, also known as Kha-Chot-Palri, which is located around 150 km from the capital Gangtok and is revered by Buddhists and Hindus alike. The amazingly clean water of the lake supposedly have curative quality and is used for rituals only. Bathing or fishing is not allowed here.A boardwalk lined with prayer wheels and fluttering prayer flags all around, lead out to the lake.
The lake water is said to have curative properties and can only be used for rites and rituals; no bathing, fishing or other recreational activities are allowed.
The tiny and quaint hamlet of Khecheopalri has a monastery, around 25 wooden houses and nearly 100 residents. Visitors can homestay here and enjoy the tranquil and picturesque setting.
10. Basar, Arunachal Pradesh
Basar in Arunachal Pradesh is surrounded by dense forests and provides a feel of Amazon forests. It seems as if civilisation has not touched the place and the visitors have to make do with a government hostel. The food provided is vegetarian and consists of plain rice and vegetable broth. Meeting with Galo people with their warmth is like time travel back into the past.
Tourists can go for leisurely treks among the forests or attend the Basar Conference, an eco-friendly festival that is held in November every year.
                                                                                                                                                                 To be continued…
Also Read:
RSS Error: https://news4masses.com/category/travel/feed is invalid XML, likely due to invalid characters. XML error: XML_ERR_NAME_REQUIRED at line 1, column 2