Coming close on the heels of making it to the top of the list of 'Ease of Living' Index brought out by the Union Ministry of Housing and Urban Affairs, in Aug 2018, this was expected to follow. Pune has emerged as one of the top property destinations in India. The city is steadily becoming the most preferred choice for property investors in India.
Its close proximity to Mumbai, thriving educational institutions, growing employment opportunities, quaint localities and a pleasant weather all year round are some of the biggest factors that attract commercial and residential real estate buyers to Pune.
If you plan to buy your dream house in the year 2019 or want to invest in commercial property in India, here's why you should consider investing in property in Pune.
While most cities have seen a slowdown in property appreciation rates in the last few years, real estate sector in Pune has been able to maintain its momentum. Even today, the city promises to offer profitable returns on investment and a steady growth in realty rates in the years to come.
2
Increased Employment Opportunities
Thanks to the influx of engineering, automobile, education and IT industries, the city is thriving with abundant employment opportunities. Thousands of students and job aspirants flock the city every year to build a career and reap the benefits of huge employment opportunities that the city offers. Due to this, residential areas like Hinjewadi, Marunji Road and Kharadi have seen a positive demand in under construction and ready to move apartments due to their close proximity to IT and ITes companies.
Also Read: 5 Steps You Must Follow While Buying a Flat In Pune (Opens in a new browser tab)
Residential property in Pune is far more affordable and budget-friendly as compared to those in cities like Mumbai, Bangalore, Delhi, and Hyderabad, where the prices of residential apartments are sky rocketing. Apart from being cost effective, ready to move properties in Pune boast of superior infrastructural capabilities and world-class amenities. Investing in Pune real estate comes with plethora of choices and you can easily find a good property as per your needs, requirements, and budget.
Thanks to the actively migrating population of Pune, this Maharashtrian city is the epitome of cosmopolitan culture and is touted as one of the most 'livable city' in India. Here, you can easily find people of diverse ethnicities and cultures. Pune routinely hosts all major festivals and cultural events and serves a perfect example for 'Home away from home'. Pune's cosmopolitan population makes it a preferred residential destination for both youngsters and senior citizens alike.
5
Amazing Social Infrastructure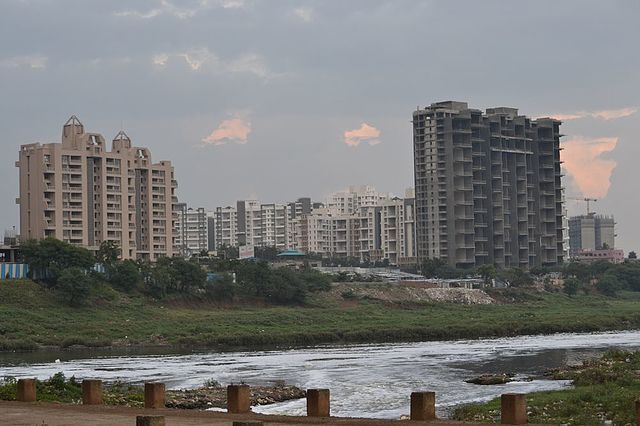 Expanding Pune City. Image credits: Wikipedia Commons (By Kailash kumbhkar – Own work, CC BY-SA 4.0)
In the past few years, Pune has not only developed rapidly, it has also expanded its boundaries. The city has taken a number of citizen-led initiatives to improve its public infrastructure – rail, road, and air – as well as basic utilities like water supply and drainage. The city is well connected to all major cities in India and is geared towards building smart mobility products that can effectively meet the growing demands of its urban population. The city has a wealth of open public spaces, like parks, playgrounds, gardens, as well as large malls and multiplexes, which have increased the overall living standards of Pune.
6
A Powerful Knowledge Hub
With a number of nationally and internationally accredited schools and colleges, Pune is considered as the knowledge hub of India. It's well renowned educational institutions not only attract hundreds of thousands of students to the city every year, they also make Pune a favorable destination for big multinational companies and industrial units. This has a huge impetus on the real estate market as well. Due to a steady rise in the demand of residential apartments, real estate developers are constructing some great projects in this town.
Unlike other cities of India, Pune welcomes you to a pleasant climate all year round. Nestled in the middle of the Sahyadri Hills, Pune receives its fair share of rains and sunshine. A climate that's neither too hot nor too cold coupled with a number of weekend getaway options to escape from the hectic city life make Pune a preferred destination for most residential buyers as well as those interested to invest in properties.
Interested in buying a property in Pune? Well, in case you have not zeroed on a particular locality, you must consider buying an apartment in areas like Baner, Wakad, Viman Nagar, Chinchwad and Hinjewadi. With close proximity to offices and educational institutions, these areas are perfect for students, working professionals and young families who want to build their career in Pune.