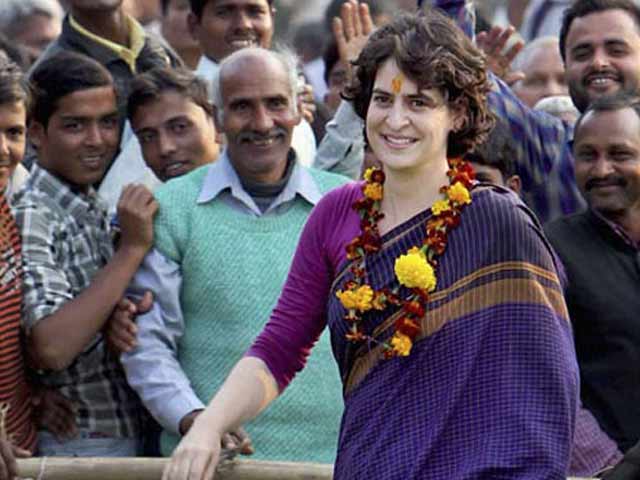 While speculations were rife of Priyanka Gandhi's role in the upcoming battle of stalwarts in Uttar Pradesh, proof of her participaton has started pouring in. In what could be seen as an admission of Priyanka Gandhi's arrival, several senior Congress leaders on Sunday acknowledged the active role of Priyanka Gandhi in striking an alliance with the Samajwadi Party's Akhilesh Yadav in Uttar Pradesh.
A senior Congress leader famous for being one of the closes to the Gandhi family, told IANS that Priyanka Gandhi played a key role in sealing the deal with the SP.  Senior Congress functionary Ghulam Nabi Azad, who is also the in-charge of Uttar Pradesh, separately acknowledged Priyanka's role in giving the final shape to the alliance with the SP, which at one point had hit a roadblock.
As reported in the media, it was claimed that the Congress had reportedly sent "political lightweights" like Prashant Kishor to negotiate with the SP leadership. However, the Congress on Sunday said there were no "political lightweights" and Priyanka Gandhi herself was involved in the talks.
One of the well balanced tweets from Mr Ahmed Patel seemed to have answered what was cooking behind the scenes after all.
Wrong to suggest lightweights were dealing on behalf of Congress party.Discussion was at highest level- b/w CM (UP),GS I/C & Priyanka Gandhi

— Ahmed Patel (@ahmedpatel) January 22, 2017
Separately, Azad said that Priyanka Gandhi played a crucial role in forging the alliance with the SP, according to which the Congress would contest 105 seats while the SP will fight on 298 seats.
The SP was initially offering Congress around 90 seats, while the latter was not ready to accept anything less than 120.
The talks hit a roadblock, but the two parties finally pulled off a deal and formally announced an alliance at a joint presser in Lucknow.
Priyanka, Congress sources said, will campaign extensively in the polls, with Rahul Gandhi as well as separately. She may also campaign along with Dimple Yadav, the wife of Chief Minister Akhilesh Yadav.
The acknowledgement of her proactive role by the Congress party – for the first time perhaps –is significant as it portends the change of guard and a generational shift at the Congress.
With IANS Inputs