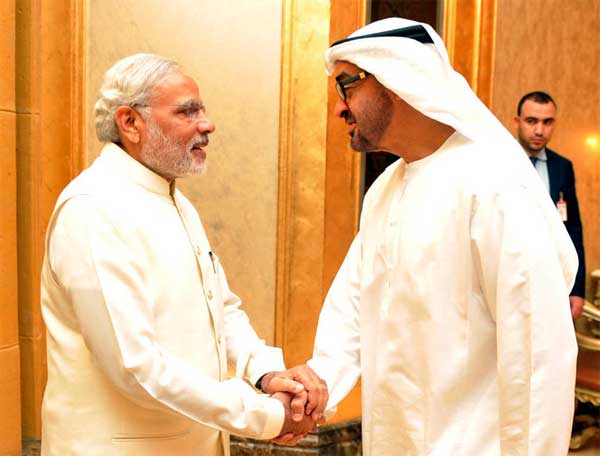 Terrorism as a worldwide phenomenon has been a major cause of concern to most of the countries. In the same context, UAE today pledged total support to India in combating terrorism, as it looked towards elevating bilateral defence and security ties and inking a Strategic Cooperation Agreement during the visit of Crown Prince of Abu Dhabi Sheikh Mohamed bin Zayed Al Nahyan here from Tuesday.
The pacts are part of the 16 agreements to be signed between the two countries after the talks on January 25 between Prime Minister Narendra Modi and Al Nahyan, who will be the Chief Guest at this year's Republic Day Parade, as per UAE Ambassador Ahmed Al Banna.
"We cooperate with India to combat and fight extremists and terrorists all over the world and we support Indian authority and government in their endevour in protecting itself from any terrorist or extremist group," he said.
He was asked about the decisions taken by the two sides during Modi's visit to UAE in 2015 on working together to control, regulate and share information on flow of funds that could have a bearing on radicalisation activities, cooperate in interdicting illegal flows and act against concerned individuals and organisations.
It was projected by the officials here at that time that the decision will help India in taking action against the most wanted criminal, Dawood Ibrahim, including freezing of his assets in the UAE.
However, the envoy refused to comment on any individual case including Dawood's, even as reports said that UAE government has seized properties of the 1993 Mumbai blast accused worth Rs 15,000 crore. "I don't know" was his cryptic reply.
Asserting that his country was among the first to condemn the terror strike on Indian airbase in Pathankot, Al Banna said the UAE had also supported the surgical strikes carried out by India.
"When the bombing of the airbase took place, we were the first ones to condemn it. UAE was among the first countries which supported Indian surgical strikes and we support India's efforts to fight and counter attack and attack terrorists and extremists," he said.
With inputs from PTI