Media coverage of the recent three-day DGP-IGP Conference under the aegis of the MHA created quite a stir. Some say we are not in a position to stand up to China at all because of the state of our economy and equipping of our Armed Forces (sic). These characters could learn courage from countries like Vietnam and Israel.
The DGP-IGP Conference covered in these columns earlier highlighted: 26 out of 85 patrolling points not being patrolled; China captured unoccupied areas in our territory; loss of pasture lands, PLA placed cameras on peaks during de-escalation talks to monitor indian movements and the like.
The article also mentioned India's pusillanimity resulting in loss of some 1,000 sq km in Ladakh in addition to vacating the Kailash Range and that BJP MP Subramanian Swamy disclosed China distributed maps showing Arunachal Pradesh and Ladakh part of China and J&K part of Pakistan during the SCO Summit in Uzbekistan (September 2022), attended by Prime Minister Narendra Modi.
The 'Resistance Front' (not the Pakistan-sponsored one in J&K) went hostile immediately. Their main defence is that the LAC is not demarcated. But what about China's 1959 claim line that India never recognized? What about the 20-km deep intrusion at Y-Junction in Depsang?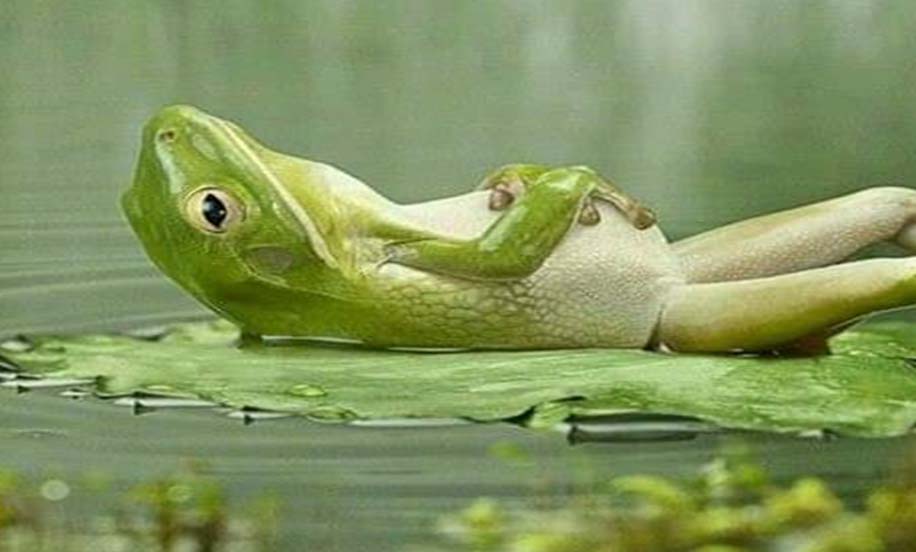 One hardcore resistance front cadre vehemently defended no loss of territory because of the undemarcated LAC and that the information about DGP-IGP Conference was through "open sources" from anti-government/malicious websites (unaware the details were uploaded on the website "police.gov.in" managed by the Intelligence Bureau). He says the government is gung ho in using the SFF to occupy Kailash Range. But he has no idea which infantry battalions were also involved in the operation and is mum on why we vacated the Kailash Range.
The frog went overboard to say Chinese links of BJP MP Subramanian Swamy are well known. Should he say this to Swamy directly, he could face a defamation suit of a few hunfred crores. Maybe he would dive into the murky bottom of the pond if he sees the following tweet by Swamy:
Notably, Defence Minister Rajnath Singh was not invited to the DGP-IGP Conference though LAC and China were the main focus. The meeting reportedly also discussed placing the ITBP/CAPF in first tier along the 'entire' LAC (aping China's Border Guard Divisions under command of the PLA), which will be another monumental blunder.
Details of the DGP-IGP meet have since been taken off the police website. But these issues relate to national security, not akin to the NDMA gagging all government bodies from sharing Joshimath's subsidence data after the ISRO report, and CM Uttarakhand putting all blame on "nature", so everyone is happy and no one taken to task for aggravating the disaster.
Placing Sonam Wangchuk under house arrest and his appeal for sanity is headline news. A former Army Commander, who also commanded the Leh-based 14 Corps, writes: "I have personally met him several times when I was there in 2003-04. A very well meaning person, who has done so much for upliftment of society in Ladakh and continues to educate the youth there. A very notable personality who perhaps has done this recording only because the situation in Ladakh demands it. A true nationalist whose call for help must be heeded; please pass this on to your contact list."
Another two-star veteran writes: "That a peaceful state like Ladakh has fallen to this state of despondency is a sad commentary on the state of affairs. There is a limit to banning and gagging. This, happening on Republic day -what an irony."
Sonam Wangchuk is founding-director of the Students' Educational and Cultural Movement of Ladakh (SECMOL) founded in 1988 by students. He helped design and construct several passive solar mud buildings in Ladakh, Nepal and Sikkim. On request of students in 2013, Wangchuk launched the New Ladakh Movement (NLM) for sustainable education, environment and economy. It is a non-political social movement.
In February 2014, Wangchuk built a two-storey 'Ice Stupa' for storing 150,000 litres of winter stream water. When a landslide blocked Phugtal River in Zanskar forming a 15-km lake threatening the downstream population in 2015, Wangchuk proposed using a siphon technique to drain the lake and water jet erosion instead of blasting the lake. He was ignored and on May 7, 2015, the lake burst into flash flood destroying 12 bridges and many fields.
Led by Wangchuk, SECMOL won the International Terra Award for the best building in July 2016 at the 12th World Congress on Earthen Architecture in Lyon, France. Wangchuk helped the Government of Sikkim in September 2016 to siphon water from the South Lhonsk Lake declared dangerous in the past few years. In October 2016, Wangchuk and his team went to the Swiss Alps on invitation and started building the first 'Ice Stupa' of Europe with Swiss partners. In June 2020, Wangchuk appealed for boycotting Chinese products.
The last time a house arrest was made in Ladakh was reportedly in 1989. Since ages Ladakhis have been peace loving and nationalists. Yet they are denied rights under the 6th Schedule, don't have representatives in administration of their own lands and the present UT administration is not bothered about the fragile ecosystem of Ladakh, as also their welfare. To top this, many Ladakhis have lost their traditional pasture lands affecting their livelihood; courtesy Centre's pusillanimous response to the Chinese aggression. In addition is the intransigence by the Lieutenant Governor, surrender of funds and lack of unemployment, as mentioned in Wangchuk's appeal.
Views of military veterans are considered trash by policy makers but as a nation we should be seriously concerned why this is happening in Ladakh, which is in Beijing's crosshairs. One view that the Centre feels threatened by SECMOL and NLM though both are non-political movements. A second view is to keep the public starved and hand out goodies closer to elections – like keeping 10-lakh government posts vacant and then prime minister handing over job certificates periodically under media glare. But the public can see through the game even though there is no viable opposition.
The third explanation is that the Centre dare not admonish the LG Radha Krishna Mathur. Having served as the Secretary Defence Production followed by Defence Secretary both under the Congress and BJP, he is privy to skeletons of the politicians. Aside from the financial harvest accruing from financial allotment to the defence-industrial complex, no defence deal under any political party is without underhand dealings and the Defence Secretary ensures cuts reach the intended beneficiaries before the contract is signed.
BJP's feeble efforts to tame the bureaucracy by lateral induction of joint secretary-level officers soon gave way to total surrender finding the latter financially and politically beneficial. In the defence domain this is more than evident from the expansion of Defence Estates (which was to be disbanded) and the PCDA. The reconstitution of the OFB and 41 ordnance factories into so-called DPSUs with the same management, work force and culture ensures the goose continues to lay golden eggs.
The US attorney general has appointed a special counsel to probe President Joe Biden's handling of sensitive documents. His various premises have been searched and classified documents have been found in three places already. The British police fined Prime Minister Rishi Sunak for not wearing a seat belt travelling in the back seat of a car. This is a second penalty for Sunak after he broke COVID-19 lockdown rules while partying with then PM Boris Johnson.
Such actions are unthinkable in India. Here the bureaucracy rules the roost on whom the politicians are dependent, as also keeping police on the right side since police personnel man intelligence agencies. The arrogance of the present Defence Secretary playing pocket billiards while waiting for the Prime Minister to arrive at the National War Memorial on this Republic Day was only a small demonstration.
Hopefully, better sense will prevail and due attention will be paid to Ladakh notwithstanding the focus on the G20 presidency and elections in 10 States this year including the UT of J&K.
The author is an Indian Army veteran. Views expressed are personal.