Greater attention to Ocean and Climate research needed to take the mega challenge of Climate Change Head on- Dr M Nair Rajeevan, Secretary Ministry of Earth Sciences, Govt of India at Amity Haryana  Webinar on WMO Day, 23rd March, 2021
According to World Meteorological Organization (WMO) by 2030, we see a world where all nations, especially the most vulnerable, are more resilient to the socio-economic consequences of extreme weather, climate Change, water security  and other environmental issues; and underpin their sustainable development through the best possible services, whether over land, at sea or in the air.  Keeping this in mind, Amity University Haryana, Gurugram organized the WMO Day celebrations in a virtual webinar on "The Ocean, our Climate and Weather" today, 23nd March 2021.  Dr. Madhavan Nair Rajeevan, Secretary, Ministry of Earth Sciences (MoES), Government of India was the Chief Guest and delivered a highly thought provoking the Inaugural Address.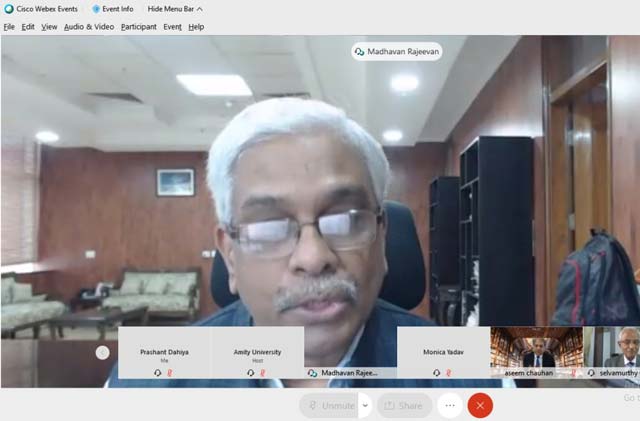 The webinar was presided by Hon'ble Chancellor of AUH,Dr. Aseem K. Chauhan, andwas attended by a galaxy of scientists and senior faculty from IIT Kanpur, IIT Delhi, IITM Pune, ISRO and from different Amity University Campuses in India and abroad. Among those who addressed the webinar included Dr W Selvamurthy, President Amity Science,Technology and Innovation Foundation ASTIF, Dr. S. Suresh Babu from Vikram Sarabhai Space Centre, ISRO, Dr. Suryachandra A. Rao and Dr C Gnanaseelan from  IITM, Pune, Prof. Prasad K. Bhaskaran, IIT-Kanpur, Dr. A.D. Rao, and Dr VimleshPant,IIT-D, Dr. Akhilesh Kumar Mishra, National Centre for Medium Range Weather Forecasting, CMRWF, New Delhi, Prof. (Dr.) TanuJindal, Group Additional  Pro Vice Chancellor AUUP, Dr PCS Devara, Director ACOAST AUH, Dr Indu Mani Thakur, Director ASEES, Dr PVS Raju, Director ACOAST, Amity University, Jaipur, Dr MS Madhusoodanan, AUUP Noida and Dr VK Soni from IMD New Delhi.
With today's technology, it's hard to imagine a time when we didn't know what the weather was going to be like. Instead of having a five-day forecast right on your weather app, you had to read wind patterns for weeks if you wanted to know whether you needed a rain jacket or a light sweater. That's why, on March 23, we celebrate the World Meteorological Organization, an international organization that collects data from all over the world to help us better understand the weather and its impact on our lives.
Also Read:
Speaking on the occasion on World Meteorological Day Dr M N Rajeevanin his detailed presentation talked about the 'Role of Oceans on Weather Climate'. Dr Rajeevan highlighted the linkages between extreme weather conditions and Climate Change and the Health of the Oceans. He also warned that if we do not amend our ways of polluting the oceans, great damage shall be done to both the health of environment and to the marine life. In his action packed scientific presentation Dr Rajeevanshared the global trends in oceanic research and invited the university research community to join in efforts of the Govt of India to make the BlueEconomy initiatives highly successful. He also opined that awareness is the best tool to fight climate change along with a positive shift in public attitude towards environment. 
Dr Aseem Chauhan, Hon'ble Chancellor of AUH applauded the support of the Ministry of Earth Sciences and IITM Pune in fostering a new era of scientific research in the areas of climate and weather monitoring and forecasting. Addressing the webinar said, "Climate Change is one of the most formidable challenge which we need to address with our fullest of science & technology prowess to provide solutions to the current and future problems facing the vast humanity."Amity University has a special commitment to oceanic and climate research in its university campuses not only at Amity University Haryana, Amity University Rajasthan but also at Amity University Mumbai, Amity University Calcutta, Amity University Mauritius and the Amity Long Island New York added Dr Chauhan.
In his welcome address Vice Chancellor of AUH Prof. P.B. Sharma presented the highlights of multidisciplinary R&D and Collaborative research at Amity University Haryana in the areas of Weather Modelling, Climate Change, Modelling and Analysis of Aerosol and Studies on Air Quality in the Amity Centre for Oceanic and Atmospheric Science and Technology, ACOAST and expressed his delight that celebrating the WMO Day in the campus of AUH that has earned the reputation of being the LEED Platinum certified campus for its sustained focus on Energy Efficiency, Effective Waste Management, and assuring Water Security from its waste water treatment, recycle and reuse of treated waste water further supported by extensive rain water harvesting in the campus, together saving almost 100 million litres of fresh water each year.
The webinar was organized by Dr PCS Devara, Director, ACOAST and was coordinated by supported by Dr Monika Yadav for which excellent IT support was provided by Dr JS Sodhi and his team.