2021 is looking to be the year of the entrepreneur. With many people moving towards remote work or looking for extra revenue streams, it's no wonder that start-ups are booming.
The Canadian entrepreneurial sphere is heavily entertainment-based. This list will take a look at some up-and-coming entertainment business opportunities over the next few years.
Methods & Trends
Many businesses are transitioning towards online spaces rather than brick-and-mortar ones these days. Not only is it easier for businesses to reach a larger customer base online, but it's also safer in an age where we're limiting our time outside of the house.
A great example of this is the online casino industry and affiliated sites, which have boomed over the last few years. We can use websites like Casinocanada.com to help find the perfect place for you to enjoy a Saturday afternoon at the slots from the comfort of your own home.
With the coronavirus, the demand for entertainment-related businesses has been on a steady rise. Even when the virus is a thing of the past, online businesses' convenience can't be overstated. Below are some of the best entertainment-related business ideas of the moment, courtesy of expert Daniel Bennet.
Entertainment Business Ideas (Representative Image, Photo credits:
pexels.com
)
If you're technologically savvy, virtual reality (VR) and augmented reality (AR) could both potentially help grow the online gaming industry. VR makes the digital world real by immersing you in its space. Conversely, AR brings digital objects into your space.
Both of these are already being tested and used moderately in the online gambling industry. Beyond that, you'll find AR and VR can be used as teaching tools, gaming platforms, and immersive ways to experience video-based content. The possibilities are truly endless.
Escape rooms became popular in the mid to late 2010s thanks to their cooperative type of gameplay. They're the perfect events to bring friends together for birthdays or simply a night out.
The concept of a group puzzle is timeless; you'll have the ability to innovate within the genre, which can save money in the long run.
The benefit of escape rooms is that they don't require much space. The way you use them is far more important! They're a great option for those with creative prowess and hands-on craftiness.
Although they may seem dated, bus or walking tours can be fruitful business ventures, especially in Canada. Depending on where you're located, you can capitalize on a city or nature-focused tourism. Tours also don't require an incredibly large start-up amount.
You'll also have the added benefit of being a built-in expert about the area itself. This idea has limitations, including competition in major cities like Toronto.
If you're interested in creating a tour-based experience, you'll need to think outside the box of how to incorporate a 21st-century twist. Some excellent options in this regard include a companion app that uses location services to give you even more context.
Karaoke Bars are a classic group-based form of entertainment. They're more popular in populated areas but can still be a big draw in suburban and rural areas.
With the pandemic keeping friends apart for an extended period of time, there will be a massive demand for gathering spaces like these over the next few years.
Running a fan page or entertainment blog may not seem lucrative at first. However, the massive popularity of apps like Instagram and Twitter have evolved these types of fan content into full-time jobs.
You'll have more competition in this field than most other recreational business ideas due to influencer culture's sheer popularity. However, with the right combination of ad sponsors, you'll be able to craft a consistent source of income this way.
Esports is a fast-growing phenomenon that combines the world of competitive sports with the virtual playing field of video games. Esports is a global craze and has a strong market presence in Canada. It can be a great option for those looking for children's entertainment business ideas.
Investing in an esports team or in the esports industry can be extremely lucrative, albeit risky. The growth potential is exponential, but it's also in uncharted territory; only time will tell how long esports are here to stay.
Event photography has always been a dependable option for independent business owners. There will always be photos to take and people to pay for them. You also have the freedom to craft a business model around your interests.
NFT is a fairly recent invention in the realm of cryptocurrency, which is taking the world by storm. NFT stands for "non-fungible token," which can be verified using blockchain technology. Specifically, NFTs feature digital artwork, including images or files that can be verified as authentic.
This industry is brand new and wide-open. At the time of writing, an NFT was sold for close to $70 million. Finding a way to capitalize on this process or making it more accessible could be incredibly lucrative.
Also Read: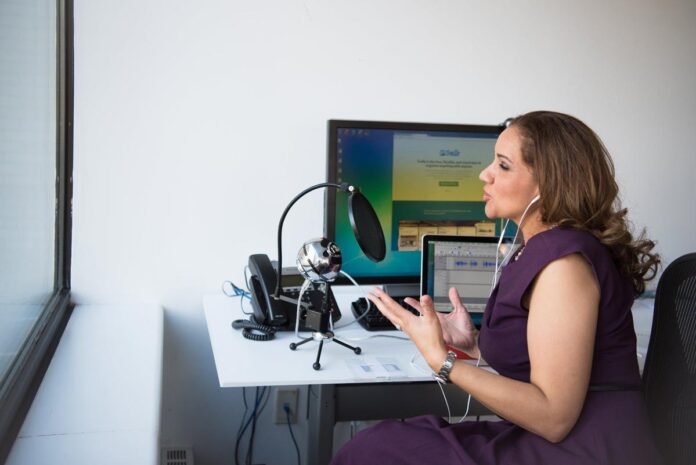 Business Ideas To Start (Representative Image, Photo credits:
Pexels.com
)
One of the business ideas in 2021 with the most potential for success but also the most competition would be podcasting. It seems like everyone famous has a podcast these days.
Capitalizing on this trend and competing with other top podcasts and podcast-hosting sites could prove worthwhile. You'll need to combine your interest areas with the right level of creativity to break apart from the crowd.
10
Online Instruction or Tutoring
The final bullet in this list of entrepreneur business ideas is online instruction or tutoring. Sites like SkillShare have become incredibly successful by making skill-based courses available for cheap.
With more people indoors and online than ever these days, the demand for businesses that can streamline this process is through the roof.
Additionally, there are plenty of subject areas that aren't currently available at the time of writing. If you have the expertise or know a team of people with niche areas of expertise, including coding or carpentry, you could corner the virtual market.
---
If you want to find out more about starting a business, you can find relevant information at companyformationnetherlands.com