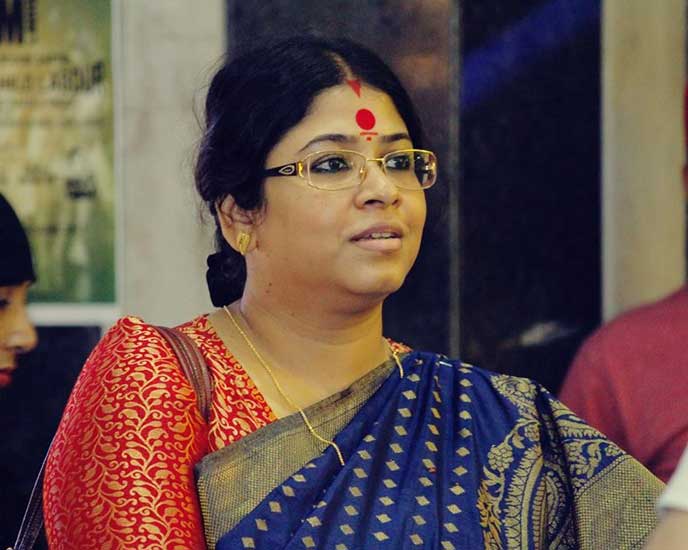 India's First ISO 9001:2015 Certified Astrologer and Gemologist Dr Sohini Sastri hails from a family of noble and famous personalities like Swami Dharmamegharanya Aranya on the paternal side  and Swami Hariharananda Aranya from maternal side. Born in Kolkata, West Bengal, Sohini graduated in Arts and went on to finish her Masters and PhD in political science. She has been further honored with the coveted Doctorate in Astrology.
Instead of pursuing her traditional family professions of Doctors and Lawyers, Sohini decided to do something different. Her passion led her to choose the profession of occult sciences as she happened to be blessed with the gift of clairvoyance, intuitions and mystical experiences since childhood.
Sohini Sastri has been recognized as an esteemed member of Asian Astrologers Congress, Astrological Research Project and Astro Medical Research Center. Her significant works have been published in various magazines and have been highly appreciated by the audience.
In this exclusive interview, Dr Sohini Sastri reveals her thoughts on everything from romantic relationships to the turbulence plaguing the society, all the while clearly demonstrating her solid grasp of the ancient art of astrology.
Thank you so much Mam, for taking the time off to respond to our questions for the benefit all of us and the society at large. We begin with some basic but inquisitive questions.
N4M Media: What got you into Astrology and who influenced you to become an astrologer?
Sohini Sastri: From my childhood I was  very much spiritual minded and devotee of god and very much interested to know and  study about occult science and  I always got inspiration from my Mother who belonged to the family of great Swami Dharmamegharanya Aranya and Swami Hariharananda Aranya. I even drew lots of  inspiration from my uncle, former Justice of Supreme Court late Aloke Chandra Gupta.
Also Read: Varanasi Ek Khoj – An unforgettable experience
N4M Media: What are the benefits of getting a Vedic astrology reading done?
Sohini Sastri: Not one or two but many. Some of them are:
Identifying your main gifts or talents
Choosing what to study
Which career to follow
Help with your love life, compatibility guidance
Difficulties with conception
Health issues
Remedies to protect against accidents and negative forces
Discovering what system of healing can be most beneficial
Choosing the business that's right for you
Developing your business
N4M Team: For the benefit of our viewers, Can you please tell us about the basic difference between a KP Astrologer and a Vedic Astrologer?
Sohini Sastri: 
Distribution of Cuspsis  done as per Placidus System in KP while Vedic follows Sripat  Paddhati.
Start of the Cuspis taken as Start point in KP and it is taken as Mid point in Vedic.
Aspects are taken  degree wise  and they are applicable as per orb of individual planet in KP. Vedic astrology follows cusp to cusp Aspects.
Duration of Yearof 365.25 days but vedic take it as 360 for easy calculations.
Less rulesbut vedic have lots of rules and books to get accurate prediction.
Logicaland vedic has lost the accuracy of predictions because of missed data.
Ayananshaplays a major role in  accuracy KP  has its own  and single ayanansha but vedic has lots of ayanansha provided by so many astrologers.  Each Ayanansha gives the  different values to  Planets and Cusps.
Understandability One can learn  KP in very  few months but one can not learn full vedic astrology in his life.
Accuracy Vedic can not pin point the time of frutification but KP can tell the exact time of frutification of the event.
House of Father KP treat  9thCusp  as the House of Father and 10th Cusp for social status/carrier but Vedic take 10th Cusp for Father/social status/carrier.
Basics KP follows the rules given by sage Parashar for Vimshottari Dasha/Moon. KP has divided  each planet and cusp  Sign (Dasha)  into Bhukti,  Bhukti  into Antar and  Antar into  Pratyantar in the  same  ratio  as done by sage Parashar in Vimshottari  Dasha. It gives the more accuracy but vedic does not follows so.
Navamansha Vedic follows  Navamansha  of Moon  Sign only but KP follows  navamansha of Nakshatra of each  Planet and Cusp.
Fortuna KP introduced a new fast  moving point which can  differentiate between two early births as twins, it is known as Fortuna.
Mercury Combustion KP says that Mercury never Combust(अस्त)from Sun.
N4M Team: Mam, we came to know that you are one of the very few who have the unique distinction of specializing in both i.e. as a KP astrologer as well as Vedic Astrologer k. What are the additional benefits for people who consult you, due to this dual specialization of yours?
Sohini Sastri: They will get more accurate calculation and  analysis of their birth chart because KP starts  where traditional ends .
N4M Team: Which aspects of someone's life can you NOT predict?
Sohini Sastri:  I always give a warning of someone for  their upcoming events but  never do any predictions which make them more depressed because my work is to give peace and  relieve in mind of my client and  inspire them with all positive  aspect of  life rather point  out  only negative things .
N4M Team: Just in case if someone finds out about something in their chart that they don't want to occur, is there some way the person can change it, or is it that whatever stands in the chart is going to happen inevitably?
Sohini Sastri: You have  face your  fate but we can support them by giving remedy and also alert them prior indication so that people  can minimize the  thing .
N4M Team: Ok let me ask you that in case you see something bad or perilious in someone's future…an accident, a life threatening disease, a cheating spouse etc then do you reveal it to the person?
Sohini Sastri: Obviously and  this  is our  basic  work  to cautious them and advice to  initiate to take  preventive measures .
N4M Team: To what extent is a warning from you, such as 'be extra cautious while going on your official tour' or 'be careful while driving,' able to help someone avoid a situation that is bound to happen as per their chart? Can being aware or conscious of impending dangers actually benefit someone by avoiding a possible accident / incident / injury?
Sohini Sastri: People  come  to discuss for a specific event of life but if anybody wants to take advice  regarding  this them I obviously advice him or her and also prescribe remedies and precautions to protect them  and I am proud to say that people are very much benefitted from my advice and remedy  for this particular event of life and  beside everything I always try to educate every client astrologically about  what their charts say and try to involve them always in discussion about the  planets and  stars so that they can easily avoid any upcoming hazards in life and  if a client follow this  perfectly or take some remedy to prevent them he or she can get relieve .
N4M Team: Though a bit personal Mam, but how often do you look into your own chart for guidance in your life?
Sohini Sastri: This  is very interesting  point s for  a astrologer and this is really pathetic and  as well as beneficial   to someone who can read his or her own chart perfectly and  it is like  a doctor who treat himself or herself  and  it is really beneficial if we follow everything positively .
N4M Team: Is everything that is predetermined  and can be seen in ones chart, the same as fate or destiny?
Sohini Sastri: Destiny
N4M Team:  What advice do you have to those who do not believe in a astrologer's ability to see the past and/or predict future?
Sohini Sastri: I always try to respect other's opinion and  thought and if anyone don't want to believe effectiveness of astrology then we cant  force him or her but I believe that in future they must change  their views to protect their live and future of their children and it is very true that  realization comes from urgency ….
Learn Even More
You can learn more about Sohini Sastri, her body of work, and all of the astrological services she offers including her exclusive newsletters, by visiting her official website http://www.sohinisastri.com . Alternately you can contact her or fix an appointment with her per below contact details:
Email ID: sohini.sastri@gmail.com         Phone: +919163632538