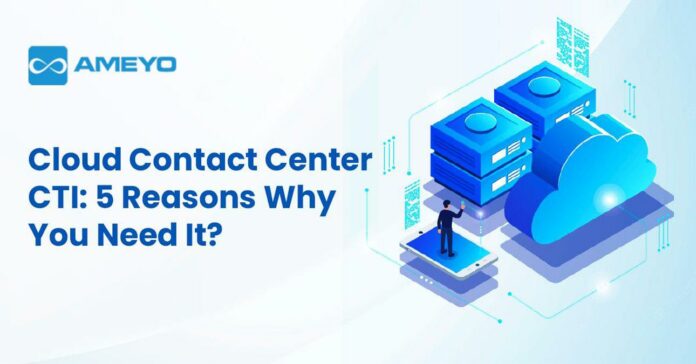 Today customers expect good customer service irrespective of any situation. While customers make calls at Contact Centers, they expect agents to know their details and problems prior only. Thus, more and more businesses are interested in investing in Computer Telephony Integration (CTI) to be more proactive.
CTI is considered one of the best tools available today as it helps make a big difference in customer interactions. Prior, It was critical to integrate telephones with your customer's data. Besides, it has now become quite affordable for all businesses. For example, suppose you use the Computer Telephony Integration (CTI) solution. In that case, you can transform your business telephone system into a computer with other software, like CRM, which also enhances your business proficiency and productivity.
CTI helps your business handle a high volume of calls besides delivering the best customer experience by enhancing organizational proficiency and decreasing call time.
What is CTI?
Computer Telephony Integration (CTI) integrates a contact center's telephone systems into their business software and helps to have more control over the call management. With computer telephony integration (CTI), there is no need for telephones for agents. Instead, they can perform all the telephonic functions through their computer's on-screen controls like answering calls, disconnecting calls, transferring calls, putting callers on hold, etc.
Computer Telephony Integration (CTI) not only adds phone controls to the agent interface instead it also does much more like enables capabilities that are much crucial to running a proficient and effective contact center like:
Call routing
Interactive voice recognition (IVR) systems
Enhanced reporting
Screen pops
Automatic record creation
It clearly means computer telephonic integration (CTI) is essential for delivering a good customer experience. Besides, it also allows agents to personalize contacts and have quick access to customer history.
5 Reasons why Businesses Need Cloud Contact Center CTI
Here let's talk about some of the benefits of the Cloud Contact Center CTI solution.
1. Reduce Costs and enhance productivity
Less requirement for infrastructure
While using CTI there is no requirement for physical phones. Instead, agents can make and even receive calls directly from their computers within a single click. With CTI, agents can handle advance call controls like hang up, answer, mute, hold, and even have the option to capture in-call notes directly to the customer's record.
In addition, These days, most companies have extended their work from home policy due to modern phone systems besides online business systems. Thus, while remaining at home now, agents can use their business phones with the company's business system. Therefore, CTI is a perfect option for a business that wishes to enhance its productivity without requiring on-premise equipment.
2. Provide a personalized customer experience
Prior to answering the call know who is calling
CTI lets agents know who is calling even before taking the call with automatic screen pop. This helps the user know who is calling, with detailed information about the customer. Furthermore, it enables the agent to greet the caller by their name besides getting automatic access to their detailed information while initiating the conversation.
Thus, it significantly reduces the call length and the need for agents to place the call on hold just to gather detailed information regarding the customer. This phenomenon makes the customer feel valued, besides enhancing customer satisfaction
3. Informed and more effective users
With detailed information, calls get much shorter, concise, and more contextual.
When agents have all the customer information at their fingertips, they provide a professional customer experience. CTI provides an agent with detailed information about the customer like name, title, company, email address, and the interaction history with the company.
Getting detailed information is a key to having a good conversation with the customer and it also enhances the customer's opinion regarding your business besides making the customer experience excellent. In addition, having this detailed information at your fingertips helps reduce call time and makes an agent more proficient.
4. Call Reporting
With CTI, call reporting is appropriately done. It helps agents know callers' history, purchases, support cases, and opportunities. This lets the agents know why the customer may be calling. It also enables them to understand how much interaction they have had with the company.
With Cloud Contact Center CTI, each call is logged automatically and saved with its data directly into the CRM system. Later this data can be used for agent training, measuring performance, and customer experience.
5. Enhances remote working
Keeping you connect even when not in the office
Cloud Contact Center CTI is not just restricted to office premise phone systems. With the availability of a cloud-hosted phone system, now it is possible to get the benefits of CTI even when working remotely.
This is quite important these days when most people are working remotely.
Final Thoughts
Technology is ever-growing, and with time it is getting more sophisticated, allowing more flexibility, cost reduction, and convenience for various businesses. Cloud Contact Centers are witnessing the potential advantages of CTI. Thus, they are moving towards dependable and automated cloud contact centers to meet customer expectations and flexible business models.
In today's world, Cloud Contact Center CTI gives agents quick and easy access to the tools they need to interact with the customers proficiently. For businesses dealing with an inflow of sales and customer inquiries, Cloud Contact Center CTI is ideal. It is considered the best time for companies to transition into an Cloud contact center.
Also Read: