This Diwali, HappyShappy and Miss Malini hosted a giveaway celebrating the spirit of Indian women entrepreneurs. With gift hampers worth Rs. 10,000 for each winner, the giveaway saw tremendous participation by women from all over India.
"The Big Festive Giveaway" came on the heels of several other events the Delhi-based startup HappyShappy has been doing in celebrating festivals, supporting causes and boosting home grown brands on its platform. These include fashion workshops, mental wellness talks and pop-ups hosting local creators.
For Diwali 2019, HappyShappy joined hands with Malini Agarwal, better known as Miss Malini with a collaboration to unite women from all over India and highlight their diversity.
This collaboration was the brainchild of Sana Sood, Co-Founder & Creative Head of HappyShappy, who wanted to celebrate compassion and kindness this festive season. "Too often, social media platforms cause anxiety and FOMO in users – making them feel like their own celebrations, travels or lives aren't as exciting as their friends'," Sana said.
By contrast, this giveaway celebrated sharing experiences, inspiring others and having beautiful celebrations at any budget.
Miss Malini is a well renowned Bollywood insider, entrepreneur, author, blogger, TV host and most recently, community builder through her Malini's Girl Tribe (MGT) platform.
MGT is home to over 30,000 women who talk, share, support and inspire each other through an active Facebook group and meet-ups. Similarly, HappyShappy's users are primarily women – 85% of it's 600,000 users at Diwali time were Indian women who flock to the HappyShappy app for discovery, positivity, entertainment and shopping. And so HappyShappy and Miss Malini coming together made for a fantastic Diwali.
HappyShappy is home to over 800 home-grown Indian brands – ranging from fashion and gifts to food and home decor. And for this particular giveaway, HappyShappy handpicked 8 of these brands across diverse categories — all owned by Indian women — Femizen, GO Naturals, Laiqa, Wasted, Freedom Tree Homestore, and The Crumble Affair. Together, these gifts totaled Rs. 10,000 and covered fashion, female hygiene, beauty, food and sustainable decor.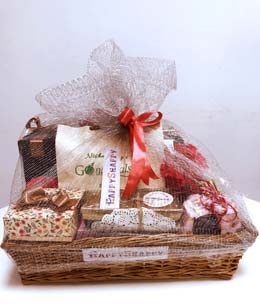 To participate in this giveaway, members of Miss Malini's Girl Tribe told each other what makes their Diwali so special and HappyShappy by sharing their own festival photos on the HappyShappy mobile app. Participants invited their friends and family to join in as well — building and inspiring an even broader community of women all over India.
With enthusiastic participation from all sides, the contest was a tremendous success. HappyShappy encouraged its users to participate actively. Miss Malini, too, left no stone unturned, and her presence drew a vast audience.
The Facebook and Instagram pages for the contest were abuzz with activity as women from all walks of life came together and re-lived their fondest Diwali memories, shared quirky anecdotes, and met new people with similar interests. After sifting through a wide array of entries, the judges chose three winners from across India.
"Thanks to Miss Malini, our gifting partners, participants and everyone who took time out of their busy schedules and got involved, The Big Festive Giveaway was a massive success. We are delighted to end Diwali 2019 on such a positive note and look forward to hosting many such women-oriented initiatives," Sana went on to say. A HappyShappy celebration indeed!