At a time when the Covid Pandemic is continuing to cause a serious concern for its recurrence in new mutations like Delta plus, the scientists at Amity Institute of Nano Science and Nano Technology have designed and developed a nano particle coated N-95 mask that has the capacity to filter 99% harmful microbes and pathogens. The mask comprises of a series of nano particle coated protective filters installed in the mask jacket that effectively kill any microbes entering into the nose or mouth. The protective mask code names 'Nano Breath' is developed using a 3D printed silicon material that is washable, odorless and nonallergic and has a long life. "Masks like these are of great value to the Industry workers, warehouse workers and frontline warriors such as Doctors and health workers, police personnel, journalists and media professionals who remain in the crowded areas and require effective protection from Covid like viruses and pathogens" says Dr Atul Thakur Director Amity Institute of Nano Science and Technology at Amity University Haryana, Gurugram.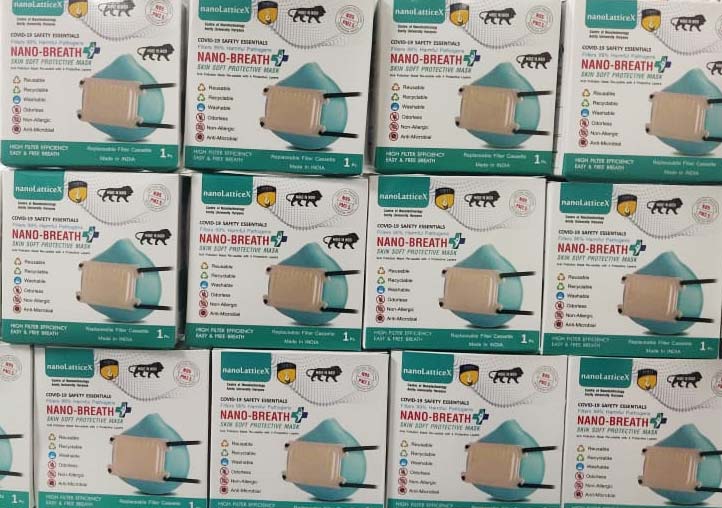 The nano science and technology group at AUH is supported by Amity Innovation Incubator under MeitY TIDE 2.0 scheme for innovations of great value to the society. The team mentored by Vice Chancellor Prof PB Sharma comprises of Dr Atul Thakur as the Chief Innovator and Dr Lucky Krishnia, Dr Preeti Thakur and research scholar Dinesh Kumar. Sharing the excitement of the team Professor PB Sharma Vice Chancellor AUH said "As a research and innovation driven university we are deeply committed to strengthen the Aatmanirbhar Bharat mission of the government of India and inhouse developed innovated products like the "Nano Breath" are a perfect example of giving rise to university startups that are targeted to both the national as well as global market".
The Amity Innovation Incubator under the visionary leadership of Dr Aseem Chauhan, Chancellor AUH is deeply engaged in fostering society and industry relevant market ready innovations and student and faculty led startups powered by innovative new product development. Our aim is to cause innovations in plenty and make AUH a major contributor to the rise of Startups of great value to strengthen nation's economy and new job creation, says Dr Vikas Madhukar, Head of AUH Innovation Incubator.
Prof Sharma also informed that under the visionary and caring patronage of the Founder President of Amity Education Group Dr Ashok K Chauhan and the inspiring Leadership of Hon'ble Chancellor Dr Aseem Chauhan, Amity University Haryana has rolled out number of compassionate initiatives to support the university community and the community in the neighbourhood during the Covid-19 pandemic. These include 24×7 Covid helpline, Oxygen Concentrators for Amity community on need basis, 24×7 healthcare support from AUH Health Centre for those residing in the campus and full freeship to the students ofAmity who had lost their earning parent due to Covid-19.
Also Read:
RSS Error: https://news4masses.com/category/health-fitness/feed is invalid XML, likely due to invalid characters. XML error: XML_ERR_NAME_REQUIRED at line 1, column 2