Keeping in synch with Government of India's "Atmanirbhar Bharat" initiative, the Entrepreneurship Cell at IIT Kharagpur announced the launch of it's much awaited Local Startups' Meet (LSM) 2021.
For those not aware, LSM, short for Local Startups' Meet is a Pan-India initiative of the Entrepreneurship Cell of the Indian Institute of Technology (IIT), Kharagpur. The Entrepreneurship Cell carries with it the unique distinction of being the oldest student-led entrepreneurship promoting bodies.
The initiative provides a great opportunity for startup enthusiasts, alpha, and beta stage startups to get connected with industry-leading venture firms, early-stage investors, and prominent entrepreneurs of the country.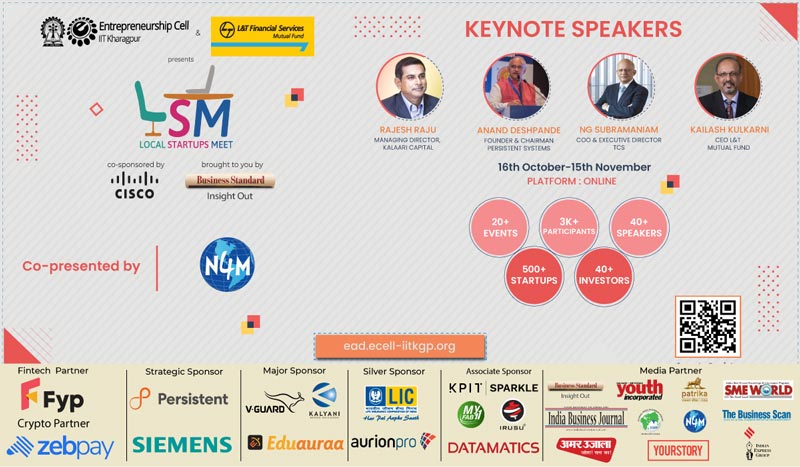 LSM 2021 is planned to be a month-long event starting from the 16th of October till the second week of November. The first two weeks of the Event will see exciting Workshops and insightful Panel Discussions by the likes of Rajesh Raju (MD, Kalaari Capital), N. G Subramaniam (COO, and Executive Director TCS), Tanmay Saksena (COO, TATA 1mg), Asha P Pillai (CFO, Shell), Ashwin Damera, (CEO-Eruditus & Emeritus), Anand Datta, (VP, Nexus Venture Partners) and many more. The event gets co-presented by N4M Media. The take away would help enlighten the participants and audience with the recent trends and challenges faced by startups.
In the third week, the top 5 selected startups from each sector would be mentored followed by the final pitching sessions being judged by a panel of investors from industry-leading Venture Firms of the country including Blume Ventures, Matrix Partners, Indian Angel Network, Bharat Innovation Fund, Morgan Stanley and many more!
Note – The last date to register for LSM (pitching and mentoring) is 20th October. To join at LSM 2021 and be counted among the leading startups, one can register at the e-cell link of IIT, Kharagpur. Participants stand a fair chance to win exciting prizes and if hard work and luck shines, could even make up to being the top startup in their respective sector!
Also Read:
Serial Read: