At a time when the nation's economy is all set to bounce back after a devastating pandemic, the Entrepreneurship Cell, IIT Kharagpur announced it's nation-wide flagship event, Entrepreneurship Awareness Drive (EAD) 2021.
Entrepreneurship Awareness Drive (EAD) is a massive Pan-India drive to reach out to colleges across different cities in India and promote entrepreneurship amongst students. EAD started in 2009 has grown manifold to an extent that it has had a significant impact on the entrepreneurial ecosystem.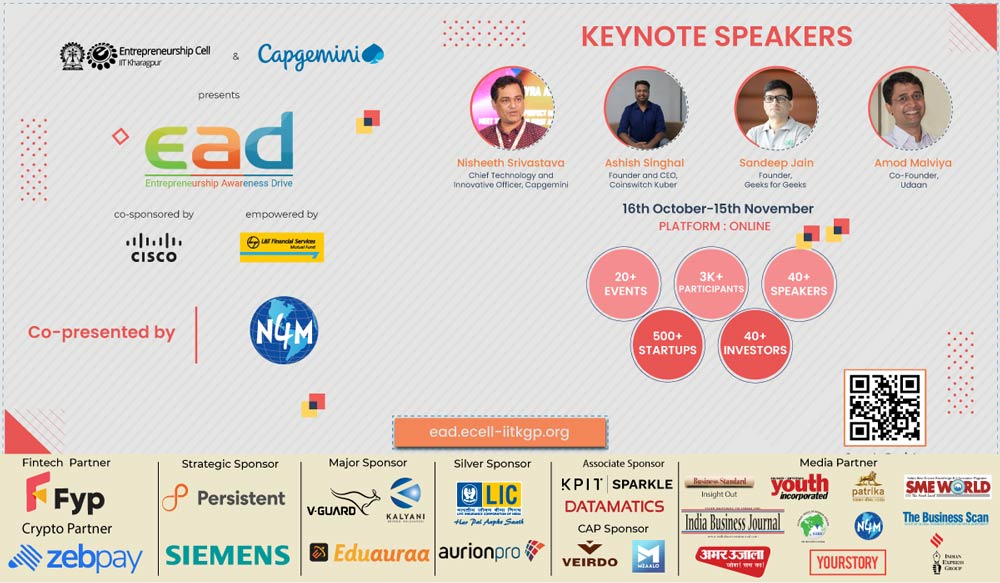 Entrepreneurs are of utmost importance in any market economy across the world. More so, as they act as wheels of the economic growth of any country. By creating innovative products and services, they generate new employment, which in turn accelerates economic development of the nation.
Policymakers and business owners need to understand and appreciate the relationship between entrepreneurship and economic growth. Knowing the pros and cons of entrepreneurship makes it possible to enact a balanced business environment where entrepreneurship can thrive. The outcome thus could have a positive economic and social impact.
An effort in the right direction, the Entrepreneurship Awareness Drive (EAD) will consist of Guest lectures and Workshops by eminent and successful entrepreneurs, business tycoons, and industry leaders. The students can thus interact with these experts and seek their advice on various spheres of entrepreneurship. During EAD, students are exposed to the avenues of business models, Start-ups and the resources which can be effectively utilized as the building blocks of their journey as an entrepreneur.
In this edition of EAD, they will be covering over 24 cities all across the country. Some notable speakers include the likes of Swamy Seetharaman – Head ( Engineering and Data) of CRED, Amod Malviya – Co-Founder of Udaan, Ajay Jaiswal – Founder and CEO Pesto, Mikhil Innani -CEO Apollo Finvest and Co-founder of Pharmeasy, Harshil Karia – Founder Schbang, Kanav Hasija – Co-Founder of InnovAccer.
E-Cell, IIT Kharagpur has decided to take this initiative further to greater scales as they launch the new edition of EAD this year. Those interested amongst you, may register at EAD 2021 to revitalize your impetus for the exclusive entrepreneurial journey.
Also Read: