It might come as a surprise, but online casinos have been operational since the year 1996. It was at the time that CryptoLogic first implemented a secure transaction software to its InterCasino Platform. Soon after, tons of competitor sites started popping, each one offering its specialized set of features and casino games. Other than online games, we also saw the inclusion of monetary features like microtransactions, intended to make the experience more user-friendly, letting players gamble and win real money. As it stands, the internet hosts a couple of thousand online casinos.
As players continue to sign up, the need for interactivity in these sites has become more and more apparent. In order to retain their users, operators now have to harness the social aspect of it all. You see, traditionally, gamblers would go to their gambling dens and casinos, not just to gamble, but to socialize with their fellow gamblers as they played their texasholdem's and roulette wheel spins. The social aspect of it was vital in bringing in new customers.
And now, in online platforms, people still seek this same interaction. Top brands are pouring millions into software that can implement the highest level of interactivity in their platforms. The main aim is to try to keep up with the growing demand for socialization as players gamble against each other online.
Interactive gaming systems set to modify the interaction
As we've seen, online casinos are constantly adjusting their platforms and interfaces in a way that comes as close as possible to the real live thing. With improvement in technology, this has become more and more realistic. Users can now access more engaging and entertaining games in these casino lounge-like settings through wall panels, touch-enabled kiosks, and tables. Some popular online casino reviews will show you exactly which sites have implemented these features best.
The interactive systems have somehow managed to merge the advantages of online gaming with social aspects akin to the real casino floor. The apps mainly come in two types, games on social networks and dedicated apps. Both of them feature a plethora of games like blackjack, roulette, and highly interactive slots.
Players get to interact through leaderboard challenges where they can pit their skills against other players. Some such as Comunix's poker face even incorporate video conferencing. Here, players can share emojis and exchange words as they play cards.
We'll take a look more at the social aspect of it all down below.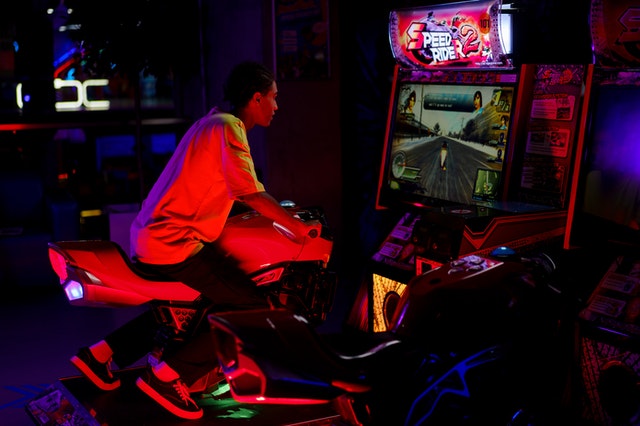 The social aspect: live dealers
You have to understand that players don't just engage in casino games for the sake of playing. For most of them, the live-like casino experience is just as important. With an interactive online casino platform, they can get to enjoy this from the comfort of their homes.
For instance, history has shown that players gravitate more towards real live dealers who can engage them as they play. You'd find this being implemented in the brick-and-mortar-casinos, whereby the people dealing with such games would be especially lively to garner players' attention. Often they'd possess charm and quick wit, making people want to stay longer.
Also Read: A Guide To The Ultimate Casino Night
Now, more online casinos are catching on to this social aspect. Instead of employing plain, automated bots to run the games, some games like baccarat and blackjack are being operated by more dynamic dealers. Players get to speak to their opponents verbally as well and chat through a special window.
Social gaming to increase the frequency of interaction
Now, social gaming is a bit different from the social aspect of gaming we've seen above. It is a technique whereby the operators make use of social media to influence a player to play the game.
You see, typically, when playing online games, users have to download the app to their phones or PC or play directly on the casino's online website. In order to gamble or interact with the game, the player will have to consciously want to log in and play or be reminded about the game through an email. But most of the time, the game is out of sight and therefore out of the player's mind.
Social gaming, on the other hand, involves incorporating social networks into the player's game profile. The platform would usually include an option to link users' Twitter, Instagram, and Facebook accounts.
This way, as the users scroll through their social media platforms, they get to see advertisements of the online casino products, which draw them back to play the game. This also happens when the users spot some of their friends on social media playing. The psychology of it all is that players are more motivated to play against people they engage with. The player naturally yearns to compete with and beat his friends as they go up the levels.
Chat rooms and forums
Another common technique that operators use to increase the levels of interaction on their platforms is incorporating chat rooms into their sites. These are typically designed as right or left pull-out panels that players can easily access. Here, active members can share tips and chat as they play the game.
Additionally, you'll find moderators acting as customer service operators for the site. They'd answer questions and resolve issues among players. Some sites encourage this by awarding small bonuses for people actively participating in the chats.
VR based gaming
Virtual reality is yet another upcoming invention that's been creating avenues for a more immersive experience in the gaming industry. And now, it is slowly finding its way into the casino experience, bringing the concept of interactivity to a whole other level.
Although it is only at its roots, there is an increasing demand for VR-based online casinos. Its evolution is imminent. It's only a matter of time before you can fully immerse yourself into a life-like casino from the comfort of your home.
Currently, we have already seen demo versions of virtual reality casino games like Jack and the Beanstalk slot machine game by Net Entertainment (one of the more popular online game software providers). We can expect to see a release of more popular games in the near future.
Takeaway!
The primary goal for operators in online casinos (or any casino for that matter) is to offer their consumers what they desire. And what they want in this particular setting is the best kind of entertainment while gaming.
This means interactivity through customer service, rewards programs, among other incentives, and convenience as they play. As the scene shifts to the online platforms, more and more gaming sites strive to offer the same. And how do they do this? Well, by implementing more interactive online gaming systems while incorporating a little of the charm you'd expect from live casinos.
Also Read:
RSS Error: https://news4masses.com/category/sports/feed is invalid XML, likely due to invalid characters. XML error: XML_ERR_NAME_REQUIRED at line 1, column 2