The Maurya Empire was a golden era of ancient Indian history, perhaps even greater than the Chola Empire which included parts of Sri Lanka and South East Asia. Ashoka the Great belonged to the Maurya Dynasty. How the Indian map has shrunk since then and why should be studied by all Indians.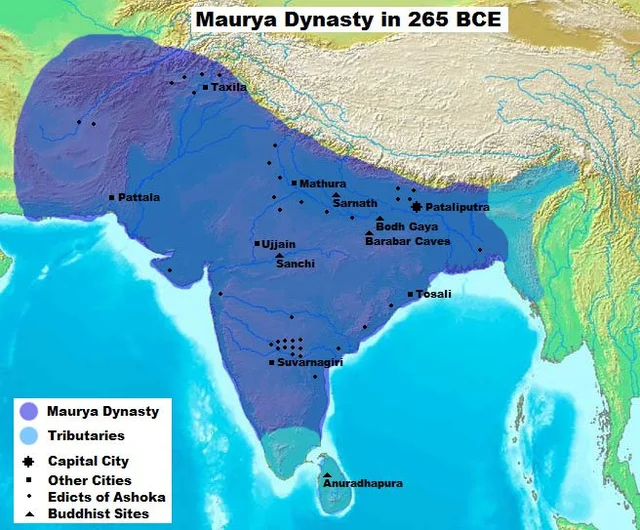 On January 26, 1950, India adopted its National Emblem from one of the Ashoka Pillars at Sarnath hosting four lions, along with the motto 'Satyamev Jayate; from the Mundaka Upanishad meaning 'Truth Always Wins'. The newly unveiled National Emblem atop the roof of the new Parliament building depicting a roaring lion with bared fangs is different from the National Emblem prescribed by the State Emblem of India Act, 2005, and has drawn adverse comments from the opposition and historians.
Admiral Aun Prakash says India's State Emblem, is used in official seals, rank badges of armed forces and in letterheads of authorized functionaries. Any reproductions must faithfully follow the Sarnath original in every detail. But Union Minister Hardip Puri says, "If an exact replica of the original were to be placed on the new building, it would barely be visible beyond the peripheral rail. The 'experts' should also know that the original at Sarnath is at ground level while the new emblem is at a height of 33 mtrs from ground."
Some voices will be raised in the monsoon session of Parliament but what is done, is done. More important is to know when the lion roars and bares its fangs; one, when attacking with its tail up, and, second; cowering with its tail tucked in when surrounded and outnumbered. Since 1947, Indian governments have behaved like the latter example in dealing with China barring two incidents; Nathu La in 1967 and at Sumdorong Chu in 1987. Without Operation 'Chequerboard' launched by General K Sundarji in 1987, we could have lost thousands of sq km of territory in the northeast.
Zorawar Singh(1784–1841), the Dogra General of Maharaja Gulab Singh of J&K invaded Western Tibet in 1842 and reached up to Taklakot but was killed in the Battle of To-yo. Referred to as 'Napoleon of India', the Qing forces flag captured by him is preserved in Indian Army's 4 Jammu and Kashmir Rifles.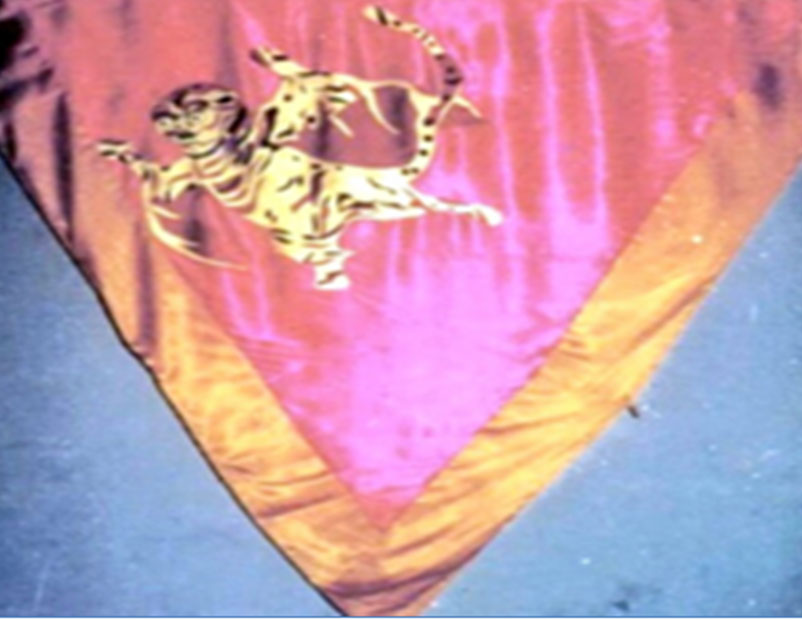 For Nehru, police forces were enough to defend India. He baulked at the idea of a defence policy, forget a national security strategy. Chinese invasion of Tibet and pleas of Tibetan were downplayed despite Tibet being a friendly neighbour since ages. During the British era, Indian Army maintained posts at Gyantse and Yatung, India ran Tibet's postal and telegraph services, and several rest houses on the Kalimpong-Lhasa road facilitated pilgrims and traders travelling between the two countries,
India became aware of China constructing a 179-km road through Aksai Chin (Indian Territory) late but still did nothing; Aksai Chin (37,555 sq km) along with its mineral reserves and water bodies went to China. Next was the 1962 Sino-Indian War, the history of which has not been declassified but the ignominy suffered by us is scripted in multiple books, media and films.
China's salami-slicing territory has been successful with pusillanimous Indian governments. Detailed by then Prime Minister Manmohan Singh, former foreign secretary Shyam Saran found China had nibbled away 645 sq km territory over the years, in addition to Aksai Chin and Shaksgam (5,180 sq km); totaling 43,380 sq km. Of the 645 sq km, 400 sq km is in Ladaksh according to former ambassador Phunchok Stopden,
Despite the above, patrolling points in Ladakh delineated by the CCS during the Congress regime were 'short' of our claim line. Other governments including the present one did nothing to change these. In early 2020, Chinese motorized divisions were exercising in Aksai Chin and PLA had built a new road 5-km short of Galwan, but we remained lackadaisical. Due to the Chinese aggression in 2020, we lost control of some 1,000 sq km of our territory – more than 645 sq km discovered by Shyam Saran.
The above does not include Kailash Range in our own territory that we vacated under pressure from China, the name Kailash being synonymous with Lord Shiva – just like Mount Kailash. China has deployed PLA in Mansarovar and stopped granting visas to pilgrims from India for Kailash-Mansarovar after Indian reorganized the State of J&K in 2019. 75 years after Independence we still don't have a national security strategy despite the NSA tasked to define it in 2019.
One Division, which also provides manpower for the Northern Glacier (Siachen), is inadequate to defend 800-km frontage in Eastern Ladakh. But Army's requests for extra troops fell on deaf ears. No comprehensive strategic defence review was undertaken. Government's preference of police forces over the army is quite evident while there is also a move to make the military quasi-conscript.
The erstwhile practice of troops going unarmed to the LAC was not addressed by the government despite physical clashes between PLA and our troops in Sikkim and Pangong Tso during 2019-2020 and before, video clips of which were widely circulated. China took advantage and brutally attacked Colonel Suresh Babu's patrol at Galwan, killing him and one-two members of his patrol. On a specific query, EAM S Jaishankar said that Babu's patrol 'was' armed, which is not very convincing.
The 2020 debacle in Eastern Ladakh warranted multiple resignations at the top level, both of military and civil, leaving the decision to the prime minister to accept or decline them. But the collective failure was covered up in middle pages of newspapers saying we knew they (PLA) could occupy the new locations in 24-36 hours but never thought they would (sic); despite China stabbing us repeatedly in the back.
From day one China branded India the aggressor in 2020. Moreover, India's vacation of Kailash Range (on advice of EAM, NSA or both?) without even linking it to PLA pullback in Depsang and Demchok was a strategic blunder.
China is using talks to consolidate its positions in the intrusion areas (covered up as 'friction points' by us), deploying more weaponry, drones and robots, long range artillery, constructing observation towers, improving communications and logistics. PLA's 5G network is interfering with radio communication of our forward troops. The two bridges on Pangong Tso improve PLA's offensive capabilities. There is no question of PLA pulling back from the above locations. China has established a border village at Longju in Arunachal Pradesh and for all these actions all that the MEA says is that we have seen these reports.
Indian insistence for more military-to-military talks is to deflect loss control of 1000 sq km and the blunder of vacating Kailash Range. We talk of disengaging from the so-called "friction points" but at the recent Shangri-La Dialogue held in Singapore (June 10-12), Chinese Defence Minister Wei Fenghe blamed India for the Ladakh standoff.
The ongoing narrative is that we are showing China its place. But our actions are in conformity with Chinese foreign minister Wang Yi's missive that the border issue be kept aside and India-China should move on. Chinese exports to India have gone up in 2022 in contrast to Indian exports to China falling sharply; Chinese exports to India were valued at $57.51 billion (up 34.5%) while Indian exports to China were $9.57 billion – dip of 35.3 % compared to first half of 2021.
China is barred from India's 5G program but Chinese mobile companies rule the roost in India, half the BSNL mobile network equipment is Chinese and so is 10% of MTNL equipment. Chinese banks are operating in India and China is getting into Indian businesses through other companies. Ignoring security implications, the ISRO-OPPO deal was sealed – no alternative to a Chinese company? Interestingly, the Directorate of Revenue has unearthed customs duty evasion by OPPO amounting to Rs 4,389 croe.
Despite the standoff in Ladakh, the CDS General Bipin Rawat in full military uniform attended launch of the China-funded MG Motors in Delhi. Did someone ask him to do so?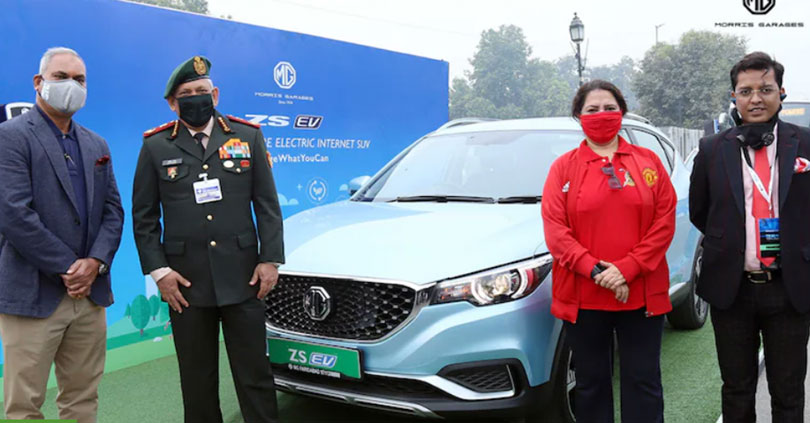 India's Ultra Tech Cement has imported 157,000 tons of coal from Russia at a cost of $25.81 million, paying Russia's SUEK in Chinese Yuan. Are we promoting the Yuan instead of the Rupee? News reports of March 6, 2022, say that the 65-year-old Integrated Coach Factory (ICF) of Indian Railway (IR) has exported 650 railway coaches, shells and other components to other countries. But why are we importing 97,000 wheels for railway coaches from China? Where is Atmanirbhar?
Above are only few examples among many. Are we appeasing China to stave off further aggression? Chanakya said, "Even if a snake is not poisonous, it should act like one". Is this why the roaring lion with bared fangs atop the new Parliament? Ironically China knows this snake is not poisonous? We better focus on another Chanakya quote that says, "If you make snake drink milk, you increase its venom, not nectar". As we harp on Pakistan terrorism and good relations can't go together, better to bluntly tell China aggression and business as usual cannot cohabitate.
The author is an Indian Army veteran. Views expressed are personal.
Also Read: