As consumers, the world's population is well and truly lapping up technological innovation and the products that continually head our way. We're inundated with new forms of tech on an amazingly regular basis as advancements in technology continue to reach new heights.
Not every product is worth having, of course. We've seen countless gadgets come and go with little impact, but there are numerous hits along the way too. The success of fitness trackers like FitBits is clear to see. There's mobile phone gaming which has come on leaps and bounds with more websites offering games like Baywatch or featuring Thai Temple slots from Mansion, alongside downloadable games such as Pokemon Go with its augmented reality feature. Then, smart devices for the home have proved extremely popular of late, coupled with fitness tech and numerous cooking devices. The options are limitless as innovation shows no signs of slowing down.
Several gadgets have been particularly popular of late and are expected to register further success in 2021. With that in mind, here's a look at some of the best gadgets expected to further grow in popularity.
Dragon's Lair Mini Arcade
We touched on the progress made with gaming, and the fact you can now purchase Dragon's Lair Mini Arcade is another treat for the gaming community. Dragon's Lair was a hugely popular game which can now be enjoyed in the modern day with this miniature arcade gaming experience. The makers have adapted the original arcade cabinet, making it smaller for the home, therefore bringing new life to the game thanks to its 4.2-inch screen and its neat and tidy design. It's a fun game to play too, of course.
CleanPod UVC Sterilizer
Keen to fight off any harmful germs and bacteria? Well, thanks to the CleanPod UVC Sterilizer by Monos you can do exactly that by simply pointing it at the desired area – be it your shopping or your hands – where it will then immediately kill off anything harmful thanks to its powerful UV light.
Osmo Pocket
Made by DJI, the Osmo Pocket is a miniature camera which packs one hell of a punch. Coming with a 4k camera, the tiny device is mounted on a stabilised gimbal giving users the stability needed to capture professional-looking shots. It's perfect for people travelling abroad on an adventure, for example.
Hypervolt Plus Cordless Vibration Massager
Home massagers have been in high demand of late, and it's totally understandable as to why, especially when you see excellent creations like the Hypervolt Plus Cordless Vibration Massager. This particular massager is another gadget that is expected to further grow in popularity in 2021. It comes with five interchangeable heads capable of reaching the trickiest of areas, alongside boasting a 60-watt motor which is capable of propelling the massager head at up to three different speeds. As far as massagers go, it's easily one of the best around.
Philips Somneo Sleep & Wake-Up Light
This clever light is clinically proven to improve someone's sleep and also enable them to feel more refreshed when they wake up thanks to its ability to simulate natural sunlight, alongside being able to play soothing noises and sounds. Everything is touch-screen too, taking the Philips Somneo Sleep and Wake-Up Light a level above similar lights of its type.
Sony PS-LX310BT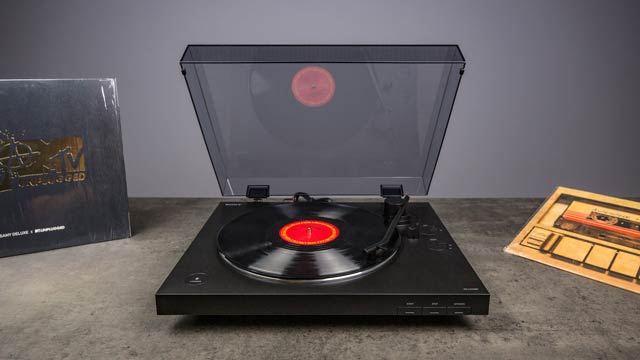 Unless you're a skilled DJ, turntables can be quite intimidating. Thanks to Sony, you can listen to your favourite music via a cleverly designed, fully automated turntable though. All you need to do is sync the turntable with your favourite speaker using Bluetooth and then away you go. The audio is of a good standard, and the Sony PS-LX310BT looks great too.