With an already tense political scenario over the recent Demonetisation issue, the appointment of the Army Chief could not have come at the worst moment. Having lost most of the winter Parliament session to bickerings between the BJP and a combined opposition over the so called messed up demonetisation implementation, the appointment gave another opportunity for the parties to involve in fresh mudslinging.  A political slugfest today broke out over the new army chief's appointment by superseding two officers with Congress asking the Prime Minister to spell out the "compelling reasons" for it and the Left questioning the move even as BJP hit back saying they should not politicise an issue related to defence forces.
Congress leader Manish Tewari slammed the government for "playing with institutions" and doing politics in the army even as he wondered if it was "whimsical cherry picking".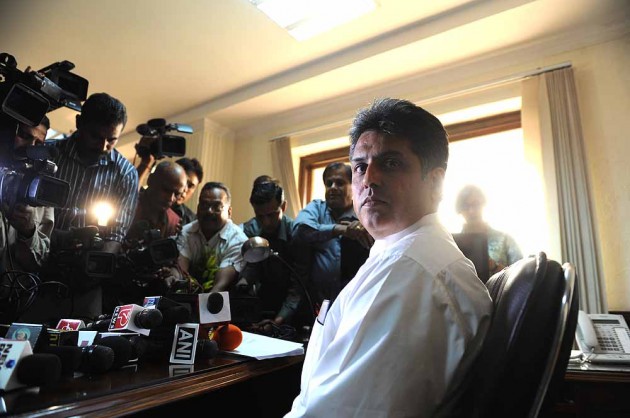 His comments came in the form of a series of tweets, a day after the government appointed Vice Chief of Army Staff Lt Gen Bipin Rawat as the new army chief superseding his two senior officers — Eastern Army Commander Lt Gen Praveen Bakshi and Southern Army Command chief Lt Gen P M Hariz.
Why has Seniority not been respected in Aptt.of Army Chief?Why have Lt Gen PRAVIN Bakshi & Lt Gen Mohamed Ali Hariz been superseded Mr PM?

— Manish Tewari (@ManishTewari) December 17, 2016
CPI leader D Raja also questioned the government's move and said appointments whether in the army, judiciary or those of CVC, acting CBI director and to Central Information Commission have become controversial.
Commenting on the matter, JD(U) MP Pavan Varma said, "Every question that is being raised is not about politicising an issue but about seeking a clarification for an answer."
BJP condemned Congress for its attack on the government over the army chief's appointment, saying there should be no politics on defence forces and asserted that Lt Gen Rawat has been elevated keeping in mind the current security scenario.
राष्ट्रीय सुरक्षा जैसे गंभीर विषय पर सेना को राजनीति में घसीटना @INCIndia की मानसिक विकलांगता का परिचायक है @BJP4India @ZeeNewsHindi

— Shrikant Sharma (@ptshrikant) December 18, 2016
BJP National Secretary Shrikant Sharma said the new army chief was picked up from a pool of five senior-most officers, who are all competent, and Lt Gen Rawat's appointment should not be seen as a negative against others.
Lashing out at the opposition party, Sharma said Congress by "politicising" the appointment of the army chief was showing its "frustration" after it has been pushed to the "margins" of national politics following successive electoral defeats.
Tewari said, "While Lt Gen Rawat, who is being appointed the COAS, may perhaps have all the requisite credentials but the fact remains that in a hierarchy conscious organisation where the principle of seniority is almost sacrosanct, the supersession of three senior officers, Lt Gen Praveen Bakshi, Lt P M Hariz, and perhaps even Lt Gen B S Negi, raises extremely serious and critical questions of institutional integrity."
However, senior army officials said that Lt Gen Rawat has only superseded Lt Gen Bakshi, the seniormost army commander and Lt Gen Hariz.
Much Awaited Boost To Army: Govt Removes Red Tapism From Critical Weaponry Procurement
Prime Minister Narendra Modi himself should spell out the "compelling reasons" behind this supersession, Tewari told reporters at the party office here.
"Why the principle of seniority which has held the field for two decades now not respected by the government. Is it that these officers who were superseded unqualified in any manner? Or is it whimsical cherry picking which has been done by the BJP-led NDA government," he said.
"Why does the army have to go through unnecessary bloodletting at the top? If it has been done, then reasons need to be put out in the public domain," he said.
Raja said, "Appointments in the army have become controversial, the appointments in the judiciary are already controversial, the appointments of CVC, CBI director and to Central Information Commission, all these top-level appointments are becoming very controversial.
With Inputs from PTI