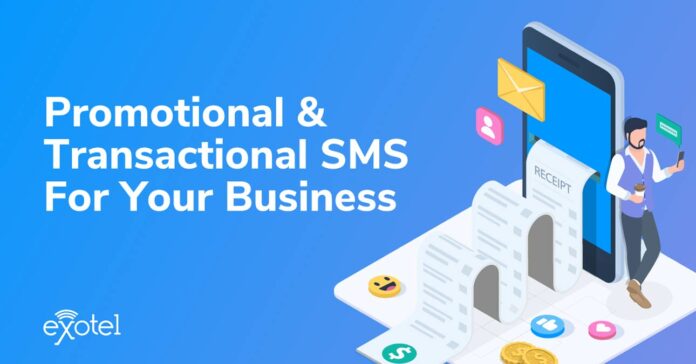 Short message service (SMS) is direct, simple, and actionable. It offers impeccable results too – Gartner finds SMS trigger open rates of at least 98% and response rates of 45%. (Source: Gartner) In simple terms, it is better than any other marketing channel delivers.
Promotional and transactional SMS are two primary types of business SMS. Transactional SMS is also called Service Implicit Messages and Promotional SMS is called Service Explicit Messages
Let's understand them in light of how you can make the best use of them in your business.
Feel free to jump straight ahead to any of the following sections:
How is a Promotional SMS different from Transactional SMS?
What is a Promotional SMS?
Why do businesses use Promotional SMS?
When to run Promotional SMS campaigns?
What is a Transactional SMS?
Why do businesses use Transactional SMS?
When to run Transactional SMS campaigns?
How to choose an SMS service provider?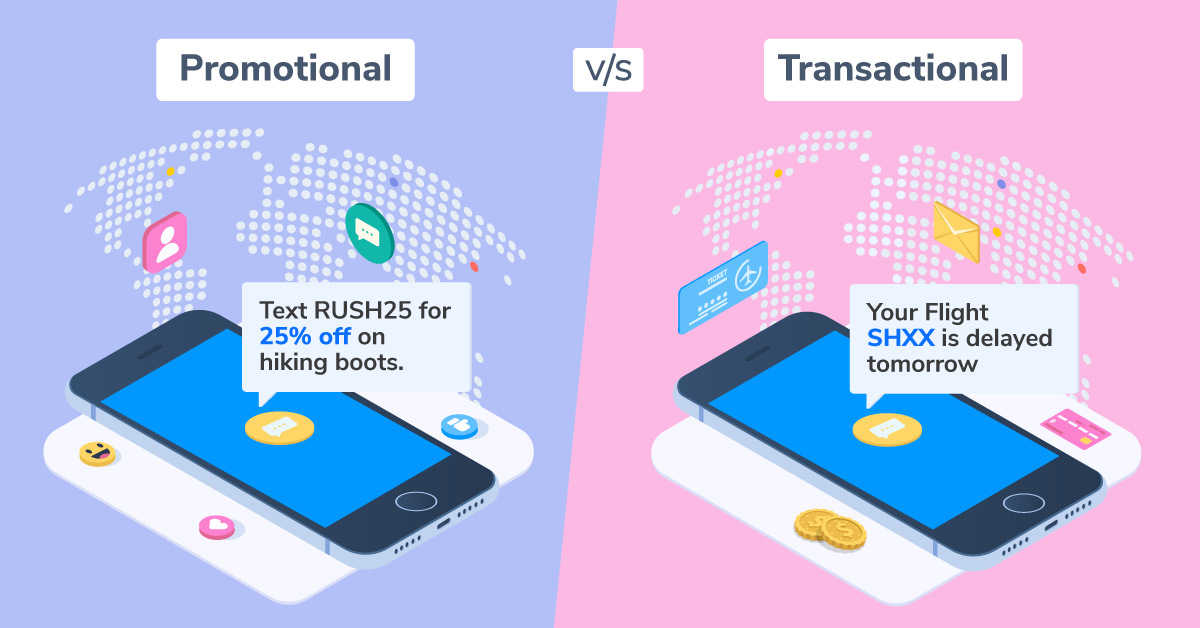 How is a Transactional SMS different from Promotional SMS?
Transactional SMS is used for sending orders and booking alerts. They are sent to convey information over messages to registered customers. However, Promotional SMS is used for sending marketing and sales messages. These messages are only delivered to opt-in and non-DND numbers.
What is a Promotional SMS?
A Promotional SMS is used to drive both new customers and retain existing business. It helps to keep your prospects and customers informed when promoting new deals, offers, or discounts. When used with the right intent and messaging, the chances of engagement and conversions are high when it comes to promotional SMS.
SMS are usually responded to within 90 seconds versus 90 minutes for an email. This is the best channel for marketing teams running campaigns requiring quick customer action like inviting pre-bookings before a consumer device launch.
Why do businesses use Promotional SMS?
High ROI: SMS Marketing can drive almost the best cost-benefit returns than any other platform that drives significant sales.
Induces prompt action: SMS notifications usually show the entire content of the message, helping readers to not get lost in the midst.
Customisable: Target different messages to different audiences.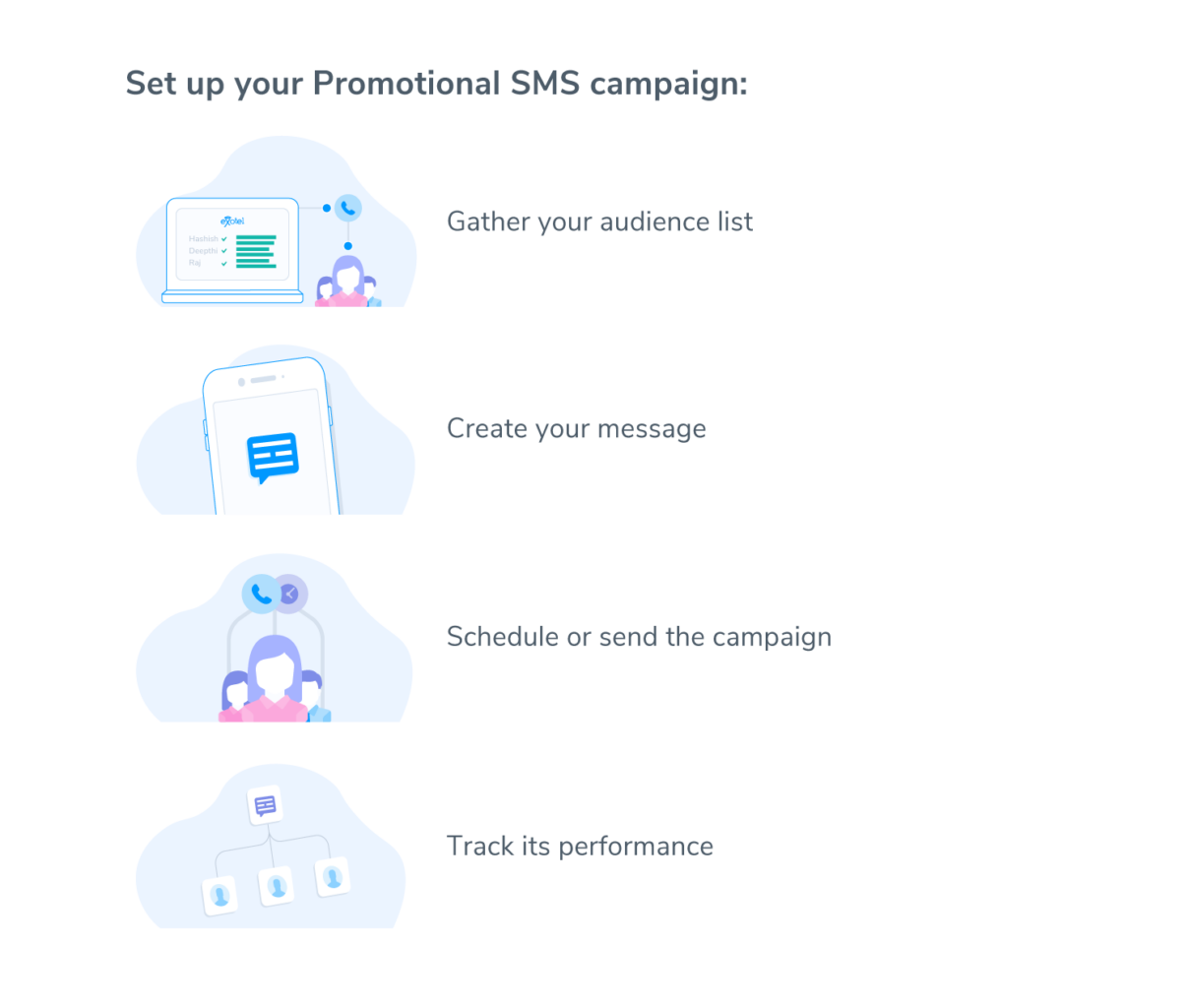 When to run Promotional SMS campaigns?
Product giveaways: Another crowd-pulling tactic, especially for high-value items that could be the winner's to keep
Flash or clearance sales: Use the power of urgency or cutting prices on the out-of-season stock to target your audience
Discount or cashback days: Create brand pull by informing your audience of special offer periods
Category promotion days: Use any calendar events or create a calendar to sell particular product categories
Seasonal shopping periods: Promotional SMS, when sent out at the right time, alerts your audience of appealing deals
Loyalty point promotions: Usually for existing customers to get more out of burning their points, or a free loyalty program membership for a product's purchase
What is a Transactional SMS?
Transactional SMS is specifically used to share time-sensitive information and updates to your customers. Any message that is not promotional in nature is a transactional SMS, this includes policy updates, downtime alerts, usage notifications, etc.
These messages are usually triggered in response to certain actions predefined by you and configured in your SMS vendor's dashboard or their API with your software.
Why do businesses use Transactional SMS?
1. Trackable: Find our metrics like delivered, open, and response rates in real-time
2. Dedicated SMS routes: To ensure uninterrupted delivery rates
3. Reaches DND numbers: TRAI-mandated DND rules do not apply
4. Value for money: Can send multiple messages at low cost during the journey of the customer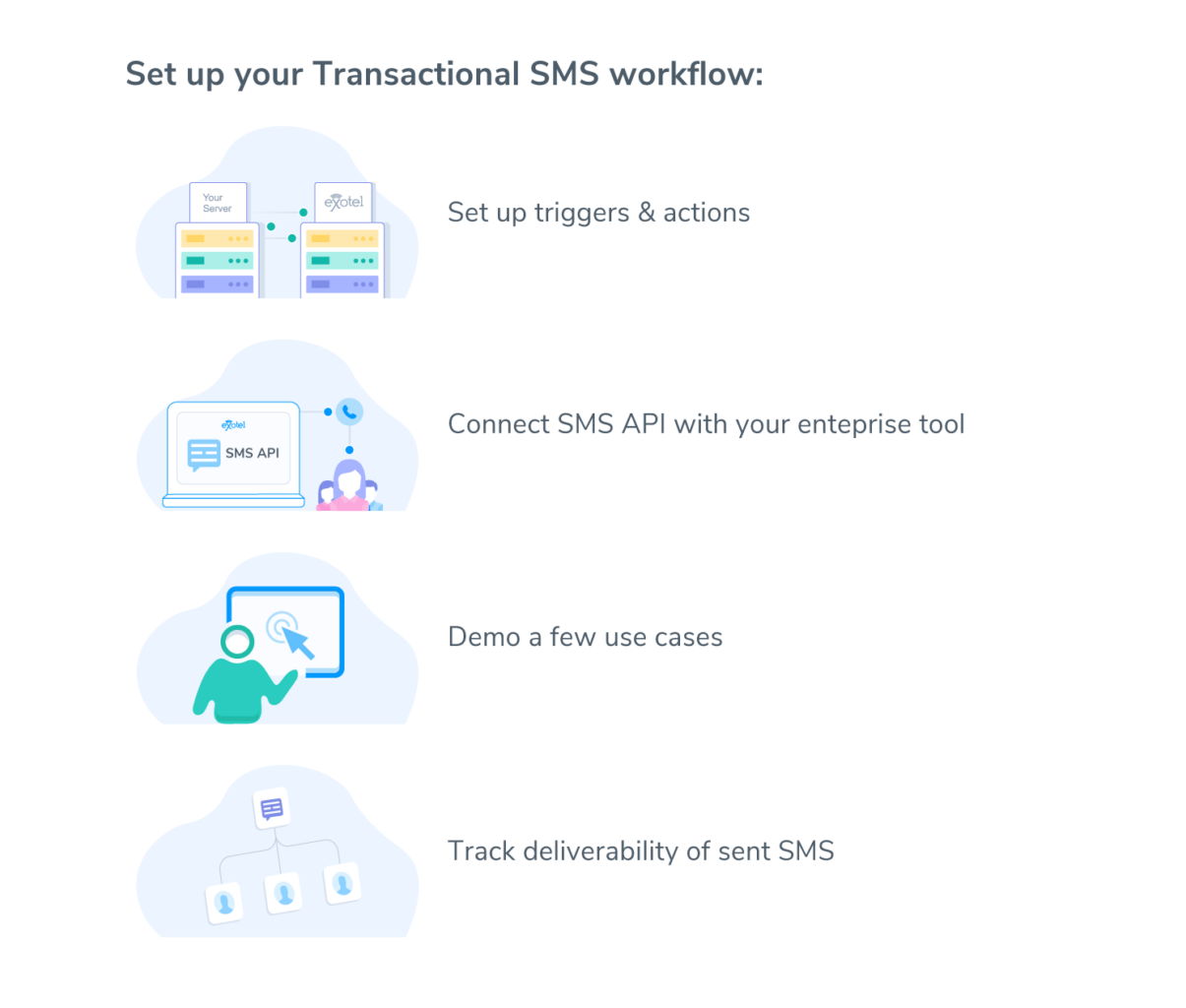 When to run Transactional SMS campaigns?
Product order or service communication: Confirmations, delays, modifications, etc
Delivery or downtime notifications: Shipment or service maintenance status updates, downtime alerts.
2-Factor Authentication & Know Your Customer (KYC): OTPs for service confirmations, ID verification for financial transactions, etc
Internal business or partner communications: Business continuity updates.
How to choose an SMS service provider for Transactional and Promotional SMSes?
1. Trackability: When it comes to lead-gen, the more you know the better it is for your campaign. Your provider should be able to ease the integration part with external tools like CRM and helpdesks.
2. Reliability: When it comes to delivery rates, the company's services will always be at stake as 100% delivery rates are still impossible to achieve. The provider should make sure there are no issues with delivery rates and uptimes with regard to the industry's benchmark.
3. Scalability: It is a given that your SMS volumes will increase during festivals and holidays. This being said, your SMS campaign provider should be able to scale along with you.
Ultimately, SMS is a rapidly deliverable, mobile-friendly, and cost-effective channel. By using it to send promotional or transactional information to your customers, you can grow your business faster and better. Whether you are a startup or an established business whose communication needs to be automated, we can help. Sign up for a demo today!
Also Read: