​
The world is getting smarter. From smartphones to smartwatches to smart televisions to smart cars, you name an electronic gadget, appliance or device and you will find a smart version of it in the market. Ceiling fans, too, are no exception. Recently, there's been a new addition to the ceiling fan space – the smart ceiling fan that is quickly gaining popularity because of the ease of control they offer. So in case you are yet to upgrade to the latest smart ceiling fan, we strongly recommend you to consider the same. But before you do, here are a few things that you should know before you go shopping.
What to look for in a smart fan?
The most intriguing thing about a smart fan is its control feature and so this is one thing that you must definitely look for when you buy a smart ceiling fan. Smart fans from reputable brands like Luminous India can be controlled using the following options.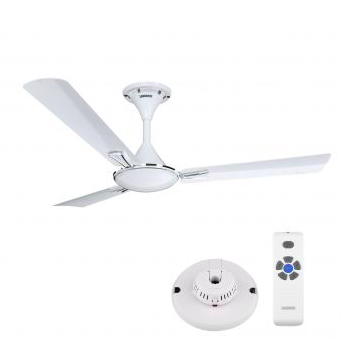 Remote – A smart fan gives you the power to control your fan with your finger tip. The remote enabled fans can be switched on and off using a remote. You can even vary the speed of the fan.
Mobile – You can download your smart fan manufacturer's app on your mobile phone and use it to control your fan from anywhere, anytime. For Instance, the Luminous smart fan can be controlled using their SmartLife app.
Voice Command – If you don't want to stress your fingers then you also have the option to control the fan with a simple voice command. All you have to do is connect your fan to a voice-controlled virtual assistant such as Alexa.
Other Factors to Consider
1. Air Delivery – It is the volume of air a fan displaces. It's measured in CMM (Cubic Meters per Minute). Typically, a fan with an air delivery of 230 CMM is good enough for a standard size living room, bedroom. Besides the speed of a fan, there are two other factors that affect air delivery – the shape and the material of fan blades.
2. Fan Speed – The speed of a fan is measured in RPM (Rotation Per Minute). In most cases the air delivery of a fan is directly proportional to the speed of a fan. Depending on their speed, ceiling fans can be categorized into High Speed and Normal Speed fans. We suggest that you go for a fan with a speed anywhere around 350-380 RPM.
3. Sweep Size – One of the most important factors that determine the performance of a fan is the Sweep Size or Blade Span. The sweep size of a fan is the diameter of a circle that a fan forms when set in motion. To ensure optimum air delivery, you must choose the right fan size. For instance, a fan with a sweep size of 42" to 48″ is good for standard size bedrooms and dining rooms whereas for larger spaces, a 60″ sweep size fan is considered more appropriate.
4. Length of The Down Rod – The ceiling fan is suspended from the ceiling using the downrod. It is important to select the right down rod size as it impacts air delivery. Choosing the right down rod size is also important from a safety point of view.
5. Power Consumption – Last but not least, power consumption is an important factor to consider when buying a ceiling fan. The unit of power consumption is 'Watts'. If you are looking for a powerful yet energy efficient ceiling fan then you must check out the wide range of ceiling fans from Luminous India.
Check Out the Audie From Luminous India
If you want to buy a smart fan from a reputable brand then you must check out Luminous India's latest smart fan – The Audie. It has all the smart features that we discussed in this post. Moreover, the fan has a good air delivery and is beautifully designed to ensure it goes well with any and every home decor.
Also Read: