Addressing a recent peace and development rally at   Diphu in Karbi Anglong District of Assam, Prime Minister Narendra Modi said the Centre is working on revoking the Armed Forces Special Powers Act (AFSPA) from entire northeast since there has been a 75 percent drop in militant violence over the past eight years. He said AFSPA has been revoked in Tripura Meghalaya, most parts of Assam and efforts are on to remove it from balance parts of Assam also. Modi said the intention is to remove AFSPA from parts of Nagaland and Manipur also where it is still in vogue.
Earlier, the Ministry of Home Affairs (MHA) had announced the removal of the Disturbed Areas Act from several districts of Assam, Manipur, Nagaland, and Arunachal Pradesh, which automatically implies that AFSPA is not applicable in these areas any more.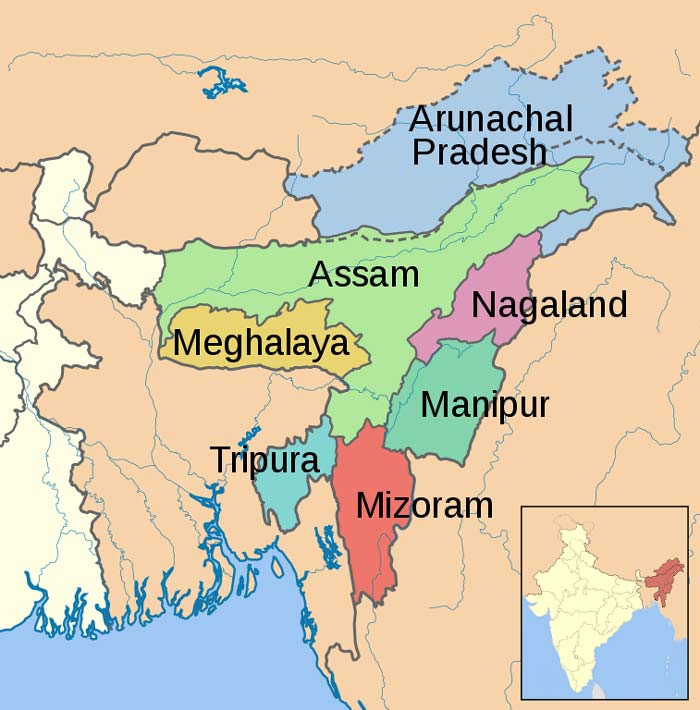 In June 2015, the Army's Special Forces launched Operation 'Hot Pursuit' against insurgent camps in Myanmar. According to one report 38 insurgents were killed and nine were wounded. This was in retaliation to the convoy of an infantry battalion ambushed in Chandel District of Manipur on June 4, 2015, killing 18 army personnel. After the ambush, the insurgents had retreated to their camps in Myanmar. Two insurgent groups owned responsibility for the ambush; the NSCN (K) and the Kanglei Yawol Kanna Lup (KYKL).
On December 4, 2021, Army's Special Forces (SF) laid an ambush near Tiru village in Tizit area of Mon District of Nagaland based on intelligence of insurgents movement. An approaching civilian vehicle signaled to stop, sped away and the SF opened fire killing four out of the six persons in the vehicle. The two injured persons were being evacuated by the SF when scores of villagers surrounded the SF, burnt two vehicles and assaulted them killing one SF soldier. The troops were forced to open fire killing another seven persons.
Next day a mob of 600-700 armed with machetes, sticks, pipes and molotov cocktails attacked the company base of Assam Rifles in Mon town and set fire to 11 buildings, following which troops opened fire in which one mobster was killed and another was injured. These incidents led to some chief ministers of northeastern states calling for repealing AFSPA.
Who supplied the intelligence to summon the SF team from outside Nagaland for laying the ambush on December 4 and was the driver of the civilian vehicle instructed to jump the ambush when asked to stop will remain a mystery. Anything is possible in the northeast, especially in Nagaland, where the politician-police-insurgent nexus remains strong for illegal tax collection and narcotics smuggling which cumulatively runs into thousands of crores.
Also Read:
Union Home Minister Amit Shah recently said that the Centre is committed to strictly act against the supply and smuggling of narcotics in the country. There have been recent narcotics seizures but these are small considering the World Drug Report 2011 specifically mentioned India "consumes" 11 tons of Heroin annually. This amount would have unlikely reduced, if not increased. Some officials also opine that the amount of narcotics entering India from the West and the East is almost equal.
There is no denying that development has progressed in the northeast and there is decline in insurgent incidents, however, the following need to be taken into account:
China has no plans to settle its borders with India and mounting US sanctions on Myanmar would result in Myanmar's military regime getting closer to Beijing.
There is a general belief that as a result of the Ukraine conflict, China will indulge in hybrid war in a China-US confrontation. But China would try out its hybrid war first against India, some of which it is already practicing.
China has influence over militant groups in Myanmar individually and in conjunction with Pakistan; like the United Wa State Army (USWA), the Arakan Rohingya Salvation Army (ARSA) and others.
Other than the Galwan clash, China went for unoccupied Indian Territory in Ladakh during 2022 and there are unoccupied tracts in Arunachal Pradesh while China claims entire Arunachal and border infrastructure on the Chinese side is far superior.
Naga and Manipuri insurgent groups are largely based inside Myanmar. Chinese media has been saying that Beijing can destabilize our northeast whenever it wants.
India's relations with Myanmar are not the same as earlier after the military takeover of Myanmar. This affects joint India-Myanmar military operations to tackle cross-border insurgent-terrorist operations.
Despite efforts to sign peace deals with northeast insurgents that are not holistic by any measure, none of the insurgent organizations have surrendered their arms. The potential for violence remains, which can be triggered by inimical forces.
Indications are that it is not just China but many other foreign forces who want to destabilize India to advance their own interests.
Closer examination of the above would indicate that the comparative peace in our northeast can be shattered anytime with just one or two major insurgent-terrorist actions.
Addressing an election rally in Gautam Buddha Nagar, Uttar Pradesh, in April 2019, Union Defence Minister Rajnath Singh had said, "Armed Forces Special Powers Act can be withdrawn once normalcy is restored. We have strengthened the hands of our soldiers with AFSPA in disturbed areas where extremists and terrorists run their activities."
Many in the public may be unaware that AFSPA was not drafted by the Armed Forces, either for Northeastern States or for J&K; AFSPA was enacted after due deliberations and debate in Parliament. A close examination would establish that factually AFSPA is as humane as it is possible and the Army certainly doesn't enjoy being used against its own citizens. It may also be recalled that the Supreme Court had ruled a few years back on a case filed by the Naga Human Rights Group that AFSPA does not violate the Constitution.
There is no doubt that continued classification of any area as "disturbed" indicates lack of administration in that area as also inability to control the violence levels with police forces. At the same time, revoking AFSPA completely perhaps may signal political consolidation but would give an impetus to narcotics smuggling, illegal tax collection and exploitation of the situation by China and other inimical forces and their proxies within India.
Therefore, revoking AFSPA "completely" from the northeast must be reviewed. There have also been calls in the past to dilute the provisions of AFSPA. But any dilution of AFSPA will imply reducing the Army's effectiveness to that of the police. It would be naïve to not let AFSA remain in some areas of the northeast, particularly Nagaland and Manipur bordering the largely open border with Myanmar, keeping the option open to use the Army in case violence levels go up. China may just be waiting for AFSPA to be completely removed from our northeast.
Concurrently, we need to acknowledge that the military rule in Myanmar is not going away anytime in the near future, the ASEAN and Quad condemning the military junta notwithstanding. India is the only country that shares an over 1600 km border with Myanmar which is not even fully settled. Being a gateway to the East, this has strategic implications for India. Visits to Myanmar by our defence minister and foreign minister, like the high-level visits from Russia and China to Myanmar, could do a lot of good.
Disclaimer: The information, ideas or opinions appearing in this article are those of the author and do not necessarily reflect the views of N4M.