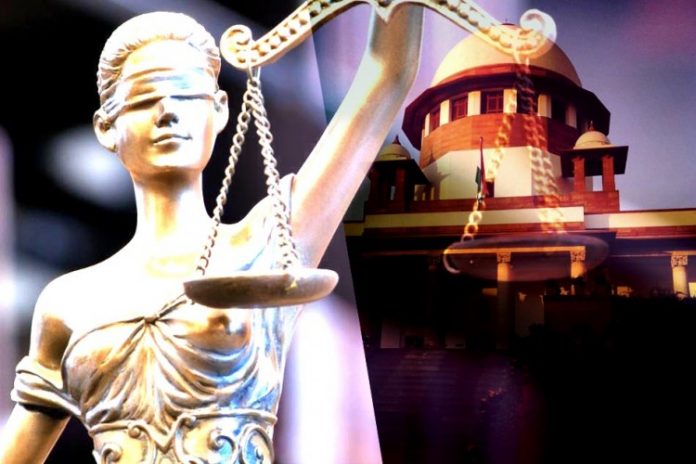 Dismal State of Indian Judiciary – A Typical Court Scene:
Cowering behind his lawyer stood a sad looking but stern faced middle aged man. The branded shoes and shirt that he wore sure spoke of his stock, not  the regular types that frequent Indian court-rooms. No one could have mistaken the modest simplicity, as he tried to speak out in a hostile courtroom with his words drawing reassurance from his own hand gestures. "Keep Your Fingers Down" thundered 'His' err.. 'Her Highness' who seemed to be in no mood to listen, her arrogance dripping.  Her Highness then turned to the Lawyer and directed him to teach the man not to speak directly to "The Court" but only through the Lawyer. The latter nodded in consent or dissent could not be gauged by the best of body language experts but it did convey his subjugation.
By now, with everyone in the court room paying full attention to Her Highness, she seemed elevated. Her British era, monumental ego having been satisfied, though none offended it in the first place. She asked the lawyer to speak out on behalf of the person, who by now seemed to be a dejected lot. Someone who had lost hope in the system, the judiciary and Indian courts and was willing to submit to the lowest of peons in the courtroom.
The Lawyer cleared his throat, gathered some courage and proceeded. Honourable Mam, my client here is the Managing Director of a 14 year old Private Limited Company. He is a law abiding citizen and has been framed by one of his vendors who is trying to harass him with multiple frivolous cases as are clearly visible. He requests that being a Pvt Ltd Company, honorable court should exempt personal appearances of other Directors not directly involved with the case as per law.
Her Highness seemed unfazed and unmoved, her ego knowing no bounds. How can a piddly lawyer utter – as per law. "Why can't they come to the Court, whether involved or not" she again thundered. "Get them here, else I will get them arrested and their properties attached." warned Her Highness. At this the man, the so introduced Managing Director of the Pvt Ltd company in question, literally broke down. Standing in the sultry weather for 6 hours, waiting for the Honorable Judge's audience, who as per the court orderlies, was resting in her retiring room all this while, could indeed be a torture for the strongest of souls. In a choked voice, he said, "Mam, Getting other Directors to be here everytime, despite not being at all connected with the case, is just plain harassment." With these words and trying to suppress his emotions as best he could, he just walked out of the court room, only to get another date and to face an Honorable Judge who wont budge to reason. All Thanks to a system, set up by the British to break down the toughest of patriots, pre-independence.
Ironically, while it's been almost 70 yrs since independence, the same rules govern our own patriotic citizens. Breaking down upright and honest individuals, harassing common man and harming the interests of small businesses, MSME's and companies. All this due to a highly insensitive judiciary that continues to demand being called "Me LORD's and HER HIGHNESS" and hold their own Ego's Above LAW.
The recently hyped "StartUp India" campaigns and the efforts of the Narendra Modi Govt. to accelerate employment are bound to fail, if the judiciary remains insensitive to the hardships faced by these small businesses and MSME's. (The no. of Jobs created in past 2 yrs falling to 1/3rd of the numbers in 2014 per stats)
The court scene herein typically depicts a culture and system that directly or indirectly, continues to stall development and eventual prosperity of the people and the indian nation. Having experienced a couple of harassments as this, many a patriotic and nationalists have taken a U-turm, shifting bases back to the US in the past couple of years. Many others have halted in their tracks to turn their dream of converting cities like Gurgaon into Silicon Valleys of India. With such a judicial environment, even the mighty Modi govt., seems helpless. No wonder we are the biggest Kalidas's of our times.  (To be contd..)
References:
1. Indian Judicial System: Too much power, too little justice
2. Step out in burqa to see what people think of judiciary Bar to SC Judges