The year 2020 has witnessed unique and innovative efforts by individuals, groups and organisations to spread Sanskrit.
The widespread use of technology, especially during the lockdown has also helped in popularising Sanskrit among the masses.
This is a compilation of 20 different 'stories' on how various efforts have been done or are ongoing during Covid lockdown to continue to spread Sanskrit learning.
Many of these are compiled after talking to many Samskrita Bharati volunteers. There are a multitude of such stories from across India and across the globe and this compilation is by no means an exhaustive list.
The purpose here is to show the variety of methods used and ideas evolved.
1. After I wrote this article "Sanskrit Teaching's Tryst With Destiny" on July 30 there has been a lot of queries about where the IIT Roorkee – Samskrita Bharati online course material is available. Well you can find the Course-1 playlist of about 50 videos as below:
Also the 1Bridge2 playlist of about 10 videos is placed below:
2. "Sanskrit through Sanskrit" classes were also telecast by Doordarshan a few years ago under the auspices of Rashtriya Sanskrit Sansthan – Central Sanskrit University and 120 videos of average 25 mins each are available in this playlist . This set became "popular again" during lockdown time.
3. JNU and SamskritaBharati Delhi conducted a month long "Samskrita Sambhashan e-varga" where almost 3000 people participated. Classes were through the zoom platform and were live streamed on youtube too. Videos are available here.
4. Samskriti Bharati (SB) also offers 4 levels of correspondence course, namely pravesa, parichaya, shiksha and kovida which are also popular. Each of the levels has a registration fee of around 300/-, which includes the book, the exam fee and the certificate after each level. Unlike the beginner's workshop, these courses have grammar concepts too. Normal suggested duration of each course is 6 months, exams are conducted twice a year and after completing the four levels, one can apply for an MA correspondence course offered by various Universities.
5. Many SB chapters and volunteers are now ensuring that free online contact classes are conducted for correspondence courses also. There are courses hosted by many chapters across India and they provide assistance in almost 11 Indian languages. The popularisation of classes through online platforms has attracted more people to learn Sanskrit through these courses.
6. After attending free beginners workshop many register for courses like "Sanskrit through Gita and Gita through Sanskrit". Thirty online videos as guidance for the first level of this course is available here.
Various Activities are being carried out by local groups and volunteers. SamskritaBharati being a people's movement, many volunteers try to help in their own ways . Some of the following stories are from the "local" level, from specific areas. Similar stories will be there in every city or town or village
7. Vikrant Shah works for Microsoft in Hyderabad and volunteers for Samskrita Bharati in Hyderabad. He coordinates a youtube channel with Sanskrit conversations. SB Hyderabad has formed clusters of 20 families from the beginning of 2020 to learn and practice Sanskrit where people meet once in a month to discuss, learn and converse in Sanskrit. This still continues, even during the lockdown and is effectively carried out by using online media.
8. Samskrita Bharati units in Tamil Nadu have been conducting online classes from April. There are Sambhashana vargas or basic workshops (online), correspondence courses etc. They have also carried out activities like "Swasthyam" where families learn Sanskrit songs, Bhagavad Geeta and converse in Sanskrit together and share these activities through whatsapp groups.
9. There are many families where all members are learning to speak Sanskrit. Jyothi Saravu of Yelahanka, Bangalore is currently doing her shiksha course, her husband Vijay is doing pravesa and son Chinmay is learning Sanskrit at school as well as part of a small group of teenagers who used to meet almost daily during April and May vacation time to chit-chat for a few mins in Sanskrit. The family came in contact with SB while in the USA and after returning to India a few years back, continues to be involved with the local activities of SB.
10. There has also been recent news of one more village going "Speak Sanskrit", this time from Kerala – There are 7 other villages currently with everyone speaking Sanskrit, across Karnataka, Madhya Pradesh, Rajasthan and Assam.
11. Though SB's attempt is to teach Sanskrit the 'natural way', ie listen-talk-read-write through workshops and then grammar through correspondence course or scriptures through courses like Gitasopanam, students of the correspondence course many times start losing touch with speaking in Sanskrit, since they don't have an environment where they can speak and practice. During the lockdown period, 9- 10 housewives from various areas of Bangalore decided to meet online daily where they have discussions in Sanskrit on various topics – cooking recipes or even Bhagavad Gita and Vyakarana(Grammar).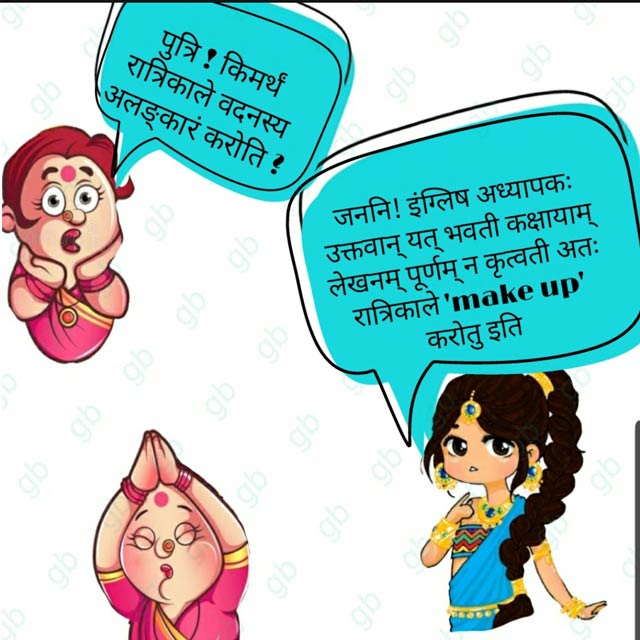 12. Local volunteers also run contact classes for correspondence courses. Sudha Srikant who resides in RT Nagar, Bangalore is one such person and after the lockdown, she conducts classes online which has proven to be more effective since the use of presentations makes the concepts clearer. She uses the Samskrita Bharati books as base and prepares her own powerpoint presentations to help with her classes.
13. Anju, a technical architect settled in Bangalore uses her skills to create cartoons in Sanskrit. She uses them to create awareness, popularise Sanskrit and also conveys good messages through her cartoons. She has also made whatsapp stickers in Sanskrit and wishes to spread Sanskrit through these.
14. Some professionals like Dr Praveen Gurpur from RT Nagar Bangalore runs online classes on Sundays and also uses his free time to develop MS excel based tools which can be used to make sentences in Sanskrit that will help beginners. He feels that use of technological tools can help in creating an interest in students especially the youth to learn Sanskrit. He also plans to develop it further and hopes that efforts are made to preserve Sanskrit texts digitally.
15. Mohan Krishnamurthy Madwachar who works in a company and is settled in Bangalore has set up online radio (24*7) chat groups for discussion and online forum where people can post stories, poems, jokes, cartoons etc in Sanskrit. Poems, songs, conversations etc are streamed through the online radio whereas discussions on many topics from basic conversations to vedas and Bhagavad gita takes place in the online discussion forum. He handles them with the help of his friends.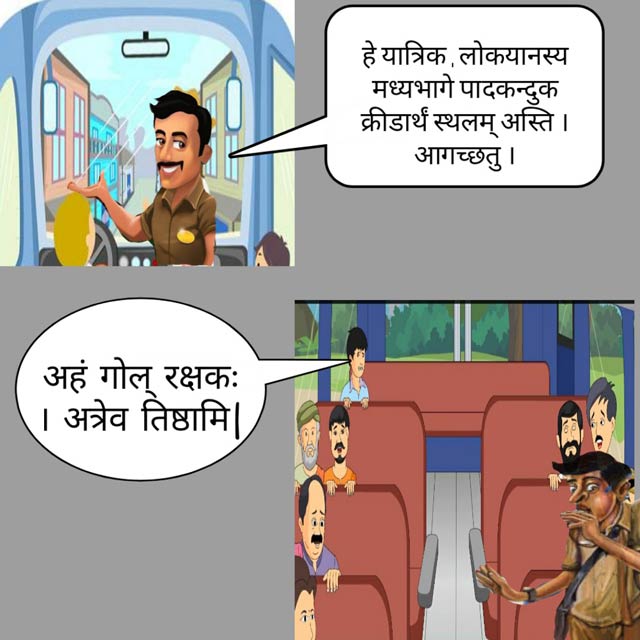 16. Through Rudra Creations youtube channel , a group of youngsters from Kerala have been making short films in Sanskrit. Akshay, Abhishek and Dipin who are Sanskrit teachers by profession and Samskrita Bharati volunteers, always wanted to create video tutorials helpful for both students and teachers and came up with another youtube channel "Rudra At School" during the lockdown which became popular. The channel has about 12.9k subscribers and they have been receiving overwhelming responses from the people.
17. Vidya Joshi got interested in the "Speak Sanskrit" movement while doing her MTech at IIT Madras . She attended the beginners workshop, followed it up with Geeta Sopanam classes run and attended by a group of IT professionals in Chennai . She continued her learning and recently was the editor for a magazine completely in Sanskrit brought out by the Pimpri-Chinchwad chapter of SB which includes annual reports, stories, poems, articles etc.
18. Samskrita Bharati USA organised a video competition on youtube. Many people of different age groups across many parts of the world participated actively with creative and innovative ideas in the same. Video submissions are available here
19. Different organisations have also joined hands together in the effort to spread Sanskrit. "Sanathana school of Life" and "Dharmasaala" from Kerala have come together to conduct Sanskrit classes from the basics where one provided the platform and technical support and the other dealt with the academics. With their collaboration, 100+ classes were organised from the beginning of post covid lockdown and these are available on youtube, the link to which is here
20. IIT Roorkee volunteers of Sanskrit club organised a video making competition – Sumadhuram Subhashitam where participants could record video or audio singing Subhashitas or Shlokas in Sanskrit. There were about 297 responses in one week which included entries from all age groups.
The diverse efforts led by different individuals and groups have popularised Sanskrit and the message has reached more people. August 3rd is celebrated worldwide as Sanskrit day and on this occasion let us recognise all the endeavours that have come forward to spread Sanskrit among people.