Bollywood, thy name itself makes you feel glamorous. Bollywood, has its epicentre located in its film city in "Mumbai". Previously known as the famous "Bombay" and going by its lifestyle, Mumbai, could easily pass off as India's New York, the "City that never Sleeps".
The Film City in Mumbai, India is a well coordinated film studio complex arranged close to the Sanjay Gandhi National Park at Goregaon East. It has a few account rooms, gardens, lakes, theaters and grounds that fill in as the scene of numerous Bollywood film shooting areas.
Though Bollywood itself dates back to the 1930's, It was in 1977, courtesy the then state government that recognized the potential and gave offices and showered concessions to the film industry. The planning and execution in setting up of the Film City was done under the direction of V. Shantaram. It was subsequently renamed as Dadasaheb Phalke Chitra Nagari in 2001 in memory of India's first Filmmaker director and screenwriter Dadasaheb Phalke, who is viewed as the father of the Indian film industry.
It has been practically the shooting turf for almost all Bollywood films. The wide range of areas accessible for the purpose includes a sanctuary, a jail, court, lake, mountains, wellsprings, towns, outing spots, gardens and even a man-made cascade. The film city infact sprawls on more than 520 acres of land outing area of the city Mumbai.
Recently the CM of Uttar Pradesh, Yogi Adityanath, who happens to be from the ruling BJP party has been in news. Adityanath had declared on Friday (September 18) that the nation's "greatest and most wonderful film city" would be set up in the Gautam Budh Nagar region (areas falling near Noida and Greater Noida) of Uttar Pradesh.
Trying to be early movers, Movie producer Madhur Bhandarkar approached him on Sunday — and on Tuesday, a few more industry associated personalities including Anupam Kher, Udit Narayan and Satish Kaushik huddled into a meeting with Mr. Adityanath, brainstorming over the project. As per reports many more celebrities have been in touch with Yogi Adityanath for the purpose of establishing the new Film city in Noida.
The proposed film city in UP will be barely 5 km from the Jewar International air terminal coming up on the outskirts of Delhi.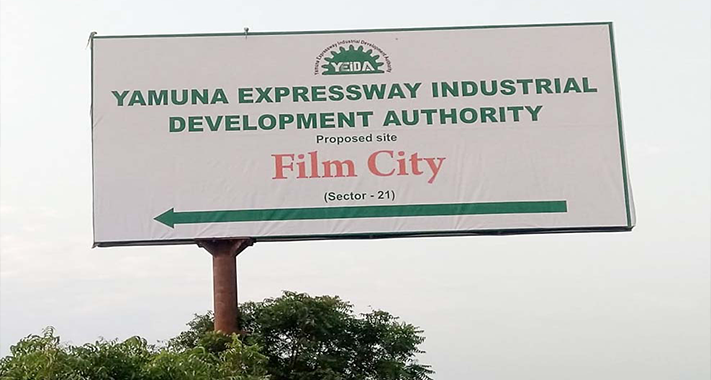 Furthermore, to give a fillip of reality, a 1,000 acres section of land plot is said to have been accessible just in the Yamuna Expressway Industrial Development Authority region for the purpose.
Let's now take a look into some other famous film industry setups in India. These regional setups have not grown beyond a certain size and certainly not to the level and scale of Bollywood. The main reason being that the latter has usurped all the hype and attention in the last several decades, leaving no level playing field for the remainig regional film industries, be it the South, the Tollywood, the Pollywood alongwith many others. We also throw some light on the physical size and history of each of these regional industries, so as to understand and compare as to why coming up with another / alternative film city at NOIDA, Uttar Pradesh could be a welcome step.
It's pertinent to know that many Film Industry setups are running across the Indian nation and giving equal opportunity to each regional film industry to develop and thrive should be the prime motive of the central government.
Adding one more Film city on the lines of Yogi Aadityanath's plan at Noida should serve as an equal opportunity provision to states across India and should bring many positives in the process.
So the first and foremost in the Indian film industry comes Bollywood. Yes, Bollywood is the major film industry that represents 43% of box office revenues, that we covered earlier. Others are:
Tollywood (South):
On the other hand, there is a separate film Industry from Tamil to Telegu with 36% of box office revenues. When we define the South Indian film industry that is also popularly known as Tollywood it represents the culture of five film cities which are Tamil, Malayalam, Telugu, Tulu, and Kannada.
Tollywood (Bengal)
Bengali film city, also known as Tollywood of Bengal, has also given many a renowned movies and artists. This Indian Bengali language entertainment world or film city is situated in the Tollygunge district of Kolkata, West Bengal, India. The beginnings of the moniker Tollywood, a portmanteau of the words Tollygunge and Hollywood, goes back to 1932. It was a generally significant entertainment world, once, representing the Indian film production. The Bengali film city is known for creating a large number of Indian film's most widely praised worldwide. Parallel Cinema and workmanship films, with a few of its movie producers, actors and actresses have picked up many an Indian National Film Awards in addition to a global recognition. However, since the late twentieth century, the Bengali film city has decreased in prominence, surpassed by others, for example, Bollywood and South Indian Tollywood.
Pollywood (Punjab):
Punjab represents its own film culture as they have their own film cities and viewership. Popularly known as Pollywood, it's the Punjabi language film industry based in Punjab. For the most part, it's situated in Amritsar and Mohali.
Also see: Top 10 Most Beautiful Punjabi Actresses
The films of Punjab have their beginnings with the 1928 creation of Daughters of Today, the most punctual element film delivered in Punjab. The principal sound film, Heer Ranjha, utilizing the sound-on-circle innovation, was delivered in 1932.
South Indian Film Industry
This, also from South is separately situated in Chennai, Hyderabad, Kochi, Bangalore and Mangalore. A bit confusing for some, this group eludes the group of five mentioned earlier from South India i.e. Tamil, Telugu, Malayalam, Kannada, and Tulu film industry worlds.
Since Hyderabad is one of the most important sights for South Indian Films, so the Hyderabad film City is more prominent and famous than the other south Indian film cities. Ramoji Film City is a coordinated film studio complex situated in Hyderabad, India. Spread over more than 1666 acres, it is the biggest incorporated film city in the entire world and as such has been confirmed by the Guinness World Records as the biggest studio complex in the world. It was worked upon by Telugu filmmaker Ramoji Rao in 1996.
Coming back to our topic, according to CMO, Uttar Pradesh, they are going to make a film city of more than 1000 acres, which will be the biggest consolidated film city for the whole of India.
The Pros and Cons
If it goes according to plan then the first and foremost thing to happen is that the establishment so erected and nurtured will rake in much needed moolah (revenues) for the state.
The industry and paraphernelia so established is bound to throw open new avenues, new jobs ranging from art to technical to the fieldwork and in the process addressing the problem of unemployement in the state.
The public is going to be supplied with an array of movies and serials giving more choice to watch, per their likings and in the process bring more competition that eventually will improve upon the quality and output of productions.
The supply for and from the Hindi and Bhojpuri industry will flood the market. But then it should also rightly suffice to the increased millions of smart phone viewers being added incessantly across the nation.
The supply, demand and the shift of viewer choices is also going to create a change in the movie plot, script writing et al.
It will also change the culture of nepotism that already is alleged to have ruined the lives of many a Bollywood celebrities, with some of them even dead due whatever reasons.
It will also aid to the image enhancement of India in front of other countries.
To calm any apprehensions, Yogi Adityanath while emphasizing creation of world class facilities for the entertainment industry, added that he is not taking away any business from Maharashtra.
The first seeds for a film city were sown in UP when a 100-section of land zone was reserved for the reason by the Congress rule in Sector 16 of Noida. Over time, it has transformed into a media center and today it has studios of many prominent TV news channels and serves as workplaces of some big corporate houses.
The Problems And Roadblocks
But now what are the problems, if this plan is so good to hear. Why is Mumbai's Shiv Sena Senior Leader Sanjay Raut and Maharashtra's Home Minister Anil Deshmukh so irked and opposing this plan.
Let's get a little bit deeper with this topic. While CM Yogi Aadityanath was busy meeting bollywood celebrities in Mumbai, Sanjay Raut was talking to the media. He said "Not easy to shift Mumbai's film city to another place. The film industry in south India is also big, there're film cities in WB & Punjab too. Will Yogi Ji also visit these places & talk to directors/artists there or is he going to do so only in Mumbai?. This was the exact thing he said to media persons.
Anil Deshmukh, the Home Minister of Maharastra had also said something which is showing that they are not going to support any more Film cities and this has been covered by many a media houses. He said "Over 100 years ago film industry was established here. I don't think any other state could've provided the facilities that Mumbai has. We've better law & order. I'm confident the film Industry can't go elsewhere. Let him (UP CM) make efforts"
Now Why Did They Say That?
The most important reason is the politics wherein the Shiv Sena being in control of Mumbai despite having lesser representation doesn't want to lose or give in to the BJP, while the latter, with a formidable clout is always on the lookout to pull the rug from under the Sena's feet. As it's a cold war situation, not hidden from anyone, between the Shiv Sena, on the forefront of Maha Vikas Aghadi and the BJP, more specifically PM Narendra Modi, so anything coming from the latter is not acceptable irrespective of the merits or demerits.
But the public has become smarter over time. They know that if this plan of Yogi Adityanath goes through, then there will be a huge opportunity for the masses from the north, who will be the last to migrate to mumbai and be at the mercy and scorn of the marathi manus.
On date, Bollywood is also going through a rough time. This has been compounded by the recent death of renowned actor Sushant Singh Rajput who is alleged to have committed suicide. The issue took a new turn and aggravated to become a national matter of debate with SSR fans calling it a murder and linked it with the oft repeated charge of nepotism in Bollywood. Not stopping at that the fans and much of media gave a vociferous call to boycott many of those nepotism kids and their movies. This has given a bad name to Bollywood and thus an alternate coming up at Noida could see much of the migration from Bollywood leaving a big hole in the state govt's kitty.
As the situation stands, Kangana Ranaut camp has also come out and fully supported Yogi Aadityanath's statement about the film city in Noida. She tweeted on Twitter "I applaud this announcement by @myogiadityanath ji. We need many reforms in the film industry, first of all, we need one big film industry called Indian film industry we are divided based on many factors, Hollywood films get advantage of this. One industry but many Film Cities." However her stand alone doesnt carry much weight as she has been branded as having politically aligned to the BJP.
Akshay Kumar, of PM Modi's interview fame, is now ruling Bollywood with his great movies and the public is also giving their full support to him. Being in the good books of the Centre and BJP, and despite having Canadian citizenship, Akshay has been getting a major chunk of advertisements from the Advertising industry, while the Khans have been pushed to the periphery.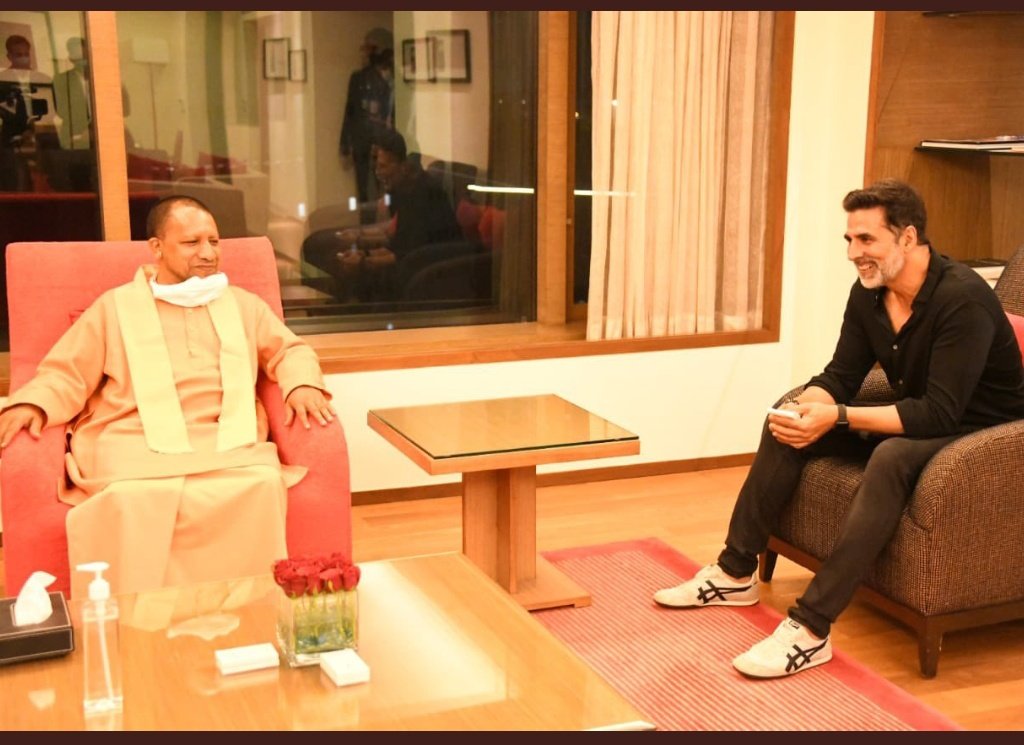 Recently "Akshay Kumar" also on predictable lines met Chief Minister Yogi Adityanath at the hotel, during his visit to Mumbai and talked about his forthcoming film 'Ram Setu', which he had declared on Diwali.
Finally, it's upto the people of the nation to understand that Yes there is a scope for a political link with this film city of Noida plan, more so with elections slated in 2021. However they also need to be smart enough to understand what is good or bad for them in the long run. Something as big as a film city in Noida will open up opportunities for employment, labor utilization, will create a whole new scope for artists to become directors, actors, actresses, producer's and much more. The films so produced could be marketed across the world and possible in addition to revenues, also bring laurels for the nation as a whole. Hence as things stand, more and more citizens are likely to welcome this plan for a new, state of the art, film city in Noida.
Lastly, but not the least, in the words of CM Yogi Aadityanth, this is time to show them (Bollywood) group that "In UP, we have exotic locations; we have cultural diversity; we also have human resources; and now we are going to have a film city with state of the art facilities, which will be way ahead of what any other film city across the country can offer."